Giro d'Italia feature, June 2, 2008
Contador gives Giro d'Italia a Spanish flavour
By Gregor Brown in Milano
Contador gives the thumbs up
Photo ©: Roberto Bettini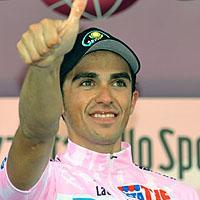 A foreigner has not won the Giro d'Italia in 12 years and it has been even more, 15 years, since the last Spanish winner claimed the maglia rosa. However, 25 year-old Alberto Contador, winner of the 2007 Tour de France, put a Spanish twist into the normally Italian affair.
Back in April, it was hard to imagine that Contador would even ride the Giro d'Italia let alone win it. The Astana rider was busy exacting revenge for his team after it was denied entry into the Tour de France and the Giro by winning the Castilla y Leon and País Vasco. But everything changed when race organiser RCS Sport announced on May 4 that Astana had been given an invitation, just over a week from when the race was sit to start. Flash forward, and thousands of supporters could be heard shouting "Contador, Contador" on Milano's Corso Venezia.
The time in between was filled with uncertainty and obstacles for the Spaniard, who had abandoned a mid-season vacation to race the three-week Italian Tour. He had not prepared for the race specifically, as he had done to win the Tour de France. After a somewhat unspectacular team time trial, Contador set about trying to stay out of trouble in the early stages, but then ran into bad luck with a crash in stage eight to Tivoli. Riding on a fractured elbow, he put important time on his rivals before the high mountains started in the stage 10 time trial. He then faced five tough mountain days: three in the Dolomites and, three days later, two in the Alps.
"This Giro has a special flavour – maybe for my morale this Giro is more important than the Tour title."
-Contador compares his two Grand Tour wins.
"The most difficult day was the first mountain stage to Pampeago," he revealed after putting on the overall winner's maglia rosa. But the win became possible after surviving the day: "When we crossed the line is when I thought I had the possibility to win."
Comparisons were immediately drawn to his Tour de France win, a win that really put the name "Contador" in the media's eye. He rated the Tour de France harder given the training that he had put into it beforehand.
"Because the Tour had many months of preparation – I gave it all – here it's been the opposite – without preparation, just day to day." However, he pointed out that the 2008 Giro d'Italia was indeed difficult. "The result was not less difficult – both have been very difficult. The only thing that in this Giro I arrived more tired. I couldn't give more – I don't know why, if it was my allergies or my lack of preparation."
Back at home in Madrid he now has a pink jersey to hang with his yellow from the Tour de France. Both races changed his life, but in different ways. "They are different," Contador explained. "With the Tour there is a before and after in my life. This Giro has a special flavour – maybe for my morale this Giro is more important than the Tour title.
Contador during his Giro winning performance
Photo ©: AFP
"Before the Tour, people didn't know who Alberto Contador was. After the Tour de France, with the presentations – there are too many and with this Giro, even more."
Team Astana, due to problems related to the previous incarnation of the team, was not invited to race the 2008 Tour de France. The decision left Contador, who followed Team Manager Johan Bruyneel from Discovery Channel to Astana over the winter, unable defend his maillot jaune.
"It's a decision that I don't agree with, but I respect. The team is totally different; the team didn't have time to prepare for the Giro yet was able to gain the victory. They have made their decision... we'll just forget about the Tour this year."
Supporting Contador
Italy pulled behind the Spaniard winning its race with cheers and support from the Dolomites to the fashion streets of Milano. Contador noted that he almost felt at home and was warmed by the tifosi. Just as import was the support from the Astana team that was assembled to race at the last minute. Not only well known names like Levi Leipheimer and Andreas Klöden, but supporting riders like Antonio Colom.
"I say 'thanks' to my team-mates, without having a great team... Klöden – they all gave it all for me – all day. People questioned Andreas [Klöden] – what he did for me the previous day – he had a bad night and had no choice but to leave. I cannot even begin to mention the sponsor support – if it wasn't for them, we wouldn't be here right now."
"It is amazing what the others did for me. Riders like Levi Leipheimer and Andreas Klöden, who are potential Grand Tour winners themselves, worked for me like all other team-mates did: Assan Bazayev, Toni Colom, Vladimir Gusev, Maxim Iglinskiy, Andrey Mizurov and Steve Morabito. A sick Andreas Klöden did so much for me. I didn't know him well before this Giro. I think I have found a new friend. It is amazing how we all grew close to each other during these weeks."