An interview with Levi Leipheimer, May 23, 2008
Modest Leipheimer forms part of dangerous Astana trio
Levi Leipheimer may deny it, but he is a threat to his rivals for the overall Giro d'Italia. The 34 year-old US rider, sitting 13th in the general classification, forms part of a dangerous Team Astana triad that aims to win the 2008 edition. Gregor Brown of Cyclingnews was in Modena Thursday night, just two days shy of the high mountain stages, to talk with the national champion.
Leipheimer points to the Passo Manghen, where the overall will be reshaped on Saturday
Photo ©: Gregor Brown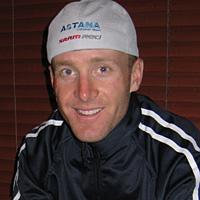 Franco Pellizotti has been thinking all year about this race, Gilberto Simoni might end his road career if he takes a third career overall win, Riccardo Riccò hopes to turn Italy on its head, Ivan Basso dreams of returning to race here, but Team Astana – with its three foreign leaders Alberto Contador, Andreas Klöden and Leipheimer – are just happy to be participating. Moreover, since it was invited just one week before the race started, it changed the outlook of the Corsa Rosa.
At the end of 12 days of racing its three captains occupy the top-15, with Tour de France winner Contador lying in eight and close to overall contenders Riccò and Danilo Di Luca. Not bad for the Luxembourg-based, Kazakhstan-sponsored team that thought the only Grand Tour it would race this year was the Vuelta a España.
Was it really a last minute invite by RCS Sport, organiser of the Giro d'Italia, or did Johan Bruyneel's team have an idea it would race, taking the spot of the relatively unknown NGC Medical-OTC Industria Porte?
"We had hoped for it for a long time, but there was no indication at all," declared Leipheimer as we sat down in the Holiday Inn hotel, just on the outskirts of Modena, the city known for producing Ferrari automobiles, vinegar and Italian singer Vasco Rossi.
"We had actually given up hope. They [team's directeurs] said that they were going to try to get [us] in, and I was like 'are we going to do the Giro?' I wanted to do the Giro; I wanted to know so I could train properly or pick out a different race schedule. They just said 'no it does not look like it,' so I went to [the Tour de] Georgia and when I came home after Georgia, I was just taking it easy." However, the phone call came and Leipheimer, third in the 2007 Tour de France, was left to pack his bags and board a plan for Palermo, to start the three-week Italian tour. "I got a call on Friday, which was one week before the race started."
"That climb we did yesterday [Monte Carpegna] was steep and I know that it is nothing [compared] to what we are going to do, so...."
-Leipheimer confirmed how unprepared he went to the Giro, due to the late invite.
The Californian from Santa Rosa has been around, racing for teams Rabobank, Gerolsteiner and Discovery Channel in the Tour de France on different occasions, but he had never taken part in the first Grand Tour of the year. The race where Fausto Coppi and Gino Bartoli battled, the race that Mario Cipollini used to race to sprint super stardom, the race that Marco Pantani set on fire like Jimi Hendrix did to his guitars...
Mastermind Johan Bruyneel
Where is Johan Bruyneel, the Belgian that helped Lance Armstrong to seven Tour de France victories? With the 'General Manager' title he is not directly involved in the on-ground warfare as he once was.
"He is not here but he is in contact with everybody, riders, directors..." Leipheimer noted. "But he is the general manager, so he is not so hands-on at the race and he lets everyone do their job."
He added, "I think he will [to the Giro] come later."
"I think the crowds are great – the tifosi – they are really awesome," Leipheimer confirmed after one and a half weeks into his first Giro d'Italia. "That is always what I really had heard about the Giro, and I have to say it is everything I had expected. You can tell they really love cycling and cheer for everyone.
"The negative experience had been the transfers and I kind of feel as if they have made the courses a little bit dangerous." The riders especially complained about the distance between stages in the first week. Leipheimer continued, "Today [stage 12], was good because they said they would take the time at three kilometres to go [due to heavy intermittent rain showers - ed.]. I think that that is what they need to do – the sport is dangerous enough – and I think that everyone wins when they make a decision like that.
Dangerous day
Leipheimer did not think he rode great time trial, but he did end up in the top 10
Photo ©: Roberto Bettini

As Leipheimer talked his face gleamed with the cream that had been put on the right cheek to help the wounds heal from the previous day's crash. One the wet day to Cesena he was involved in a tumble at 27 kilometres remaining, with mountain leader Emanuele Sella (CSF Group Navigare), Leonardo Piepoli (Saunier Duval-Scott) and Christian Pfannberger (Barloworld).
"Yesterday, for me [it] was the most dangerous day I had ever seen on the bike, it really was," he revealed. The 199-kilometre stage in Italy's Emilia Romagna was marked by numerous other accidents.
"The whole day I was careful – always leaving gaps – but on this one descent six or seven riders crashed and there was nowhere for me to go. I went over Piepoli and I hit [the asphalt] pretty hard, straight on my face. However, the problem is my [right] elbow; I can't really move my arm much. Hopefully, it will get better. I have two days now where I hope I can just relax and get better."
With demanding stages slated for Saturday, Sunday and Monday, how will this affect his racing? "I think another day and I will be fine."
Levi Leipheimer is impressed with the stage 14 profile, but wasn't sure about his own form
Photo ©: Gregor Brown

Leipheimer not only feels comfortable with himself, but with his Spanish and German co-captains. The team is rallying around the three, as was evident when he needed support to get back to the gruppo, following his spill just outside of Cesena.
"The first thing you think about is if you are okay or not. At first I was thinking 'I'll never come back' [to the other classification riders] because we were really racing at that point. Then there was a steep climb immediately. After a crash it is hard to get going again, and then, luckily, I was with [race leader Giovanni] Visconti. Once we got over the climb, Quick Step and Astana, the guys that were around us, brought us back. When we came back my morale was back."
Even though the day was a medium mountain day, one that was not likely to shake up the overall classification, Italians Riccò and Di Luca took turns delivering punches mid-stage. "No, not at all," responded Leipheimer when asked if the attacks made sense. "I think they raced for the camera. If one attacks the other one has to show he is strong. I guess if they consider that as part of their job then okay, but I think to win the race it is not the best thing to do. I think Alberto, Andreas and I, the way we ride is thinking of the overall win. Waiting and saving our energy."
Contador, Klöden and Simoni
The energy will be needed on the first of the tapponi – stage 14 to Alpe di Pampeago. Leipheimer agreed that not many of the classification riders have been eliminated, but reckoned there are three riders to watch – two coming from within his team.
"There was talk of [Team Barloworld's Mauricio] Soler before the race," he added of the Colombian who was forced to abandon after a crash. "For me I can pick out three favourites: Contador, Klöden and [Team Diquigiovanni's Gilberto] Simoni. [Simoni] is smart; he does not waste energy. I think Riccò and Di Luca waste a lot of energy, for the camera. If that is what they want to do that is fine, but when you are thinking about the overall win you have to race smart."
Leipheimer is happy to be in the Giro
Photo ©: AFP

Modestly, he did not select himself as a contender. Teams paid big money to Leipheimer to lead them through the Tour de France, and last year, he rode to third overall while team-mate Contador took top honours.
"You never know," he continued, when considering himself with the race favourites. "I have not felt super yet, and the time trial was not that great. Yesterday [stage 11 to Cesena], I did not feel great. Maybe in the third week if I feel great and the others slow down... I don't know, I just don't see it."
Part of the problem for Leipheimer, Contador and Klöden, is that they never have raced the Giro d'Italia and seldom has the US American been on Italy's major passi.
"This is Saturday? I don't know it at all," revealed Leipheimer. "I did the [Passo dello] Stelvio once before, but only one side of it. That climb we did yesterday [Monte Carpegna] was steep and I know that it is nothing [compared] to what we are going to do, so..." he continued with a laugh.
"We have to continue to ride smart, stay together and follow the other favourites," he observed, speaking of Saturday's stage, which hits the 23.4-kilometre Passo Manghen before the Pampeago. "All three of us are good time trialists. As it stands now, Alberto is in the lead, he does not have to attack, he just has to follow."
Photography
For a thumbnail gallery of these images, click here
Images by Gregor Brown/Cyclingnews.com
Images by Roberto Bettini/www.bettiniphoto.net
Images by AFP Photo