Recently on Cyclingnews.com
Markus Eichler's Giro diary
Markus Eichler rides the Giro for Milram
Photo ę: AFP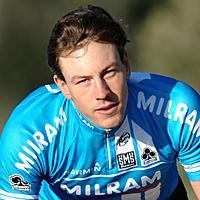 Markus Eichler of Team Milram is actually a Classics specialist, who is riding his first Grand Tour. The 26 year-old turned pro in 2004 with the Continental Team ComNet-Senges. In 2006 he signed with Unibet.com – which means he didn't have many opportunities to show what he could do, although he did win the Ronde van Drenthe. This season he signed with the German ProTour Team Milram.
His Grand Tour started out with a 13-hour journey from his home in M÷nchengladbach, Germany, to Palermo, and thanks to the long transfers, he is still trying to catch up on his rest. Going into the eighth stage, he was 175th overall, over an hour and 12 mintues down. But Milram is a sprinter's team, and this is not really a sprinter's Giro. Eichler is enjoying the experience, anyway .... at least so far.
Monday, May 19, 2008
Rest Day 1 - Down to six
Hello everyone,
After a very strenuous weekend I finally had a little time today and can catch you up on what is happening.
So, let me summarize the last two and a half days. We are now down to six on the team. Sergio Ghisalberti had to give up Saturday with torn muscle fibers in his right thigh on Saturday. Get well soon, Sergio, and quickly!
The stage was harder than expected. About 60 km before the finish there was a sharp right hard turn into an incredible ramp. None of us was prepared for it and not a few riders walked up it. I wasn't about to do that so I rode up. Since I was at the end of the field anyway, I had more space than the riders in front of me. Unfortunately I never caught up with the peloton and rode in to the finish with three others.
On Sunday I was happy to note that others were suffering after this first week. Everyone took the stage quietly. Despite boos from the peloton, two riders took off. Then I heard, "Eichler, go up front and lead the chase" ... So with a rider from Liquigas I led the chase. Then the other teams finally started helping. That was really necessary ľ you wouldn't believe how my thighs were burning. In the finale, my colleague from Liquigas and I found each other again, at the back of the field.... It was bitter in the finale. Of course, that Erik was so boxed in on the right side. It had looked good for him.
The rest day started out rather dumb. Directly after breakfast we set out, at 8:30. Of course it is not so great to have a 400 km transfer on a rest day, directly across the land. Fortunately I could sleep a little in the car. Actually, we wanted to do the last 50 km to the hotel on our bikes, but we had to break it off after 30 minutes because it was raining so hard. So I just took an early nap, followed by a massage. We changed room-mates today, and I am now sharing a room with Erik.
Before I close out, I would like to publicly praise our soigneurs, masseurs and mechanics. They are doing a super job here and are so motivated, that it motivates all of us.
Greetings,
Markus