Giro d'Italia Cycling News, June 1, 2008
Edited by Laura Weislo
Contador defies expectations
By Gregor Brown in Tirano
Contador beams with pride
Photo ©: AFP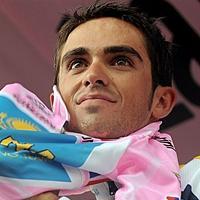 Having been yanked off the beach during his vacation to race in the Giro d'Italia, Alberto Contador was an unknown quantity coming into the race after just nine days notice. Yet after three weeks of racing, the Spaniard has shown his talents by riding himself into the pink jersey, and his tenacity by holding onto it by a slim four second lead.
To wear the maglia rosa on the final stage with the possibility of taking home his second Grand Tour in a year hadn't crossed the Astana rider's mind. "I never thought it was possible," stated Contador after passing the Giro d'Italia final mountain stage with flying colours. Just one 28.5 kilometre time trial stands in the way of his winning the race overall and becoming the first rider since Miguel Indurain to win the Italian Grand Tour as reigning Tour de France Champion.
"I never could have imagined it – I was at home when the team called me...," Contador recalled of his entry into the race following Saturday's mountainous stage through the Alps. "The team wanted me to come here and I wasn't convinced that it was the right thing to do. ... Playing in the final to win it all – it's something that was unimaginable a month ago"
Thanks to his agility on the Passo del Mortirolo and Aprica, Contador kept his closest rival – Italy's Riccardo Riccò (Saunier Duval-Scott) – in check and distanced the defending champion – Italy's Danilo Di Luca (LPR Brakes). He now leads the race with four seconds on Riccò and two minutes on Marzio Bruseghin (Lampre).
Coming up on
Cyclingnews will cover the 60th edition of the Dauphiné Libéré live as of stage 4 on Wednesday, June 10, at approximately 15:00 local Europe time (CEST)/ 23:00 Australian time (CDT)/ 9:00 (USA East).

WAP-enabled mobile devices: http://live.cyclingnews.com/wap/

"It was very different than yesterday," explained Contador, who lost time to Di Luca and Riccò on Friday's stage to Monte Pora, and had both riders within seconds of taking his maglia rosa. "There was a delicate moment when I had to really use my the head or I could have lost it all [on Friday] – Di Luca ahead by two minutes – Riccò on my wheel and all my rivals waiting to attack. If they attacked, I would have had to chase them all and I could have blown up."
He found the stage to Tirano slightly easier. "Today, I had to stay with Riccò on the Mortirolo. I had good legs and I played it out well in my head, and it worked out well."
Contador kept his defence up over the Mortirolo while Riccò, Gilberto Simoni (Diquigiovanni) and Emanuele Sella (CSF Group Navigare) launched their moves. The actions weakened Di Luca and sent last year's winner backwards and out of the race's overall contention.
"How I am racing here is something different than my usual style. We cannot forget that I came to the Giro without any preparations – I didn't climb one mountain before I came here – I had to try to do the best I could with the form I had. ... I am very content to be where I am now.
Contador threads his way through the fans
Photo ©: Roberto Bettini

While Contador is a better time trialist on paper, Riccò has vowed not to give up and 2006 Italian Time Trial Champion Bruseghin could pose an outside threat, but Contador wasn't afraid.
"I don't have any reason to worry about it," said Contador with confidence. "The 21st stage on the last stage is different, so anything can happen. All I have to do is have good sensation, if I do there's no reason to fear anyone."
Riccò blasted after the stage that if he had a team like Contador's he could win the Giro d'Italia. The line, while bashing his own team, did not even touch on the fact that Team Astana came to the race with a little more than a week's notice.
"The differences were big between the teams – my team didn't a have a high level. It's not normal to be invited a week ahead a Grand Tour, so we weren't in the best conditions. If we had more time to prepare for this race like in normal conditions, instead of having one at the front, we could have had three or four," Contador warned.
Weather and numbers game suggest Contador has everything to lose
By Ben Abrahams
Alberto Contador (Astana) was the day's surprise
Photo ©: Roberto Bettini
Sunday's weather in Milan is likely to be dry and a little cloudy, with temperatures hovering around 20 degrees Celcius, and race leader Alberto Contador will surely be hoping the weather forecasters are telling the truth. Going on past and present form, second placed Riccardo Riccò will need to produce a minor miracle over the pan flat 28.5 time trial kilometre course, or hope the Spaniard suffers some kind of crash or mechanical failure.
After all, Contador isn't likely to just bottle it. The 25-year-old faced arguably a much more nerve-wracking prospect on Stage 19 of the Tour de France last year, when going into the Tour's final time trial, the then Discovery rider held a 1'50 advantage over Cadel Evans, but faced an undulating 55.5 kilometre test between Cognac and Angoulême. On that day in July, Contador lost 2'18 to stage winner Levi Leipheimer and 1'27 to Evans, both regarded as time trial specialists.
Sunday's situation is markedly different in that Riccò has just a four-second deficit to make up, but the precocious Saunier Duval rider has never showed the kind of raw power in a flat time trial that could see him overhaul Contador. On Stage 10 of this year's Giro - a gradually uphill 39.4 kilometre time trial between Pesaro and Urbino - Riccò lost more than two minutes to Contador, on a course that arguably favoured his characteristics more than Sunday's will.
The rider who won that day, Lampre's Marzio Bruseghin, sits exactly two minutes behind Contador in the overall standings, and turning round such a deficit would be a massively tall order even considering the Italian's time trialing credentials.
The final question is that of motivation. Riccò's internal anger appears to have been boiling up inside him for nearly three weeks now, leading to regular tirades whenever a microphone or television camera is nearby. If that anger could be chanelled into speed on Sunday we could maybe have a race on our hands, but otherwise it appears the maglia rosa will stay firmly on the shoulders of Alberto Contador.
The real King of the Mountains
Sella takes third stage of Giro
By Gregor Brown in Tirano
Another win for Sella
Photo ©: Roberto Bettini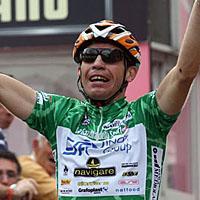 Coming into this Giro d'Italia few mentioned Sella as a possible stage winner. The man from Vicenza had taken the spotlight during his first professional year in the 2004 Tour of Italy, where he staged with a gutsy solo escape in the stage to Cesena, but in the following three years looked off-target with small attacks that amounted to nothing at the day's end. But Sella put the so-so years behind him in this Giro d'Italia, and made a huge transformation into the real King of the Mountains.
Emanuele Sella lit the Giro d'Italia's mountains on fire this year with flashy solo moves. The 27 year-old Italian of Team CSF Group Navigare scored wins on two stages in the Dolomites, and capped off a impressive race with a solo victory on Saturday in Tirano. Had he not suffered an untimely flat tire on stage seven, he may have gone home with four stages to add to his mountains classification win.
Just as he did in 2004, when the pundits and still mourning tifosi whispered the name Pantani when describing Sella's emotional stage victory, the diminutive climber punched out his hat-trick with lengthy solo moves: 1) An attack from 50 kilometres out to win Alpe di Pampeago, 2) The very next day, he repeated with a 14-kilometre romp the top of Passo Fedaia, and 3) A demonstration that his legs work just as well in the Alps as they do in the Dolomites with a third solo bid to win in Tirano. And let's not forget the near win in the mountain time trial of Plan de Corones and the display on the Monte Pora.
His Alpine win was once again a showing of a little team that can. The Italian Professional Continental team placed Fortunato Baliani and Julio Pérez up the road, allowing Sella options when he went on the attack before Aprica. "I tried my attacks on the Mortirolo, I waited for Baliani and then we had three of use on the descent of Mortirolo," he explained. While Pérez was not able to stay in contact, Sella and Baliani were joined by Domenico Pozzovivo, who had been at Sella's side.
When the group hit the base of the final climb, Sella jumped away, and none could follow, although Gilberto Simoni tried. "I saw that I had the same condition that I had in the Dolomite stages. I hit hard at the start of the Aprica and Simoni was not able to follow. I am a little sorry for him, but..."
Klöden out sick
By Susan Westemeyer
With the last big mountain stage running, and two gigantic mountains ahead where Alberto Contador's pink jersey could have been threatened, it was a surprise when Andreas Klöden abandoned the Giro d'Italia during the penultimate stage. But the German, who had played a strong domestique for Contador the previous day, was suffering from a fever and chills and could no longer ride. "This morning I felt like I had been run over," he wrote on his website, andreas-kloeden.com. "During today's stage nothing worked and there was just no point in continuing."
He noted that he had been feeling worse the last few days and that after Friday's stage, "in which I once more gave everything for Alberto and the team," he just started feeling worse.
Astana spokesman Philippe Maertens told Cyclingnews, "He has been sick for a week, but stayed in the race in order not to weaken the team. Yesterday evening it already didn't look good for today. He probably went to deep yesterday." He added, "Andreas has a respiratory infection. It is difficult to say now, but it could be a lung infection. He had a fever all night." Maertens concluded, "he was a super team-mate for Alberto Contador."
Klöden noted that he would return home to rest up and recuperate.
Riccò's venom fodder for press
By Gregor Brown in Tirano
Riccardo Ricco'
Photo ©: Roberto Bettini

Italian Riccardo Riccò has put in a tremendous performance at the Giro d'Italia to find himself just four seconds from the pink jersey coming into the final stage, but the hotter the race action has gotten, the bigger the fires he has set with his words. Yesterday, he lashed out at CSF Group's Emanuele Sella following the Giro d'Italia stage 19 to Monte Pora for supposedly aiding Contador's chase and denying Riccò the honour of gaining the maglia rosa. The words burned the mountain points leader, but ignited criticism from the press and bloggers across the globe.
Riccò accused Sella and his team-mate Domenico Pozzovivo of working for Alberto Contador's benefit following his attack with less than four kilometres remaining. The attack gapped the Spanish race leader and put the top spot within Riccò's grasp. His accusations, right or wrong, added a punch to the finale of the race and sent journalists grabbing for their pens.
"In the end, Contador always find someone to help... we saw Sella and Pozzovivo [both of CSF Group]. They should have stayed on the wheel and let him pull, but maybe their DS told to them to pull," 24 year-old Riccò, winner of two stages of this year's Giro d'Italia, stated on top of Monte Pora.
Riccò's comments after Friday's stage were as over the top as the Cima Coppi; "People have been saying that Contador is a better climber than me, but as far as I can remember I've dropped him on every summit finish so far. I'll try to attack him again tomorrow, and I hope that Panaria [sic] don't pull behind me this time..."
He continued his juicy rant Saturday morning in Rovetta, before the last big mountain stage. "People who understand cycling can work out what happened," Riccò spat out. "People who defended Sella are ignorant." Riccò tried to walk away, but was asked if he would change the words he said if had the opportunity; he responded, "even worse."
Sella was not having any of it and was forced to respond. "I was frustrated by the words that he said, and, like everyone, I am able to look at the television and see that I did nothing wrong," 27 year-old Sella noted. "If fact, thanks to my attacks Alberto was in difficulties."
Both riders are gifted athletes with multiple Giro d'Italia stage wins; Riccò has one from last year and two this year, whereas Sella's first came back in 2004 and three arrived this year. However, it has been their words more than their wins that have given journalists such exiting news.
How will the third-year professional Riccò mature? Will the flame get hotter or will it fizzle out? Sella had the last word: "He is younger than me and he is defiantly gifted. However, if he makes these statements... he is a great athlete but small man."
Cummings recalls epic Giro stage
By Gregor Brown in Tirano
Steve Cummings (Barloworld)
Photo ©: Roberto Bettini

Brit Steve Cummings made the Giro d'Italia's fuga del giorno when he formed part of the seven-man move 57 kilometres into stage 19 to Monte Pora. While the 27 year-old fought through rain showers and the attacks of Vasil Kiryienka (Tinkoff Credit Systems), the general classification battle was boiling behind.
"I knew he was going to be strong and I knew I was going to struggle a bit when we got the climbs, but I did well and gave it everything I had," Cummings described his views of Kiryienka to Cyclingnews Saturday morning in Rovetta. The Barloworld rider rode courageously on to finish the stage in fourth on the 1453-metre climb of Monte Pora.
"We had done the last 50 kilometres of the stage in training, so I new the descent a bit," he recalled of the Passo del Vivione. The escape was able to take the climb, which fed to the final two climbs, at a slow pace thanks to their huge lead over the main pack.
"When Kiryienka attacked [at the foot of the Passo della Presolana] I did not bother to go with him, I just rode my own pace," revealed Cummings. "Nicki Sørensen tried to go with him and he blew. When I was with Alexander Efimkin we were working well together, but he is not a great climber. ... I just did not have the legs to stay with Kiryienka in the end, he was very strong."
As Cummings fought for placings, the classification men closed in on him. He finished 5'25 back behind Kiryienka, and less than a minute after Di Luca and Efimkin. "I knew they were coming up fast though! A motorbike passed me I was like 'oh no.' I saw some clips of Di Luca on television, but that was about all. I think it was a pretty epic stage."
Cummings wanted to make his move on the non-mountainous stages of Locarno or Varese, but his body didn't cooperate. "Ideally the day after the rest day would have been better for an escape, but I just did not have the legs and my body had just shut down. I had two bad days, I was really struggling, but yesterday I was good and I just had to try.
"I was all out to give it everything I had; I can't do anymore than that really. I will try to get into the gruppetto today."
He revealed the night had not gone smoothly due to his countryman and room-mate, Geraint Thomas. "I did not sleep too well, sometimes the nights are like that were you can't sleep. I am rooming with Geraint Thomas and he snores! He was talking to me in his sleep last night; he was having a conversation while he was asleep and I was still awake. He snores and then you knock him and he does not wake up – it's terrible."
(All rights reserved/Copyright Future Publishing Limited 2008)