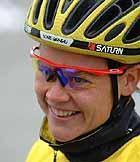 Photo: © Rob Karman
The Anna Millward Diary
Australian Anna Millward (Wilson until her marriage in 2000) is one of the best women's cyclists in the world, and was ranked number 1 for the first part of 2000. She has won races everywhere, from time trials in France, World Cup races in Switzerland to stage races in the USA, and was the first cyclist ever to break the Hour Record under the "new" UCI rules. Anna possesses an incredible sprint and this combined with her power and determination makes her a formidable cyclist on any terrain. She is also one of the friendliest and most optimistic people you could ever meet.
The attacks kept coming in the final stage
HP Women's Challenge,
Stage 9 - June 23: Emmett to Hyde Park, 90.4 km (inc. 5 laps at end)
Today was the last stage of the Hewlett Packard race. And a good thing too - I don't think I could manage any more days of racing!
We raced 90kms today, over one 4km climb and then we finished in Boise with five laps around a two kilmetre circuit. Once again, our priority was to keep the leader's jersey on Judith Arndt's shoulders and to keep Kimberly Bruckner in third place overall. So we were content to let riders who were over 10 minutes down on general classification to breakaway but anyone closer than that we would chase.
The race started pretty fast as there was an intermediate sprint at 8km and Diana Ziluite (Lithuania) was keen to win it. Win it she did, cementing her lead in that competition. The T-Mobile team then became quite aggressive as we approached the climb, sending one after another rider up the road to try and break the stranglehold of the bunch. However, the Rona team went to work to keep it all together before the climb and all the breakaway attempts came back.
Up the climb, Manon Jutras (Rona) set the pace with Genevieve Jeanson (Rona) content to win the sprint for the top without decimating the field by attacking earlier in the climb. Being first over the top, Genevieve cemented her lead in the mountains classification.
Just after the climb, Amber Neben (T-Mobile) attacked solo. Since she was sitting in 6th place overall, Ina Teutenberg and I went to the front to chase her down. As soon as we caught her, Diana Ziluite (Lithuania) and Kristin Armstrong (Goldy's) attacked strongly. Since they were both over 20 minutes down overall, we let them go.
Many other riders tried to get across to them, especially the T-Mobile team and the Sponsor Service team and for about 30 kms there were many attacks and counter attacks and shortlived groups trying to bridge the gap. Petra Rossner, Cathy Marsal, Ina and I did our best to monitor the groups going away to make sure no threats to Judith's jersey got away from us.
It wasn't until about 15kms to go that another group of about 10 riders got clear of the bunch. The most dangerous rider among that group was Rasa Polikevicuite (Lithuania), at 10 minutes down on general classification.
Diana Ziluite and Kristin Armstrong put in an amazing performance to hold off that chasing group after being in front by themselves for 50kms. In the end, Diana won the sprint for the finish over Kristin.
Back in the bunch, we came very close to the chase group in the final few hundred metres and we all breathed a huge sigh of relief as we crossed the finish line with Judith Arndt safely in first place overall and Kimberly in third. Yeeha! Genevieve Jeanson (Rona) finished in second overall - not bad for a 20 year old in her first tour over six days in length!
We are all totally wasted now after nine days of intense racing. I have 10 days to rest and recover before lining up to start the Giro d'Italia with the Australian National team.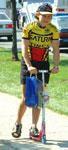 Photo: © Rob Karman
Cheers
Anna