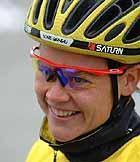 Photo: © Rob Karman
The Anna Millward Diary
Australian Anna Millward (Wilson until her marriage in 2000) is one of the best women's cyclists in the world, and was ranked number 1 for the first part of 2000. She has won races everywhere, from time trials in France, World Cup races in Switzerland to stage races in the USA, and was the first cyclist ever to break the Hour Record under the "new" UCI rules. Anna possesses an incredible sprint and this combined with her power and determination makes her a formidable cyclist on any terrain. She is also one of the friendliest and most optimistic people you could ever meet.
Back on the top step - for the stage
HP Women's Challenge,
Stage 8 - June 22: Statehouse Criterium, 61.4 km (48 laps)
Today we raced a 60km criterium in the streets of Boise. Our main goal going into the race was to maintain Judith Arndt's leader's jersey and also to keep Kimberly Bruckner in third place. So we wanted to keep the race as smooth and evenly paced as possible.
However, we also decided that with 5 laps to go, once there was no longer a free lap if somebody punctured or crashed, Petra would stay right behind Judith Arndt since they ride the same size bike so if anything happed to Judith then she could jump straight on Petra's bike to finish the race. In the same way, Cathy Marsal was going to stay behind Kimberly Bruckner since they also ride the same size bike. Ina Teutenberg and I would then try to win the race.
There was a race within a race as there was a big fight for the first half of the race for the sprinter's jersey between Sarah Ulmer (NZ) and Diana Ziluite (Lithuania). This helped us quite a bit as Sarah Ulmer was very aggressive and the Lithuanian team did a lot of work chasing her down. Unfortunately the battle ended when Sarah crashed out of the race, leaving Diana with an easy victory in the intermediate sprint. I'm still not sure how Sarah is - hopefully she is fine.
In the second half of the race we had four riders at the front with Ina Teutenberg, Petra Rossner, Cathy Marsal and myself swapping turns and despite a lot of attacks from the Sponsor Service team and the T-Mobile team we were able to bring everything together with 5 laps to go with our steady tempo.
With 5 laps to go Katrina Berger (T-Mobile) attacked hard and I went after her. It was a good moment as there were a lot of both of our teammates on the front at that moment so they let the gap go. We worked together and had a 20 second gap with 1 lap to go. Lucky for me, Katrina was willing to work very hard to keep the break away and so I had the fresher legs for the sprint and took the victory.
Sarah Conrad (Mercy) took 3rd place with a daring attack around 3 laps to go. There was no change to the top 10 in general classification.
Tomorrow is the final day of racing. I can't wait!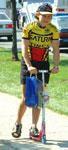 Photo: © Rob Karman
Cheers
Anna