Photo: © Billy Cornelius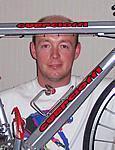 Billy Cornelius HP Women's Challenge diary
Billy Cornelius is an employee of HP, working at the company's Boise, Idaho printer plant. At the 2002 HP Women's Challenge he has volunteered for the job of working as a gopher for the Italian-based Itera team.
Index to all Billy Cornelius diary entries
Highs, lows and the routine
Stage 7 - June 21: Twin Falls to Buhl, 84.5 miles, ~1500 feet of climbing
Diana Ziliute at the start
Photo: © Billy Cornelius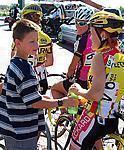 Its getting to be a routine now:
Up by 8am and pack
Load some stuff in the support truck, other stuff in the caravan vehicle, the rest in the feed van
Pump up the tires on the bikes, and the spare wheels - 120 psi!
Either head out to the feed zone or get in the caravan vehicle. (today I went to the feed zone)
Horse around with the other support crew, trade for swag (team issued stuff), gossip about the riders, be bored and hot, eat
Dry condensation off the bottles, hand them off to the cyclists as they zip by, worry that you'll miss one (Ryan and I both missed Barbara today)
Follow the last cyclist on your team or head to the finish line (today we went to the finish line)
Unload the van and prepare to hydrate cyclists and cool them off
Load everything up and head to next town
Unpack vehicles, get stuff off support truck, eat
Degrease and wash bikes
Go for a bike ride
Get online, write out journal entry, format pictures, send update
Go to bed (usually after midnight)
Of course there is a lot of time between steps to sit and wait. That's when I take pictures.
Today's high point: Itera member Sylvia Valsecchi made it to the top ten! She went with a small group who attacked at only 23 miles into the race. This group was no threat to the top of the GC, so the peloton was content to let them go. They fought to keep their lead till the end.
Vera manages a smile
Photo: © Billy Cornelius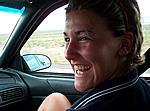 The tiny town of Buhl Idaho was the site for today's finish. It is a favorite of many cyclists because it is an easer day and it always ends in a trout feed - Buhl is considered the trout capital of the world.
Low point: Itera team member Vera Carrara had to withdraw today due to injuries she sustained in the crash on stage 6. She was sad a first but her spirits lifted on the long drive to Boise for Saturday's criterium.
Till Tomorrow
Billy