Photo: © Billy Cornelius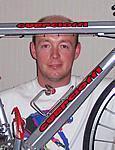 Billy Cornelius HP Women's Challenge diary
Billy Cornelius is an employee of HP, working at the company's Boise, Idaho printer plant. At the 2002 HP Women's Challenge he has volunteered for the job of working as a gopher for the Italian-based Itera team.
Index to all Billy Cornelius diary entries
Team arrival
June 13, 2002
The Itera team
Photo: © Billy Cornelius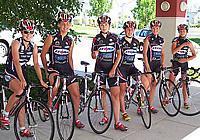 Hi, my name is Billy Cornelius and I work for Hewlett Packard in Boise Idaho. Being a huge cycling fan, I've watched the Women's Challenge race through my home state every June for the past 10 years. Occasionally I've helped out as a traffic marshal or assistant, but only at one or two stages. This year I thought it would be fun to follow the entire race in some capacity that allows me a bird's eye view. Recently, the HPWC office asked me to help out with the Italian-based Itera team. The team manager, Walter Zini, needed help with wrenching and general event logistics (in other words, a gopher). I jumped at the opportunity.
I met the team today at the airport. They were flying in from Philadelphia where they had just competed in the First Union Liberty Classic where Itera team member Valentina Polkhanova placed fifth. They did not have as much luggage as I expected, but it still took three trips to transfer six girls, their belongings, seven bikes, and several boxes of supplies to the hotel for registration. They didn't have as many tools or spare parts as I had expected either, just a small briefcase-sized tool set, a dozen wheels, and a box of TT gear. I guess I expected more because the previous evening I had seen the T-Mobile team setting up in the hotel parking lot with a huge moving van and several small support vans. But then, they are the US national team (Mari Holden and Amber Neven).
Team manager Walter Zini
Photo: © Billy Cornelius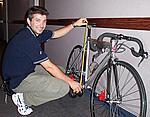 Other racers to watch this year are Lyne Bessette (last year's winner, riding for the Canadian National team); Judith Arndt, Kimberly Bruckner, and Anna Millward (from the always awesome Saturn team); and Genevieve Jeanson (newcomer to the HPWC riding for Rona).
While the team registered, I set to work assembling their bikes for a late afternoon training ride. The well used Guerciotti (aluminum) road bikes were fully-equipped with Dura Ace components, something I've never had the pleasure to own. I wasn't sure how hard to torque on the assorted parts, so Walter tightened everything and made final adjustments (see picture). Walter must know his team members well. As they gathered for their training ride, I don't recall one person asking him to make an additional adjustment to their bike.
I gathered them together for a group photo (see picture). They looked sharp with their matching bikes, helmets, and jerseys. But the black clothing won't feel so good today. The temperatures are expected to be in the 90's for the entire week. Not surprising since the southern Idaho valley is mostly desert. As they rode off I watched them until they were out of sight. I held my breath, worried that a wheel might come off or a handle bar loosen. But it seems we got everything right.
Itera Team Members
Valentina Polkhanova (Rus)
Silvia Valsecchi (Ita)
Svetlana Samokhavalova (Rus)
Kim Shirley (Aus)
Barbara Lancioni (Ita)
Vera Carrara (Ita)
Walter Zini (manager, Ita)
Cheers
Chris