Photo: © Billy Cornelius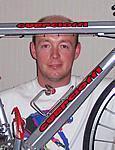 Billy Cornelius HP Women's Challenge diary
Billy Cornelius is an employee of HP, working at the company's Boise, Idaho printer plant. At the 2002 HP Women's Challenge he has volunteered for the job of working as a gopher for the Italian-based Itera team.
Index to all Billy Cornelius diary entries
Saturn cleans up
Stage 3 - June 17: Individual Time trial, 25 miles, ~500 feet of climbing
Sylvia and Vera wait their turn
Photo: © Billy Cornelius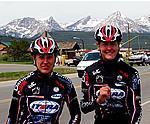 Today was an easy day! No luggage or bikes to transfer, no errands to run, and no bikes to wash afterwards. I slept in, then enjoyed the race. Walter was busy switching the bikes for TT gear - handlebars and disc wheels. His TT helmets were not UCI approved so the team had to use their normal helmets.
Early in the event the wind was calm, but by the time the leaders were out the wind had picked up and the riders would face an uphill battle against the wind. But then they would enjoy a fast downhill return trip.
Finish flags
Photo: © Billy Cornelius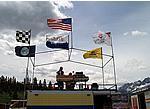 The order of start is reverse of the GC standings, so the leaders went last. I drove a support vehicle for Barbara Lancioni, who was in 21st place. Walter drove a support vehicle for Valentina Polkhanova, currently third. Barbara is more of a climber, so she was passed by three other riders. The rules state that the passing rider must give the passed rider plenty or room to prevent drafting. Later I found out that several riders were given time penalties for drafting civilian vehicles or other riders.
Saturn cleaned up by taking first (Judith Arndt), second (Kimberly Bruckner), and third (Anna Millward).
Till tomorrow
Billy