All Photos: © Billy Cornelius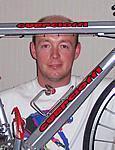 Billy Cornelius HP Women's Challenge diary
Billy Cornelius is an employee of HP, working at the company's Boise, Idaho printer plant. At the 2002 HP Women's Challenge he has volunteered for the job of working as a gopher for the Italian-based Itera team.
Index to all Billy Cornelius diary entries
Crit & cake
Stage 8 - June 22: Boise Criterium, 48 laps, 38.4 miles
Walter Zini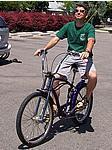 The cyclists are beginning to relax now with the hardest stages finished and the top spots essentially set. Changes in the lead have occurred as late as the criterium, but not often. The Itera team is also loosening up a bit and I heard a lot of laughing as they warmed up before the race and later at dinner. Because the conversation is in Italian I can only guess at what they are joking about. Maybe the odd-looking bald guy who keeps taking their picture?
Sandy Espeseth & Kim Bruckner joke at the start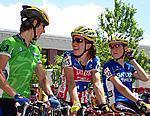 The criterium didn't start till 3pm, so everyone enjoyed the morning off. I rode my cruiser to the site of the race and Itera team manager Walter Zini immediately climbed on and rode circles around the parking lot. Then he rode out on to the race course against the flow of cyclists trying to dodge him while warming up for the race.
Judith Arndt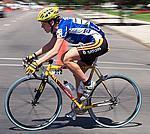 The Saturn machine again controlled the race, with Anna Millward taking home the stage win. Itera team member Svetlana Samokhvalova came in 10th. And how did she and the other Itera members want to celebrate? Some shopping and dinner at an Italian restaurant, of course! I drove the team out to our local factory outlet mall where they shopped for clothes, then to the restaurant for some spaghetti, ravioli, pizza, and lasagne.
Molta torta!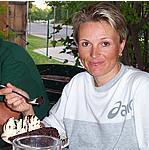 At dinner Walter insisted that our waitress pronounce the Italian words correctly. Valentina Polkhanova finished her meal with a large piece of chocolate cake a la mode! She earned it - as she should wrap up fourth place in the GC with tomorrow's final stage into Boise.
Till tomorrow,
Billy