Photo: © Billy Cornelius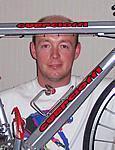 Billy Cornelius HP Women's Challenge diary
Billy Cornelius is an employee of HP, working at the company's Boise, Idaho printer plant. At the 2002 HP Women's Challenge he has volunteered for the job of working as a gopher for the Italian-based Itera team.
Index to all Billy Cornelius diary entries
Jeanson takes the lead
Stage 5 - June 19: Shoshone to Pomerelle, 87.9 miles, ~3700 feet feet of climbing
Ryan helps Barbara a warm-up
Photo: © Billy Cornelius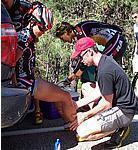 Today was the longest and surely the toughest stage of the HPWC. The start was at about 4000 feet and the finish at the Pomerelle Ski resort at 7700 feet. We had two feed zones to man on this stage, one on a flat and one at the base of the final climb to Pomerelle. Ryan and I packed the van and headed to the first feed zone before the start of the race. This was one of several trips Ryan and I have made this week, and we are getting to be good friends.
Ryan is a Cat one elite cyclist racing for Trek/Volkswagen out of Redlands, California. He has been racing since he was 18, and he just turned 30 on Monday. At 19, Ryan left for Europe to race for the Denmark cycling team called Varlouse Farum. He raced for eight months at a time in Europe for six seasons. Ryan turned pro in '98 after winning four straight Danish elite races. After turning pro he had ten top-ten to finishes.
In 2001 he pondered retirement and began studying message therapy. He worked the 2001 HPWC as a soigneur on a Boise-based team. A soigneur is more than just a masseur. Soigneurs are expected to help with the logistics of the bike race. They get people where they need to be, make sure food and liquids are available, and keep track of luggage and equipment. It's quite a task moving a team of eight or nine all over Idaho. Ryan says "Its been a real eye opener for me to work on the other side of the event. Now I know how much work they do for you, and how you couldn't survive in a race without them. But when you are a rider, you don't see how much they do for you. During a stage race, they ride for 2-3 hours, that's it. The rest of the time we are taking care of them." Ryan loved the sport too much to go cold turkey, so he started racing again this year. He began by training with some of his friends on the Saturn team in the early spring. Recently, he has raced at the McLane Classic and the Redlands Classic.
The breakaway
Photo: © Billy Cornelius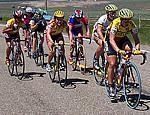 At the first feed zone our arms were nearly jerked out of their sockets as cyclists zoomed by at 30mph to grab their bottles. We had to pack up and hurry to the next feed zone before the final climb. At this feed zone Ina Tuetenburg led her team-mate Petra Rossner in a small breakaway. Itera team member Barbara Lancioni was also in this group. As before, Valentina Polkhanova wanted Coke.
While I was trying to pass a bottle to one of my team members, a rider from another team snatched it out of my hand. Apparently, this is not uncommon. We had to wait a long time for two of our riders to come in. We learned later there had been a huge crash where 25-30 cyclists went down. Many bikes were broken and had to be repaired, or parts quickly replaced. And a lot of skin was lost. The Itera riders that went down in the pile-up were Sylvia Valsecchi and Vera Carrara. We gave them water and then followed them in our van up the steep grade toward the finish line.
Sylvia & Vera
Photo: © Billy Cornelius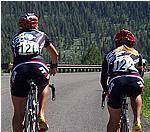 As we slowly climbed the mountain we heard reports from other vehicles regarding the status of the race leaders. Genevieve Jeanson held on to a one-minute lead to finish first. Itera team members Valentina Polkhanova and Barbara Lancioni placed fourth and eighth. Valentina moved up into the top five in the GC with that performance.
Once Vera got off her bike we realized the extent of her injuries. She had lots of road rash on her legs, hip, and shoulder, plus a bruise on her head and bruises on her elbow and wrist. When I asked her if she would be racing tomorrow, she quickly replied "yeah, sure."
I'm impressed.
Till tomorrow
Billy