Photo: © Billy Cornelius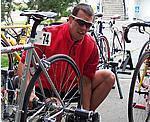 Chris Davidson HP Women's Challenge diary
Bontrager Racing Service mechanic Chris Davidson is looking after tech support for two teams at the HP: Boise squad Goldy's and the Richards team.
Index to all Chris Davidson diary entries
Diesel power - not such a good thing
HP Stage 7 - June 21: Twin Falls to Buhl, 84.5 miles
Today's stage looked long and flat on paper, with a 3km climb in the middle and repeated at the end. Saturn had their big day yesterday, so today was primed for some of the lower classified riders to get their chance in the sun. We rolled out the caravan from the hotel parking lot in Twin Falls. I love starts like this because you don't have to pack everything, transfer, unload and warmup, then repack and stage for the race. Riders drifted out of their rooms and got on trainers, while the staff set up the vehicles.
The strategy today was try for the early hotspot, then try to be ready to go with any breaks. Well the first hotspot was super fast, but just after a group of 13 went away with our Swiss rider, Priska Doppman, in it. Quickly the break had four minutes and the day's outcome was assured. It seemed like there were a lot of tired legs today that were happy to see the break get away. In the end it was a pack sprint in the break, with a right hand corner at 400m to go. Priska got second, this result was great for our team.
Back in the hotel parking lot tonight working on bikes, and I thought of something that some of the team mechanics differ on. It is obvious if you are in the hotel parking lot when the wash is going on. You can smell it. It is the use of diesel. Many mechanics like to use it for drivetrain cleaning and it is very effective. I have used it in the past, and it also works well for removing bugs and tar from the front of vehicles. However, when I see the diesel streaks in the wash water in the parking lots it makes me sad for the environment. Diesel washing down into storm drains is good for no one. Still, it remains a mainstay for mechanics. I prefer to use some of the newer bio or citrus cleaners. It seems like diesel is engrained in the team mechanic guild. Tradition is hard to break, but I hope that this one does change. It needs to.
Big criterium tomorrow. I hope to have the pictures coming again as we are back in a bigger city and I have better connections to the internet. All the word is that Saturn is going to really kill it in the crit, they are excellent crit riders and they have a powerful team. It is kinda of long crit for women, and some of the euro teams don't like the constant cornering, so it should be interesting.
Thanks for reading
Chris