All Photos: © Billy Cornelius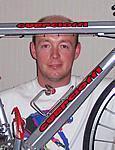 Billy Cornelius HP Women's Challenge diary
Billy Cornelius is an employee of HP, working at the company's Boise, Idaho printer plant. At the 2002 HP Women's Challenge he has volunteered for the job of working as a gopher for the Italian-based Itera team.
Index to all Billy Cornelius diary entries
Mr Potato hitches a ride
Stage 9 - June 23: Emmett to Boise, 56.5 miles, ~400 feet of climbing
Relaxed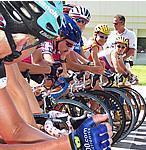 Sunday morning at the starting line there were nothing but smiles on the faces of all the competitors. Most of the competitions were decided, and there was little chance of missing the cut-off on this short, mostly flat stage into Boise.
Mr Potato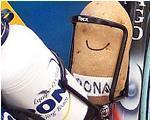 Both the athletes and the support personnel chatted about the previous eight days and their plans for the next race while collecting email addresses and trading for cycling hats, jerseys, etc. In the warm-up area I met up with the Rona team. Genevieve Jeanson would be carrying a stow-away on her final ride in Boise - an Idaho potato! Sure enough, on the final podium Mr. Potato made another appearance.
The jersey podium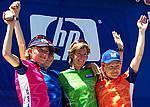 The HPWC event ended with a celebration party at a local micro-brewery. The food and beer was free, winners' checks were dispersed, and athletes and support personnel were honored and roasted. I learned that Itera would be headed back to Italy the next morning for a short session of training before spreading out across Europe for various national races.
Still relaxed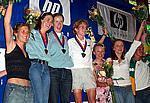 Though the work was hard I had an incredible time and look forward to next year's race. HP will not be the feature sponsor, but I'll be looking for a team to support!
Thanks for reading
Billy