Photo: © Billy Cornelius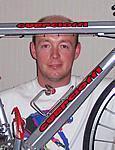 Billy Cornelius HP Women's Challenge diary
Billy Cornelius is an employee of HP, working at the company's Boise, Idaho printer plant. At the 2002 HP Women's Challenge he has volunteered for the job of working as a gopher for the Italian-based Itera team.
Index to all Billy Cornelius diary entries
The not-so-big chill
Stage 4 - June 18: Stanley to Ketchum, 62.3 miles, ~2800 feet of climbing
Rubbed up the right way
Photo: © Billy Cornelius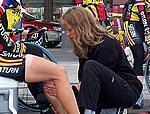 I awoke in the middle of the night and heard rain on the roof, and knew every cyclist at the HPWC heard it too. Rain isn't all that bad, but they would be climbing Galena Pass this morning and at nearly 9000 feet, that could mean snow.
Jeanson keeps warm
Photo: © Billy Cornelius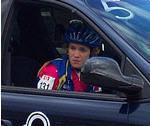 At 9am it was time to assemble at the starting line, an hour early. It was tough for the extremely lean cyclists to keep warm. Ryan rubbed embrocation on the cyclists' muscles to help warm them up. Itera team member Barbara Lancioni needed several applications. Many cyclists stayed warm inside running cars.
It wasn't such a bad day after all, just cold and cloudy. Ryan and I drove almost to the top of Galena to man the feed zone. We had an awesome view of the Sawtooth mountain. I passed out newspaper and Ryan passed out bottles. We were supposed to have hot tea at the feed zone, but weren't able to swing it in this sparsely populated area of Idaho. This was disappointing news to a few of our cyclists and our manager.
Mary Kneeland (Trek)
Photo: © Billy Cornelius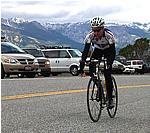 But Itera rider Valentina Polkhanova greatly appreciated the newspaper I handed her as she and the lead group of riders approached the top. Valentina quickly stuffed her jacket with the newspaper. It would help keep her warm as she descended 2000 feet over eight miles. I had seen an old video of the Tour de France and suggested to Ryan that we get some. I don't recall seeing anyone else at the feed zone with newspaper (just wind breakers). Maybe it paid off - Valentina finished with the lead group in Ketchum. She is currently in seventh place in the GC. Petra Rossner won the stage.
I spent the evening washing bikes. The wind kept picking up and knocking everything over. Again, Saturn helped us out by letting us borrow their hose and spray gun.
Till tomorrow
Billy