Track World Cup Round 2 - CDM
Dunc Gray Velodrome, Sydney, Australia, May 10 - 12, 2002
Time Trial
Kilo gold for Hoy and PB for Kersten; USA takes gold in Women's 500m
By Karen Forman
Chris Hoy
Photo: © CN/Tom Balks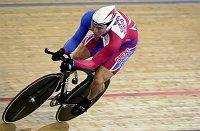 SCOTTISH rider Chris Hoy surprised himself in his first race of the year to set a time just .100 off his personal best and take the gold medal in the kilo at the second round of the 2002 UCI Track World Cup in Sydney today.
Meanwhile, Australian Ben Kersten - back after a year's sabbatical and a frustrating battle with a niggling leg injury - set a new PB for himself to score the silver medal and a definite spot in the team for the Commonwealth Games.
All in all, the men's kilometre time trial final provided some very fast cycling action for the near capacity crowd of spectators who ventured out on a Sunday afternoon to watch some of the best riders in the world performing on Sydney's 2000 Olympic velodrome.
Hoy, 26, who lives in Edinburgh and trains mostly with the British cycling team in Manchester, said he had not expected to do so well.
"It was my first race of the year . . . and I have not raced since the Anthwerp world championships in Belgium seven months ago," he said, "so I am really happy."
He said his time of 1.02.516 was just .100 outside his personal best of 1.02.499, set in Colombia (at altitude) last year.
Now he's hoping it will mean a ride four him for Scotland at the Commonwealth Games.
"There is a lot happening this year with the Commonwealth Games and World Championships, whereas last year was the first after the Olympics . . . there is a lot of enthusiasm this year." He said he started to feel good when he arrived in Sydney and the feeling had endured through the kilo.
Ben Kersten
Photo: © CN/Tom Balks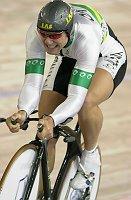 Kersten, meanwhile was rapt with his silver medal and his 1.03.351 , which relieved a great deal of anxiety about his comeback and his future. The former junior world champion, who had a year off after the Sydney Olympics, hasn't had it easy since getting back on the bike.
"2000 was a disappointing year for me," he said. "I missed selection for the team after all the preparation . . . in the two years leading up to it I was no happy with the way things were, with (former head coach Charlie) Walsh and (Gary) West and the only reason I stayed with the AIS was to make the Olympics.
"So, as soon as they were over, I got out. I never intended to stay away permanently, though."
With both Walsh and West moving on last year, Kersten, who has set himself very high goals for the future, felt it was time for a comeback. But it hasn't been easy on either the mind or the body.
"I was definitely anxious about making the Commonwealth Games team and I had a disappointing performance at the Australian nationals three weeks ago, so although I was on the squad (from which the racing team would be selected) I wasn't on the team," he said.
"Also, I have a spur in my quad and I hurt my knee in the gym, which aggravated it and I had trouble with it for three months.
"It is feeling better now, although it still niggles me. Before the nationals I was totally off the bike and only had a few weeks of raining, but since then I have had some proper training, which took a second off my time...just by being on the bike." He said he had felt under a great deal of pressure to justify his presence on the squad.
"I felt like the odd one out in the team, because I was unsure if I could make it back," he said. "But now I have proven to myself that I can. The pressure is off and everyone is happy."
Kersten said he felt very comfortable during his kilo ride today, unlike his nationals effort. "I knew there was something special happening because I felt so comfortable," he said. "Now I have a sure spot on the Commonwealth Games and worlds teams and nobody can take it away from me."
From here Kersten will compete in the third round of the World Cup and then to Europe for some more racing in the Games lead-up. He has some hard work ahead. "I want a world championship. An Olympic gold and a world record," he said, "and I am not stopping until I have got them."
Women's TT: Gold medal for Lindenmuth; top time for Meares
by Karen Forman
Tanya Lindenmuth
Photo: © CN/Tom Balks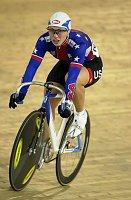 AMERICAN Tanya Lindenmuth stormed home to collect the gold medal in the women's 500 metre time trial on the second night of the second round of the 2002 UCI Track World Cup in Sydney tonight.
Lindenmuth covered the distance in 35.838. The silver medal went to Julie Paulding of Great Britain with 35.996 and the bronze to Nancy Llarely-Conteras of Mexico in 36.160. Australia's Kerrie Meares, was fourth with 36.370. Interestingly, Meares' younger sister Anna, who rode in the event but was not in the competition for medals, due to Australia's solo spot being taken up by Kerrie, rode a time that would have given her the silver.
Anna covered the 500 metres in 35.849, a time which should put her into serious contention for selection for the Australian team for the Commonwealth Games to be held in Manchester later this year.
Photos
Photography by Tom Balks
Women
Men
Results
Men
1km Time Trial - Sunday, May 12th, afternoon session
1  Chris Hoy (GBr)               18.414    32.289    46.874    1.02.516
2  Ben Kersten (Aus)             18.730    32.720    47.448    1.03.351
3  Garren Bloch (Rsa)            18.900    33.004    47.945    1.04.035
4  Arnaud Duble (Fra)            18.957    33.471    48.466    1.04.522
5  Grzegorz Trebski (Pol)        19.087    33.421    48.689    1.05.327
6  Wilson Meneses (Col)          19.000    33.100    48.486    1.05.679
7  Matthew Sinton (NZl)          19.421    33.938    49.433    1.06.449
8  Athanasios Mantzouranis (Gre) 19.439    34.055    49.591    1.06.544
9  Sebastian Baanders (Ned)      20.032    34.721    50.395    1.07.602
10 Mario alberto Sanchez (Mex)   20.544    36.012    52.152    1.09.103
   Nikoloas Aggelidis (Gre)      19.442    33.865    49.291    1.05.937
   Justin Grace (NZl)            20.252    35.154    50.600    1.06.620
   Lennart Van Drimmelen (Ned)   21.025    36.263    52.146    1.08.783

Women
500m Time Trial - Saturday, May 11th, evening session
1  Tanya Lindenmuth (USA)         35.838
2  Julie Paulding (GBr)           35.996
3  Nancy Liarely Contreras (Mex)  36.160
4  Kerrie Meares (Aus)            36.370
5  Lori-Ann Muenzer (Can)         36.600
6  Fiona Carswell (NZl)           36.966
7  Szilva Szabolcsi (Hun)         37.300
8  Marielle Van Scheppingen (Ned) 40.602
   Anna Meares (Aus)              35.849
   Rosealee Hubbard (Aus)         36.985