Track World Cup Round 2 - CDM
Dunc Gray Velodrome, Sydney, Australia, May 10 - 12, 2002
Salzwedel back on familiar ground
Former Australian national road coach Heiko Salzwedel is back in Australia this weekend to oversee Great Britain's effort at the second round of the 2002 UCI Track World Cup in Sydney. He talks to KAREN FORMAN about life after the AIS, living back in Germany . . . and about Britain and the Commonwealth Games.
Heiko Salzwedel
Photo: © CN/Tom Balks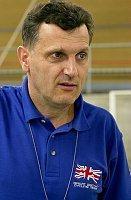 WHEN he left Australia - and his position as national road coach - a little unhappily during a major "reorganisation" of Australian cycling last year, Heiko Salzwedel felt a tad down in the mouth and as though he hadn't quite finished the job he had set out to do.
But given some time and distance - not to mention a great new job as national team manager track cycling Great Britain - Salzwedel says he is able to look at the situation "without emotion" and understand that his department was "part of the restructuring and reorganisation of cycling in Australia".
He's back in his beloved Australia this week for the second time since his return to his own country of Germany - as part of the British continent contesting the 2002 UCI Track World Cup at Sydney's Dunc Gray velodrome. And although he says he is finding it a "little strange" to be in Australia working for Great Britain rather than Australia, which he took from being a developmental program to a force to be reckoned with on the international scene.
"If you take all of the emotion out, at the end of the day you have to respect the aspects that the government gives the majority of funding to the cycling industry and the aim was to produce performances at the Sydney Olympic Games."
That "reorganisation" meant that Salzwedel did not have a job any longer - and headed back to Germany.
"I did have the feeling that I left with an unfinished job." It was a credit to his talents as a coach that he started getting job offers virtually straight away. He became toe German team performance manager with the German Cycling Federation, but only stayed 13 months because he realised he didn't fit into the German system any longer.
"I think Australia turned me into an Aussie," he says with a laugh. "But there was also the situation that when I returned to Germany I was reminded of my history from East Germany, which was not really helpful. "
He was then approached by headhunters for UK Sports and offered the position of adviser to what was then the world class performance program. "It was a multi million dollar venture, funded by a government lottery," he says. "After the Atlanta Games, the British government decided to focus more on sports."
Although he kept Frankfurt as his base, Salzwedel lived just 15 minutes from the international airport - a good thing when his work happened to be in England. Still, even with the intervening time in Germany, he still found England a bit of a shock after Australia.
"The weather plays a role in things, in the way you feel and think," he says. "Also I stepped into a much more advanced state than I had in Australia. I found a very professional organisation there, a well thought through program which was already starting to produce results.'
He's referring, of course, to the likes of Jason Queally, who took the gold in the kilo at the Sydney Olympics, along with a silver in the Olympic spring and a bronze in the team pursuit.
However, the program was, he says, "in all kinds of trouble" after the Olympics, with in-fighting between coaches and some athletes not taking cycling seriously. As well, the team pursuit was hampered by accidents and bad luck. One rider suffered a broken hip in a crash; another was hit by a car.
So, Salzwedel stepped in as a "kind of firefighter". One of his first duties was to find a replacement sprint coach following the department of the Olympic coach and he took on German Bill Huck, who, he says, did a great job of preparing the athletes for last year's World Championships in Antwerp, Belgium.
"Even with the mishaps we had some surprising success at the worlds," he says. "We won bronze in the Olympic sprint and beat Germany in the teams pursuit for the silver."
Born in East Germany 45 years ago, Salzwedel entered elite cycling as that country's national "discipline coach" - meaning he was in charge of teams pursuit, individual pursuit and pointscore riders - from 1986 to 1989.
He did well, with his riders taking a gold and three silver medals at world level (1988 Olympics, 1987 Vienna Worlds, 1986 Colorado Springs Worlds). Plus, a couple of individuals excelled under his leadership - such as (current German national pursuit coach) Erndt Dittert with bronze in the Seoul Olympics and Jens Lehmann who won silver at the worlds and Steffen Blochwitz who won bronze in the Lyon Worlds.
It was then he came to Australia . . . to kind of start at the beginning again.
"I had always had a dream to come to Australia and had already made good contacts within Australia, especially with the president, Ray Godkin, other coaches and athletes," he says.
"I learnt Australians were a friendly bunch of people. Then, I was offered a job to take on the Australian Institute of Sport track cycling program, but then it was modifying to State coach of NSW."
He took the role and became the first fulltime state coach but left after just three months because he got an offer to become head coach at the AIS, based in Canberra. At the same time, he was appointed national head road cycling coach for Australia.
"When you come from winning world championships and Olympic medals, coming down to a development level was kind of a big challenge for me," he says. "But for me personally it was a great chance to start from scratch and develop my own ideas."
One of those ideas meant getting back some riders who were racing overseas. In his first group of riders were Grant Rice (who had been racing in Switzerland), Patrick Jonker (who had been racing in France), Robert McLachlan, Justin Grindal, Robert Crowe and Matthew Bazzano.
Salzwedel stayed in the role eight years and during that time, 17 of his riders emerged into professional teams - including Robbie McEwen, Matt White and Jonker. And he earned a lot of respect - respect that is still obvious in the way people treat him.
Once the World Cup is over, all concentration will be on the 2004 Olympics in Athens.
"We have clear goals," he says, "and if you knew me well you would know what they were. I want them to achieve the maximum of their potential; we want to win at least two gold medals, which is a pretty realistic aim based on current results. Obviously our main target is the Olympic spring and the team pursuit, but we have other good opportunities as we have champions in our team.
His personal goal, he says, is always to get the maximum out of the people he is working with.
"This time it is different as I am not the coach anymore; to a certain extent I coach the coaches to do the right thing. I set up the plan and I get my kick out of the organisation running smoothly. If the public perception is that we are performing, then we are successful."