Track World Cup Round 2 - CDM
Dunc Gray Velodrome, Sydney, Australia, May 10 - 12, 2002
Points Race
Women's points race to USA
by Karen Forman
Hammer in the bunch
Photo: © CN/Tom Balks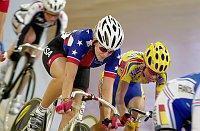 American first-year senior Sarah Hammer made an impressive World Cup debut with a convincing win in the women's points race at tonight's second round of the 2002 UCI track series in Sydney.
The 18 year old, originally from California but a new resident of Colorado Springs, figured in almost every sprint to finish on top with 31 points, ahead of French rider Cathy Moncassin with 27 and New Zealand rider Sarah Ulmer on 25.
Still, she concedes it certainly wasn't an easy race. "It was tough to do, but it was good," she said. "Ever sprint I got in was a strong one, so it worked out it my favour."
Hammer said although the pointscore was one of her pet two events (with the pursuit), she hadn't made a race plan before the start. "I never plan much before a point race, because it's a race where anything can happen," she said.
Australia's Rochelle Gilmore, Erin Mirabella of the USA and Ulmer showed their intentions to dominate very early. Gilmore, having seen Ulmer take gold in the scratch race, wasn't letting her rival from across the Tasman out of her sight.
Ulmer's team mate Fiona Carswell did a lot of work on the front, controlling the pace. With 63 laps of the 80 lap event to go, Ulmer was attacking hard off the front, with Carswell hot on her heels, Gilmore and Ulmer did some hasty work at the front of the chasing bunch, swapping turns neatly, but the bunch was disorganised, so Hammer took off alone to hunt down the New Zealanders.
With 58 to go, Moncassin was the leader with 15 points to Carswell's 13, Mirabella's five and Gilmore's four. Moncassin and Carswell took off again, looking to add to their points, but Hammer shot ahead to 17 and became race leading after lapping the field with 43 laps left to travel.
With 25 laps to go, Hammer was the leader on 17 ahead of Moncassin on 15, Mirabella on 14, Carswell on 13, Gilmore on 10, Ulmer on five, Dutch rider Marielle Van Scheppingen on five . . . and there were three sprints left to ride.
Hammer, however, was hammering and she wasn't about to lose her lead. Ulmer lead out the final sprint at the bell and Gilmore attacked for all she was worth, but in the end it went one-two-three to Hammer, Moncassin and Ulmer.
Hammer said she thought being an unknown on the senior scene had worked to her advantage. "I didn't have that much pressure," she said. Although she says she prefers track, she has joined a professional road team this year - Diet Rite - and will race on the American domestic scene.
"My team has been really helpful, letting me do track, which has been great," she said. "I would do track fulltime but the road is good to get my fitness up for the pursuit and the points race. I didn't do the pursuit here but I was second in the scratch and fifth in the keirin, so I am happy with my trip to Sydney."
Photos
Photography courtesy Tom Balks
Women
Results
Men
30km Points race - Friday, May 10th, evening session
1  Mark Renshaw (Aus)           39
2  Jean-Pierre Van Zyl (Rsa)    32
3  Greg Henderson (NZl)         28
4  Stefan Steinweg (Ger)        25
5  Jame Carney (USA)            17
6  Danny Stam (Ned)             13
7  Matthew Gilmore (Bel)        11
8  Victor Herrera (Col)          7
9  Nicolas Nagle (Fra)           4
10 Rafal Rebiewski (Pol)         3
11 Phil West (GBr)               2
   David Merianos
   Andras Berkesi
   Mario albeto Sanchex (Mex)
Women
25km Points race - Sunday, May 12th, afternoon session
1  Sarah Hammer (USA)             31   12
2  Cathy Moncassin (Fra)          27   10
3  Sarah Ulmer (NZl)              25   8
4  Erin Mirabella (USA)           16   7
5  Marielle Van Scheppingen (Ned) 16   6
6  Rochelle Gilmore (Aus)         16   5
7  Fiona Carswell (NZl)           13   4
8  Monica Tyburska (Pol)          5    3
9  Luisa Maria Calle (Col)        5    2
10 Eleftheria Ellinikaki (Gre)    4    1
   Julie Paulding (GBr)           DNF