Track World Cup Round 2 - CDM
Dunc Gray Velodrome, Sydney, Australia, May 10 - 12, 2002
Enthusiastic Greek team looks forward to Athens Olympics
By Karen Forman
"We will be ready" says Portelanos
Photo: © CN/Tom Balks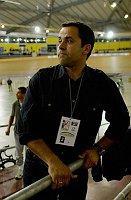 THEY might be small compared to other nations and lack the infrastructure that would make their preparation a whole lot easier, but the Greek cycling team is still looking forward to showing the world what they're made of in their home town at the Athens 2004 Olympics.
If gold medals were being awarded for positive thinking, then Greece would definitely be looking at a winning streak.
Both the nation's track endurance coach, George Portelanos and sprint coach John Karipidis believe the Greek riders will hold their own in Athens despite cycling being a minor sport in most Grecians' minds. Support from the major race organisers, bicycle and equipment factories and the high-tech sports science facilities many other countries take for granted are nonexistent in Greek cycling.
Portenlanos and Karipidis have spent the past three weeks in Sydney preparing two sprint teams and a pursuit team for this weekend's second round of the 2002 UCI Track World Cup - where they picked up two bronze medals in the Olympic sprint and the teams pursuit.
Not only did they want to heighten their teams' chances in the event, they also wanted to make the most of the opportunity for their riders to train in an international class velodrome. The Dunc Gray velodrome used for the World Cup was purpose-built for the Sydney 2000 Olympics, and is one of the fastest board tracks in the world.
In Greece, riders train on a steep, but roof-less velodrome in Athens. Karipidis says a roof will be built in time for the Athens Olympics in 2004.
"This (Dunc Gray) track is better - it is very fast," he said. "It is a very good track and the weather here in Australia is very good.
"We are very happy with our trip here and our two third places. The time for the team pursuit bronze medal was a national record for Greece."
The team of Ioannis Tsakouridis, Vasilos Gianniosis, Elpidoforos Potouridis and Kostas Rodopoulos completed the ride in 4.20.213 - a respectable time by anyone's standards.
With the Olympics just two years away, the Greek government is spending more money on developing its athletes says Portenlanos. However, cycling still remains one of the minority sports.
"We have good weather, but there is not the money for cycling" says 22 year old Ellinikaki
Photo: © CN/Tom Balks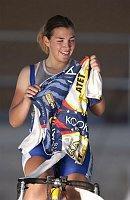 "The problem for us is the bike... we do not have any factories for bike (production) in Greece," he said.
"It costs a lot of money to bring bikes in and to support riders."
At least two of the Olympians ride in professional road teams - Rita Ellinikaki (Aliverti in Italy) and Vassilis Anastopoulos (Volksbank in Austria) - because Greece simply cannot afford to pay its riders enough.
And with no bike manufacturers of their own, the team imports bikes from England (Corima and Meton), a costly exercise in itself.
"Cycling is not a big sport in Greece," says Ellinikaki, a 22 year old, who comes from the island of Crete. "I don't know what it is the problem, because we have good weather, but there is not the money for cycling."
Although she did not figure in the medals in the points race at the Australian round of the World Cup as she had hoped, Ellinikaki was ninth in the points race at the 2000 Manchester World Championships and fourth in the junior world championships in Cuba a few years ago.
While Portelanos concedes cycling is "not a big sport" in Greece, he says that it's a given the nation will do well on the track in Athens two years from now.
"We will be ready," he said.
Ellinikaki adds her bit: "We will be (at least) as good as in Sydney" she says. "We will do well."