89th Giro d'Italia - GT
Italy, May 6-28, 2006
Mixed reactions to mountainous Giro
The unveiling on November 12, 2005 of the route of the 2006 Giro d'Italia has brought mixed reactions from top Italian riders and their managers. The route is tailored for climbers, with several brutal days in the mountains in the final week, an arrangement that's reminiscent of the route of next year's Tour de France, announced recently.
Damiano Cunego and companion.
Photo ©: Roberto Bettini

Damiano Cunego (Lampre-Caffita) won the 2004 Giro d'Italia and is looking forward to trying to repeat that feat in 2006. Cunego's 2005 season was marred by mononucleosis - it's a year he wants to forget and move on.
"It is a great Giro, very hard, especially in the last week," said Cunego. "I hope to be like in 2004, also better. Now I don't want to think anymore about my 2005 season. I'm calm and optimistic, I'll try to make this Giro as a protagonist."
Cunego will be targeting stage 17, a 158km battle from Termeno to Plan de Corones that takes in 50km of climbing and finishes at 2273m. The last 5.5km of the stage go up an unpaved gravel road next to a ski slope with sections that have a 24 percent grade. "I particularly like the Plan de Corones stage," said Cunego. "It will make selection and I'll be there."
Riders pay attention
Photo ©: Roberto Bettini

Cunego's team manager Giuseppe Saronni was also happy with the Giro route. "It is a beautiful Giro," he said, "a Giro for the climbers, excellent for Damiano's characteristics."
Gianni Savio also likes the route. Savio is directeur sportif of the Colombia-Selle Italia squad whose diminutive Venezuelan climber Jose' Rujano took the third podium spot in the 2005 Giro and blitzed the mountains classification.
"It's a great Giro," Savio told Datasport, "that evokes the glamour of bike racing of old, and the winner will certainly be a climber. We have a lot of them in the team, besides Rujano there are other South Americans and Italians. There is Missaglia, Barbero and especially Wladimir Belli who hopes to improve on the results of the last few years."
However, as Colombia - Selle Italia is not a ProTour team, Savio's squad will need a wild-card invitation to ride the Giro, though that seems unlikely to be withheld after the way it animated the 2005 edition. "I hope we will be invited by the organisation," added Savio," because we can do well. Our main objective for the season will obviously be the Giro."
Alessandro Petacchi, not happy
Photo ©: Roberto Bettini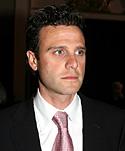 Sprinter Alessandro Petacchi is less impressed. While there are ten flat or rolling stages in total, Petacchi sees only a few opportunities for a pure sprinter to take stage wins.
"There are only five flat stages that suit sprinters and I think they've put in too many mountain stages and too many hills on other stages," Petacchi said."I can't understand it. The organisers obviously didn't like me winning 19 stages in the last three years."
This year's Giro runner-up Gilberto Simoni doesn't see this as a perfect route for him, despite his strength as a climber. "I am not in pole position," he said. "Am I the number one favourite? No, I am number two! I know that I can still do great things but that doesn't change the fact that this is a very hard Giro."
Riders pose with the map
Photo ©: Roberto Bettini
Simoni said the big surprise of the 2005 race had been Jose' Rujano, and that he expected Rujano would reconfirm his climbing talent, especially in the final week. Looking at the number of flat stages, Simoni compared the Giro with the Tour de France. With the Tour's eleven intermediate stages, "You are not always in full flight; you do not need lots of climbing stages to make a hard race."
Climbers cheer, sprinters jeer at 89th Giro d'Italia route
By Tim Maloney, European Editor
Italian national team selector Franco Ballerini is already picking his favourite for the 2006 Giro d'Italia: Gilberto Simoni. Despite conflicts in the past with Simoni over team selection in 2004, Ballerini sees 'Gibo' as a solid pick for Giro glory.
"It's a difficult Giro, above all in the last week with five nasty stages," Ballerini said. "No one can have an off day in this race. The start in Belgium is hard, because there are plenty of small climbs that will make things hard for the sprinters. In my opinion, looking at the last week of the race, I think Simoni could win. It will be interesting to see the challenge between (Simoni) and Cunego. Di Luca has also improved a lot and now knows how to ride for General Classification."
Davide Cassani, RAI-TV's cycling colour commentator is clear in his view of the 2006 Giro's outcome: "It's a much harder Giro than last years edition; it's a lot like the 1998/99 Giro and the three big mountain stages in the last week will be very decisive. In the end, I see a climber like Simoni or Savoldelli atop the podium, while it might be too hard for Di Luca and Cunego. Rujano certainly can't hide during that last week, either." As for other possible candidates for the 2006 Giro, Cassani said of Jan Ullrich that "he could ride, but just to train for the Tour, while there is too much climbing for (Floyd) Landis."
After winning 19 Giro stages in the last three editions, super-sprinter Alessandro Petacchi may skip the Giro d'Italia in 2006. Although his new Milram squad will certainly be there, Petacchi only sees a few chances for sprinters in the 21 stage Giro.
"There are only five flat stages that are good for sprinters and I think there are just too many mountain stages and other hilly stages," Petacchi explained. "Maybe I will have to take another look at my program and focus on the Tour de France instead." As for Petacchi's stand, Cassani said "I understand his point of view; there are few stages for sprinters like him."
Petacchi's friend and training partner, former classics great Michele Bartoli also evaluated Ale-Jet's reaction, saying, "He was expecting a few more stages adapted to his characteristics as a sprinter, and I understand his disappointment, but I'm sure he'll give it a second look when he calms down." Two time Giro winner Ivano Gotti, himself a superb climber, also was sympathetic to Petacchi, saying that "It's a nice Giro, but the organizers should have given more space to a great champion like Petacchi."
Former Giro winner Francesco Moser, President of the International Pro Riders Association (CPA) used yesterday's Giro presentation to promote his idea to reduce the length of the major stage races, saying "to shorten the Grand Tours will enable the riders to have a more reasonable program of 80 to 85 days of racing each season", but given the ongoing polemics between the UCI and the organizers of the Grand Tours, this scenario seems highly unlikely.