Recently on Cyclingnews.com
89th Giro d'Italia - GT
Italy, May 6-28, 2006
Italian giants take centre stage
By Jeff Jones
2005 winner Paolo Savoldelli (Discovery Channel)
Photo ©: Sirotti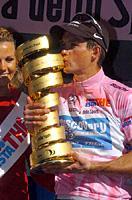 Despite a more international flavour of top level cycling, the focus of the Giro d'Italia is still very much on Italy and the Italians who look set to dominate the race again. From last year's winner Paolo Savoldelli, to 2004 champion Damiano Cunego, 2001 and 2003 winner Gilberto Simoni, to serious challengers Ivan Basso and Danilo di Luca - all the likely winners of this year's edition are Italian. The good news for fans is that they are all in good shape, and we could well see a Giro that is as exciting as last year's thriller.
After winning the prologue in the Tour de Romandie, defending champion Paolo Savoldelli (Discovery Channel) looked to be on a perfect course for the Giro. But a stomach bug a couple of days into the race put paid to his chances of fine tuning his form for the three week tour. Still, Savoldelli will start in the prologue in Seraing with the number one dossard and will have enough time to regain any lost form before the Giro's crunch time in the final week. His team should be a little stronger this year too, with Tom Danielson being injury free and more experienced, Viatcheslav Ekimov, Benoît Joachim, Pavel Padrnos, Jason McCartney and Matthew White ready to shoulder the load on the flats, and Manuel Beltrán and José Luis Rubiera for the mountains.
Damiano Cunego (Lampre-Fondital) was simply brilliant when he won the Giro in 2004. He had to fight against his nominal team captain Gilberto Simoni, who wasn't too happy about playing second fiddle to the young gun, but in the end he had no choice. The two parted teams next season. Now, after doing a bad Giro last year because of mononucleosis, Cunego has and excellent team and great form and will come into the race as a top favourite.
Like Savoldelli, Gilberto Simoni (Saunier Duval) is a two-time Giro d'Italia winner. He is a mountain goat, and this year's Giro will suit his compact climbing style. He will also be the sole leader in Saunier Duval, and will have Angel Gomez and Leonardo Piepoli as support in the mountains.
Ivan Basso (CSC) has shown much promise in recent years, but has never actually stood on the Giro podium. Last year, his plans were foiled by a stomach upset during the Stelvio stage, and although he recovered to win two stages later in the race, he was no longer a threat for the general classification. This year, he has shown form by winning Criterium International, and was in the front group during Liege-Bastogne-Liege, where he was heavily marked by the other Italians.
Danilo Di Luca (Liquigas) is putting all his eggs in the Giro basket for the first time this year. Winner of the ProTour last year, as well as Amstel Gold Race and La Fleche Wallonne, Di Luca went into the 2005 Giro a little past his best. He still finished with fourth overall, and that convinced him that he could contend for the victory this year. His climbing is solid, but his time trialing is weaker than some of the others, particularly Basso.
In terms of GC riders, José Rujano Guillen (Selle Italia-Serramenti Diquigiovanni) is perhaps the most interesting non-Italian. Rujano, a very compact climber from Venezuela, finished third in the Giro last year and at one stage even looked like he could win it. A brilliant climber, Rujano is a danger man on the steeper mountains, and could take dangerous amounts of time out of the other GC contenders to make up for his deficiency on the flat.
Finally, you can never go past Serguei Gonchar for a top spot in the Giro. The T-Mobile rider is perhaps a little past his best, but his consistency and never-say-die attitude usually pays off. Gonchar was second in 2004 but wasn't quite up there in 2005. He is one of the better time trialists, and if he can limit his losses in the mountains, another podium spot is possible.
Sprinters: Petacchi and McEwen vs the rest
Alessandro Petacchi (Milram)
Photo ©: Roberto Bettini

The Giro d'Italia is popular among the sprinters, and features a number of flatter stages for the fast men to strut their stuff. Chief among the sprinters is Alessandro Petacchi from Team Milram, who has 19 Giro stage wins to his credit and will definitely be hungry for more. Petacchi's Giro wins all came between 2003 and 2005 when he was riding for Fassa Bortolo, which had one of the best sprint trains in the business. But after Fassa folded at the end of last year, it remains to be seen whether Milram can propel Ale-Jet to similar levels of success.
Petacchi's chief sprinting rival will once again be Davitamon-Lotto's Robbie McEwen, who won three Giro stages last year, and is one of the few men who can beat Petacchi head-to-head. After a bad start to the year, McEwen recently won a stage in the Tour de Romandie and showed that he has still got it there. McEwen will have his leadout man Henk Vogels with him, along with plenty of domestiques.
Petacchi and McEwen should dominate the sprints this year, as there is a gap to the next best (on paper, at least). Graeme Brown (Rabobank) is fast, and should be able to place highly, with a stage win definitely not out of the question. T-Mobile's André Korff and Olaf Pollack are in with a chance too, as they have sharpened their form in the recent German stage races. Paolo Bettini (Quick.Step) is not really a bunch sprint specialist, but if there is a tough finale, then look out. The same goes for Davide Rebellin and Stefan Schumacher (Gerolsteiner), who will probably look to Robert Förster in the bigger finishes. Maximiliano Richeze (Panaria) is another interesting name to watch in the bunch kicks.
Or perhaps we'll see the emergence of some future stars in this Giro d'Italia...
Live coverage
Cyclingnews will be covering the Giro d'Italia live every day starting from 14:00 local time (CEST)/10:00 EDT (USA East)/7:00 PDT (USA West)/22:00 AEST (Australia East).
Giro d'Italia 2006 launch, November 13, 2006
After Belgian antipasto, 2006 Giro has molto mountains for a tough climbers tour
By Tim Maloney, European Editor In Milano
The map of the Giro 2006
Photo ©: AFP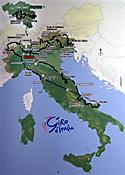 With a four-stage start in Belgium, then four mountaintop stage finishes, and the return of the team time trial, the 89th edition of Giro d'Italia is the hardest edition of Italy's Grand Tour since 1999. The 2006 Giro starts in the Wallone region of eastern Belgium, the eighth time the race known as the Corsa Rosa for its distinctive pink leader's jersey, has started outside Italy.
This year's Giro start, with four stages in the "black" coal mining country of Wallonia has a special connection with Italy. After WW2, many Italians emigrated north to eastern Belgium to find work in the coal mines and this year's Giro will commemorate the 136 Italian miners killed in a tragic fire fifty years ago at the Bois du Cazier mine on August 8, 1956. Today, almost 300 thousand Belgians of Italian origin live in the region and thus, the organization of the Giro d'Italia decided to reach out to their people. Mr. Gerard Gaston who represented the Region Wallonne at the Giro d'Italia presentation explained, "We're delighted to host the start of the Giro d'Italia in 2006; it's a major international event. We have many major cycling events in Wallonia like Liege-Bastogne-Liege and many Italians have perfectly integrated in our region, including our Prime Minister Elio DiRupo."
Damiano Cunego (L), Danilo Di Luca and Paride Grillo
Photo ©: AFP

With a decidedly happier and more fun vibe than last month's Tour de France presentation in Paris, Paolo Belli and his Big Band opened the festivities with his swingin' "Il grand bell'Giro" theme at Milano's Mazda Palace auditorium, then madrina Elena Seridova introduced RAI-TV's Giro d' Italia broadcast team Auro Bulbarelli, Davide Cassani, Alesandra DiStefano, while up in the mountains were Alessandro Fabretti and Moreno Argentin, with Silvio Martinelli in the broadcast booth. Icons of cycling Felice Gimondi and Eddy Merckx were briefly interviewed, then after a strange intermezzo from a Chinese acrobatic troupe, the Belgian antipasti of the first four stages of the 2006 Giro were revealed. On stage were Gibo Simoni, Damiano Cunego, Ale-Jet Petacchi, and ProTour Champ Danilo DiLuca but defending champion Paolo Savoldelli wasn't on hand, as he was still on vacation.
Gilberto Simoni
Photo ©: AFP

After RCS Sport chief Angelo Zomegnan paid homage to the Italians in Belgium and explained that, "this is a modern Giro d'Italia, a Giro we have worked hard to make the best possible race", the challenging 2006 edition of the Giro d'Italia was revealed.
The 21-stage race is 3.553,2km long, with an average daily stage length of 169.2km. The 2006 Giro consists of ten flat or rolling stages, four stages of medium mountains, four mountain stages, two individual time trials and one team trial, with two rest days.
After four days in Belgium, the Giro d'Italia returns to the Italian boot for a dead flat team time trial between Piacenza-Cremona, then heads south through Emilia Romagna to the Giro's first mountaintop finish on the Maieletta in Abruzzo. The Giro goes as far south as Peschici, then after a transfer back north and a rest day, it's the first individual time trial over 50km in Pontedera. On the Giro's second weekend, it's time for Tuscany, then up to Piemonte with the second mountaintop finish awaiting on Stage 13 to La Thuile.
An artist performs
Photo ©: AFP

The 89th Giro d'Italia's final week gets serious on Tuesday May 23's stage 16 that finishes atop the mythical Monte Bondone, where Charly Gaul won fifty years ago and sewed up his Giro win. The next day is another mountaintop finish at Plan de Corones after a steep unpaved climb. After a transitional stage east through Friuli, the Giro's brutal final weekend finale has yet another mountaintop finish atop Passo San Pellegrino after Forcella Staulanza, Marmolada and Pordoi. Saturday's queen stage is Trento-Aprica including Passo Tonale, the legendary Gavia (Cima Coppi) and super-steep Mortirolo.
The final day of the Giro d'Italia was to have had stages, but the 11km uphill ITT up the mythical climb of the Ghisallo has been scrapped and the riders will just race from Ghisallo to Milano for the traditional criterium finish.
The map
Photo ©: AFP

The 2006 Giro parcours in depth
Stage 1 - Saturday May 6: Seraing, 6.2km - A tricky start in Seraing with a 2km climb and technical descent that is perfect for defending champion Paolo Savodelli.
Stage 2 - Sunday May 7: Mons/Charleroi-Marcinelle, 203km - A fast, flat stage for the sprinters
Stage 3 - Monday, May 8: Perwez-Namur, 202km - last 2km climb to famous Fortress
Stage 4 - Tuesday, May 9: Wanze-Hotton, 182km - Hilly day with two climbs from the Ardennes classics, Cote de Wanne and Stavelot-La Haute Levèè.
Wednesday, 10 May: Rest Day (air transfer to Italy)
Stage 5 - Thursday, May 11: Piacenza-Cremona Team Time Trial, 38km - First Giro TTT since '89 will be fast with tailwind.
Stage 6 - Friday, May 12: Busseto-Forlì, 223km - A flat sprinters stage to the hometown of Italian champ of yore Ercole Baldini
Stage 7 - Saturday, May 13: Cesena-Saltare, 230km - A long, tough day through the hinterlands of the Marche region over the climbs of S. Marino, Monte Catria and Monte delle Cesane.
Stage 8 - Sunday, May 14: Civitanova Marche-Maieletta (Passo Lanciano), 171km - The first mountaintop finish to Passo Lanciano, a tough climb in the mountains of Abruzzo with a steep final 12km to 1306m.
Stage 9 - Monday, May 15: Francavilla Al Mare-Termoli, 147km - A sprinters stage along the Adriatic coast to Termoli
Stage 10 - Tuesday, May 16: Termoli-Peschici, 190km - Tricky, technical uphill finish in Peschici could cause time gaps
Wednesday, 17 May: Transfer & Rest Day
Stage 11 - Thursday, May 18: Pontedera ITT, 50km - A flat, fast individual time test in the birthplace of the Vespa scooter
Stage 12 - Friday, May 19: Livorno-Sestri Levante, 165km - With the steep Passo del Bracco near the finish, sprinters may not make it to Sestri Levante together
Stage 13 - Saturday, May 20: Alessandria-La Thuile, 216km - This first real mountain stage of the '06 Giro heads across Piemonte to Val d'Aosta, first passing the Colle S. Carlo at 1951m, before a tough mountaintop finish near the Passo Piccolo San Bernardo in La Thuile ski station.
Stage 14 - Sunday, May 21: Aosta-Domodossola, 224km - This is a transitional mountain stage that starts in Aosta, climbs up the Gran San Bernardo, descends to Switzerland, climbs up Passo Sempione and descends back to Italy for the finish in Domodossola.
Stage 15 - Monday, May 22: Mergozzo-Brescia, 182km - This dead flat sprinters stage to Brescia is probably the easiest stage of the 2006 Giro.
Stage 16 - Tuesday, May 23: Rovato-Trento (Monte Bondone), 180km - The Dolomiti begin with a hard stage via Passo Maniva to another uphill finish on the legendary Giro climb of Monte Bondone, 1650m. above Trento.
Stage 17 - Wednesday, May 24: Termeno-Plan de Corones, 158km - A brutal stage with 50km of climbing that has another mountaintop finish. Starting in Termeno, Stage 17 goes via Passo di Pinei, over Passo delle Erbe to finish atop Plan de Corones at 2273m., with the last 5.5km up an unpaved gravel road next to a ski slope with sections that have a 24% grade!
Stage 18 - Thursday, May 25: Sillian-Gemona del Friuli, 227km - The Giro heads east through the Julian Alps, passed through the area shaken by a major earthquake in 1976, then heads into Austria for 30km before moving back to Italy. First climb is Monte Croce Carnico, with the steep 7km Cuel di Forcia waiting with 55km to go to Gemona.
Stage 19 - Friday, May 26: Pordenone-Passo di San Pellegrino, 220km - This is the hardest stage of '06 Giro, with 7 hours of racing and 4000m of climbing. First on the menu for Friday is the Forcella Staulanza, the steep back to back Passo Fedaia and Passo Pordoi, then the difficult ascent to finish atop Passo di San Pellegrino, where the steep last 7km will break things up.
Stage 20 - Saturday, May 27: Trento-Aprica, 212km - After Friday's ugly stage, Saturday's penultimate stage of the Giro isn't much better, with another 4000m of climbing and seven hours in the saddle. After a second stage start in Trento, Stage 20 climbs the Passo Tonale, then up the steep Passo Gavia to the Giro's high point of Cima Coppi (2618m), the brutally steep Mortirolo where the Memorial Pantani awaits before the descent to Aprica.
Stage 21 - Sunday May 28: Ghisallo-Milano, 140 km - The final stage is from the Madonna del Ghisallo Museum into Milano, for the traditional criterium finish.
The mountains
Stage 7 -May 13: Cesena - Saltara, 230 km

Km 42

S. Marino

645 m

Km 141

Monte Catria

1,460 m

Km 198

Monte Delle Cesane

628 m

Stage 8 - May 14: Civitanova Marche - Maielletta/Passo Lanciano, 171 km

Km 171

Maielletta - Passo Lanciano

1,295m

Stage 13 - May 20: Alessandria - La Thuile, 216 km

Km 208

Colle S. Carlo

1,951m

Stage 16 - May 23: Rovato - Trento/Monte Bondone, 180 km

Km 65

Passo Maniva

1,664m

Km 180

Trento - Monte Bondone

1,650m

Stage 17 - May 24: Termeno - Plan de Corones, 158 km

Km 54

Passo Di Pinei

1,442m

Km 118

Passo Delle Erbe

1,987m

Km 158

Plan De Corones

2,273m

Stage 19 - May 26: Pordenone - Passo di San Pellegrino, 220 km

Km 103

Forcella Staulanza

1,773m

Km 139

Passo Fedaia

2,057m

Km 164

Passo Pordoi

2,239m

Km 220

Passo Di S.Pellegrino

1,918m

Stage 20 - May 27: Trento - Aprica, 212 km

Km 85

Passo Del Tonale

1,883m

Km 102

Passo Gavia (Cima Coppi)

2,618m

Km 180

Passo Del Mortirolo

1,854m