103rd Paris-Roubaix - PT
France, April 10, 2005
Main Page Results Live report ProTour standings
Boonen does the double
And removes himself from Museeuw's palmarès
By Anthony Tan & Tim Maloney
Tom Boonen (Quick.Step)
Photo ©: Roberto Bettini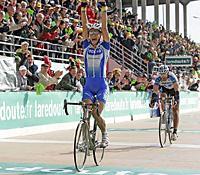 The 24 year-old golden boy of Belgian cycling, Tom Boonen, who rode an amazing Tour of Flanders last weekend to become one of the youngest winners of 'De Ronde', today won his first Paris-Roubaix with another flawless display of power riding, becoming only the eighth rider in history to do the Flanders-Roubaix double.
"This is more than unbelievable. Everything went as I expected it would," said the beaming Boonen post-race, engulfed in a horde of team staff, journalists, photographers and fans.
"This is impressive," were some of the first stuttered words that came from his ecstatic team manager Patrick Lefevre's mouth. "The whole team worked for Tom. Actually, Boonen shouldn't have won after his victory last week. But he was spared of bad luck and rode fantastically."
On going with one of early breaks - which turned out to be the decisive one - Boonen said: "I'm hard to hold back, yes. But it was also dangerous and nervous in the peloton. When Pozzato went, we were away, and the legs were really good - I knew I was really strong today, even with 80 kilometres to go."
Completing the very rare back-to-back double, last achieved by Peter Van Petegem in 2003, but before that, 26 years ago by four-time Paris-Roubaix winner Roger De Vlaeminck (1977), Boonen has done something the man he is constantly compared to hasn't - that being three-time winner Johan Museeuw. "To win the double at 24 years old, fantastic. I shouldn't race for too much longer, right?" Boonen quipped.
Flecha
Photo ©: Roberto Bettini

Entering the Roubaix velodrome with only George Hincapie (Discovery Channel) and Juan Antonio Flecha (Fassa Bortolo) by his side, the Belgian displayed the cunning of a seasoned track sprinter. Waiting and waiting until there were just two corners left, the blonde bombshell launched himself down the banking to comfortably outsprint Hincapie and Flecha, who took second and third place respectively.
"I felt confident coming into the velodrome because I raced a lot on the track when I was younger. "There's not much to say about the sprint. I just had to keep my head," said Boonen.
Second placed George Hincapie, who rode his best-ever Roubaix and would have been a deserving winner himself, said he felt confident all day: "The team was strong today and the strongest guys were up there at the end. I could only hope that I was faster than Boonen, but he had more power.
"I believed in myself. I knew Boonen was the man to beat. When he attacked, I thought I could come by him at the end. But he was too strong. I'm happy I was amongst the strongest riders. I rode a smart race. I did what I could and I rode as hard as I could," he said.
Asked if there was ever a stage where Hincapie thought about ridding himself of the Belgian, Hincapie simply answered: "Yeah but it wasn't possible. We went hard in the Carrefour de l'Arbre and the three strongest guys were there. You could tell we were all just finished. It was just 'get to the sprint'. No-one could ride away."
Tom Boonen (Quick.Step)
Photo ©: Sirotti

"It was beautiful Roubaix," said the third-placed Flecha, who, after finishing second in a controversial Gent-Wevelgem on Wednesday and 12th in the Ronde, is surely up for a Spring Classic victory in the not-too-distant future.
"After an ill-fated Gent-Wevelgem, I wanted to win for me and Fassa Bortolo. We attacked from a long way out, but in the finale, Boonen was the strongest. I knew I had no chance in the sprint; I wanted to try and attack before, but at the end of a race like this, you never know if you'll cramp or something. However, I am very happy with third place," he said.
The 27 year-old Spaniard, whose surname translates to 'arrow' in English, vowed to returned to the Hell of the North: "I will return to win, but first I want to make amends at Gent-Wevelgem."
Defending champion Magnus Backstedt (Liquigas) was there until just under 20 km to go, when the Carrefour de l'Arbre put paid to his chances. "I was really strong today and so fourth place isn't that bad...the other guys were just stronger than me. I gave it my all today so I'm happy the way it worked out," said Backstedt.
But right now, the only thing left on people's minds is what can boom-boom Boonen achieve next year. "Ach, Boonen just has to remain himself," said Lefevre. "Next year we will build a strong team around Tom. We don't need pseudo-stage racers any more in this team."
How it unfolded
Here they come!
Photo ©: Sirotti

At 11:00am this morning under cloudy conditions, the 103rd edition of Paris-Roubaix began when 191 riders headed out of Compiegne for a 4km neutral section. The weather gauge read 10 degrees C, and with a west-northwest wind blowing at 15-20 km/h, the peloton faced a crosswind on the way to Roubaix. Four teams and 31 riders in total were given blood tests by the UCI this morning: Credit Agricole, Ag2r, Bouygues Telecom and T-Mobile, with all riders were cleared to start.
Frank Vandenbroucke (MrBookmaker) and Inaki Isasi (Euskaltel) did not start, but all the favourites were there: Tom Boonen (Quick.Step), defending champion Magnus Backstedt (Liquigas-Bianchi), Peter Van Petegem (Davitamon-Lotto), Steffen Wesemann (T-Mobile), George Hincapie (Discovery Channel) and Fabian Cancellara (Fassa Bortolo).
After an aggressive first half-hour of racing, Thijs (MrBookmaker) attacked near Guiscard after 25km, and Berges (Agritubel), Herrero (Euskaltel) and Lang (Gerolsteiner) bridge. As the quartet gained 0'45 in 5km, the traditional early lead break of no-hopers was born, and after another 20km, a four-man countermove containing Barredo (Liberty Seguros), Chavanel (Bouygues), Brard (Agritubel) and Coyot (Cofidis) struck out, making the junction after 57km in St-Quentin, with 202km to race. And despite the ominous pre-race forecasts and a few drops of rain, the precip was kept at bay with a strong wind coming in from the riders' left shoulders.
30km later and with 170km to go, in the wide-open farmland of the Aisne near Bosigny, the gap was 12'05, but as the chase picked up with Fassa Bortolo on the front, the gap dropped to 11'30 as the peloton picked up the tempo behind, with a 44 km/h average after two hours' racing.
Andrea Tafi (Saunier Duval)
Photo ©: Sirotti

By the first of 26 sections of pavé in Troisvilles, the leaders held a 9'40 advantage. At the muddy Secteur 21 in Vertain with 133km to race, the break still had a 6'57 lead, aided by a major crash in the peloton that took down Steels, Van Petegem, Stijn Devolder and Allan Davis, among others. Davis had to abandon on the spot with a broken elbow, while Van Petegem eventually chased back with his teammates Roesems and Steels, although ended up abandoning shortly afterwards with deep cuts and an injured wrist.
With 105km to go, the six leaders were at Secteur 18 at Famars, with Herrero and Chavanel chasing and the peloton at 5'45. 10 kilometres later, T-Mobile began forcing at Secteur 16 with Wesemann, Zabel, Baumann and Burghardt, and with 86km to go at Secteur 15 in Haveluy (2400m), the break had a 5'21 lead - but Quick.Step was about to change the status quo of Paris-Roubaix with 80km to go...
As raindrops started to fall at the start of the 3.7km long Secteur 14 of Hornaing-Wandignies, Roubaix rookie Pozzato (Quick.Step) accelerated hard with his team captain Boonen right on his wheel. Michaelsen (CSC), Hincapie (Discovery) and Backstedt (Liquigas) were right there, while Pozzato's former Fassa teammates Flecha and Cancellara also got across. As Gent-Wevelgem winner Mattan (Davitamon-Lotto) tried to bridge, Pozzato dropped off, while former winner Andrea Tafi (Saunier Duval-Prodir) was also dropped. 5km later at Warlaing-Brillon, Secteur 13A, the counterattack formed and begun closing fast on the leaders.
Andrea Tafi, who is wrapping up his career after 30 pro wins, told Italian TV after the race, "I have such a big emotion now, but I'm sorry I didn't do better today... in my career, I've had so many beautiful emotions and winning here [in 1999] was the greatest moment of my career. Last night, I wasn't feeling that good and so when you aren't good, that's that. But I really want to thank everyone who's supported me."
Approaching Orchies with 60km to go, the break was hanging in there with Thijs, Brard and Berges riding hard, while the counter-attackers were at 1'30, with a 30-man peloton 2'00 further back, led by T-Mobile, Rabobank and Davitamon-Lotto, all of whom had missed the now-decisive break of the race.
Boonen
Photo ©: Roberto Bettini
After Secteur 12 in Orchies, the five counter-attackers had closed to within one minute, while the peloton began losing ground. With Van Petegem out of the race, Van Bon attempted to salvage something for Davitamon-Lotto and attacked solo on Orchies, while Wesemann and Quick.Step watchdog Hulsmans soon joined him. Up front, at Secteur 11 in Auchy-Lez-Orchies, the break was now in sight of the first counter-attackers, with an impressive Boonen pounding on the front.
At 50km to go, the early break was caught after 184km of liberty, creating an 11-man front group of Thijs (MrBookmaker), Berges and Brard (Agritubel), Coyot (Cofidis), Boonen (Quick.Step), Backstedt (Liquigas), Hincapie (Discovery), Michaelsen (CSC), Flecha and Cancellara (Fassa Bortolo), Carlos Barredo (Liberty); Van Bon, Wesemann and Hulsmans were chasing at 0'37, with the peloton at 2'15.
With 10 pavé zones left, the toughest moments were still to come, including the brutal 3km Secteur 10 of Mons-En-Pevele. Flecha and Michalesen were hammering up front while Cancellara was pedaling easy at the back, but suddenly disaster struck for the Swiss rider, as he flatted and was dropped from the front group. Team-mate Flecha stopped working, but with 44km to go, the break rode harder than ever.
At Secteur 9 in Merignies, old-hand Michaelsen was riding hard on the front, while Cancellara was chasing back after his second puncture. As Secteur 8 (Pont-Thibaut) approached near Lille Airport, Boonen was still making tempo, with the chasers at 1'00 and the peloton at 2'50, and a pallid sun shining as the race entered its crucial phase.
Boonen
Photo ©: Sirotti

As Secteur 6 of Cysoing-Bourghelles started with 25.5km left, the other four riders in the break eyeballed Boonen. The Belgian and Backstedt try some forcing, but nothing too hard; however, with 25 friends and family from the Big Apple waiting for him in the Roubaix Velodrome, New York native Hincapie hit the front in earnest, but to no avail.
Things got serious as Secteur 5 of Camphin-En-Pevele began with 20km to go. A difficult 1800m-long humpbacked section saw Boonen move right to the front to keep control, with old-pro Michaelsen still right there and Hincapie riding smart. Backstedt accelerated halfway through, but Flecha, Boonen and Hincapie all latch on, though Michaelsen was clearly hurting.
With the chasers almost 2'00 behind the front five, the crucial 2100m Secteur 4 of Carrefour de Arbre began with Flecha up front, followed by Hincapie, Michaelsen, Boonen and Backstedt. As Boonen moved up to Hincapie's wheel less than one kilometre in, Michaelsen punctured and dropped off Boonen's wheel. Then Backstedt faced his worst nightmare: the big Swede could only watch the other three disappeared up the pavé, metre by metre, as Boonen's forcing ended Maggie's hopes of defending his Roubaix crown.
At Secteur 3 in Gruson, Boonen hit a big gear, with the tough Flecha glued to his wheel and Hincapie solid. As the outskirts of the grim industrial city of Roubaix began, the front trio came out of Gruson and had just 10km and two pavé sectors to go. Flecha hit the front with his hands draped over the top of the handlebars, while George looked good with Boonen increasingly nervous; Backstedt was now 20 seconds behind in no-man's land, with Michalesen just hanging on one minute back, and the chase group at 2'00.
Tom Boonen (Quick.Step)
Photo ©: Sirotti

No-one dared to attack at five to go, and the lead trio was all together; Backstedt was at 0'40, Michaelsen at 1'15, and the chase group of seven - Cancellara, Brard, Van Bon, Wesemann, Hulsmans, Thijs and Coyot - at 3'00, with the peloton 4'00 behind.
On the symbolic and final Secteur 1 of pavé in Roubaix, Boonen kept the pace high to avoid attacks, then Hincapie passed him to enter the velodrome first. A three-up match sprint began with Boonen perfectly placed in third wheel... Flecha jumped with 250m to go, but Boonen came down the banking to hit the front while Hincapie gave it everything, but nothing could stop a superb Tom Boonen from winning the 103rd edition of Paris-Roubaix!
The seventh win of the season for the powerful 24 year-old from Mol, Belgium, Boonen became the eighth rider to do the double and win Flanders and Roubaix back-to-back. With his Roubaix victory today, Boonen now takes over the lead in the ProTour standings with 112 points, ahead of Petacchi, Freire and Hincapie. Boonen may start next Sunday's Amstel Gold Race, but he'll soon take a break from his incredibly successful 2005 Classics campaign, before riding the Tour de Suisse, Tour de France and Vuelta a España - all pointing towards the world road championships in Madrid this September.
Race Day photography
For a thumbnail gallery of these images, click here
Images by Jonathan Devich/epicimages.us
Images by Hedwig Kröner
Images by Fotoreporter Sirotti
Images by Roberto Bettini/www.bettiniphoto.net
Images by Régis Garnier/www.velofotopro.fr.st
Results - 259 km
1 Tom Boonen (Bel) Quick Step                                      6.29.38 (39.88 km/h)
2 George Hincapie (USA) Discovery Channel Pro Cycling Team                
3 Juan Antonio Flecha (Spa) Fassa Bortolo                                 
4 Magnus Backstedt (Swe) Liquigas-Bianchi                             1.09
5 Lars Michaelsen (Den) Team CSC                                      2.43
6 Leon Van Bon (Ned) Davitamon-Lotto                                  3.49
7 Florent Brard (Fra) Agritubel                                           
8 Fabian Cancellara (Swi) Fassa Bortolo                                   
9 Thor Hushovd (Nor) Credit Agricole                                      
10 Arnaud Coyot (Fra) Cofidis, Le Credit Par Telephone                    
11 Frédéric Guesdon (Fra) Française Des Jeux                              
12 Vladimir Gusev (Rus) Team CSC                                          
13 Erwin Thijs (Bel) Mrbookmaker.com-Sports Tech                          
14 Nico Mattan (Bel) Davitamon-Lotto                                      
15 Kevin Hulsmans (Bel) Quick Step                                        
16 Steffen Wesemann (Ger) T-Mobile Team                                   
17 Frank Hoj (Den) Gerolsteiner                                       4.48
18 Stuart O'grady (Aus) Cofidis, Le Credit Par Telephone              4.52
19 Pedro Horrillo Munoz (Spa) Rabobank                                    
20 Jeremy Hunt (GBr) Mrbookmaker.com-Sports Tech                          
21 Marcus Ljungqvist (Swe) Liquigas-Bianchi                               
22 Jimmy Casper (Fra) Cofidis, Le Credit Par Telephone                    
23 Henk Vogels (Aus) Davitamon-Lotto                                      
24 Koen De Kort (Ned) Liberty Seguros-Würth Team                          
25 Heinrich Haussler (Ger) Gerolsteiner                                   
26 Roy Sentjens (Bel) Rabobank                                            
27 Nicolas Jalabert (Fra) Phonak Hearing Systems                          
28 Steven De Jongh (Ned) Rabobank                                         
29 Roberto Petito (Ita) Fassa Bortolo                                     
30 Enrico Franzoi (Ita) Lampre-Caffita                                    
31 Alessandro Cortinovis (Ita) Domina Vacanze                             
32 Johan Verstrepen (Bel) Landbouwkrediet-Colnago                         
33 Leif Hoste (Bel) Discovery Channel Pro Cycling Team                    
34 Wim De Vocht (Bel) Davitamon-Lotto                                     
35 Allan Johansen (Den) Team CSC                                          
36 Gianluca Bortolami (Ita) Lampre-Caffita                                
37 Bram Tankink (Ned) Quick Step                                          
38 Bert Grabsch (Ger) Phonak Hearing Systems                              
39 Servais Knaven (Ned) Quick Step                                        
40 Nick Nuyens (Bel) Quick Step                                           
41 Bert Roesems (Bel) Davitamon-Lotto                                     
42 Andrea Tafi (Ita) Saunier Duval-Prodir                                 
43 Matthé Pronk (Ned) Mrbookmaker.com-Sports Tech                     5.00
44 Serguei Ivanov (Rus) T-Mobile Team                                     
45 Christophe Mengin (Fra) Française Des Jeux                         5.01
46 Baden Cooke (Aus) Française Des Jeux                               5.09
47 Alessandro Ballan (Ita) Lampre-Caffita                             5.10
48 Jimmy Engoulvent (Fra) Cofidis, Le Credit Par Telephone            5.38
49 Bernhard Eisel (Aut) Française Des Jeux                            6.30
50 Rolf Aldag (Ger) T-Mobile Team                                     8.00
51 Stéphane Berges (Fra) Agritubel                                        
52 Carlos Barredo (Spa) Liberty Seguros-Würth Team                        
53 Andy Flickinger (Fra) Ag2r Prevoyance                             10.35
54 Uros Murn (Slo) Phonak Hearing Systems                            10.36
55 Jaan Kirsipuu (Est) Credit Agricole                                    
56 Nicola Loda (Ita) Liquigas-Bianchi                                     
57 Gorik Gardeyn (Bel) Mrbookmaker.com-Sports Tech                        
58 Matti Breschel (Den) Team CSC                                          
59 Luke Roberts (Aus) Team CSC                                            
60 Christophe Laurent (Fra) Agritubel                                     
61 Sébastien Minard (Fra) R.A.G.T. Semences                               
62 Unai Yus (Spa) Bouygues Telecom                                        
63 Vicente Garcia Acosta (Spa) Illes Balears-Caisse d'Epargne             
64 Peter Wrolich (Aut) Gerolsteiner                                       
65 Camille Bouquet (Fra) Mrbookmaker.com-Sports Tech                      
66 Angelo Furlan (Ita) Domina Vacanze                                     
67 Simone Cadamuro (Ita) Domina Vacanze                                   
68 Ludovic Auger (Fra) Française Des Jeux                                 
69 Salvatore Commesso (Ita) Lampre-Caffita                                
70 Eric Baumann (Ger) T-Mobile Team                                  10.41
71 Peter Farazijn (Bel) Cofidis, Le Credit Par Telephone             10.43
72 Grégory Rast (Swi) Phonak Hearing Systems                         10.45
73 Aart Vierhouten (Ned) Davitamon-Lotto                             10.54
74 Viatceslav Ekimov (Rus) Discovery Channel Pro Cycling Team        13.28
75 Marc Wauters (Bel) Rabobank                                       14.05
76 Erik Zabel (Ger) T-Mobile Team                                         
77 Matthew Wilson (Aus) Française Des Jeux                           15.34
78 Mathew Hayman (Aus) Rabobank                                           
79 Bas Giling (Ned) T-Mobile Team                                         
80 Thomas Voeckler (Fra) Bouygues Telecom                            18.16
 
Outside time limit (Hors délai)
 
HD Laszlo Bodrogi (Hun) Credit Agricole                              20.32
HD Geoffroy Lequatre (Fra) Credit Agricole                                
HD Aurélien Clerc (Swi) Phonak Hearing Systems                            
HD James Van Landschoot (Bel) Landbouwkrediet-Colnago                     
HD Christophe Agnolutto (Fra) Agritubel                                   
HD Ronald Mutsaars (Ned) Rabobank                                         
HD Jans Koerts (Ned) Cofidis, Le Credit Par Telephone                23.26
HD Marco Righetto (Ita) Liquigas-Bianchi                             25.10
HD Roger Hammond (GBr) Discovery Channel Pro Cycling Team                 
HD Marcus Burghardt (Ger) T-Mobile Team                              29.39
HD Anthony Geslin (Fra) Bouygues Telecom                             30.35
HD Renaud Dion (Fra) R.A.G.T. Semences                                    
HD Sébastien Chavanel (Fra) Bouygues Telecom                         30.37
HD Benjamin Levecot (Fra) R.A.G.T. Semences                          36.02
 
DNF Michael Albasini (Swi) Liquigas - Bianchi                            
DNF Mauro Gerosa (Ita) Liquigas - Bianchi                                
DNF Gianluca Sironi (Ita) Liquigas - Bianchi                             
DNF Marco Zanotti (Ita) Liquigas - Bianchi                               
DNF Andrus Aug (Est) Fassa Bortolo                                       
DNF Fabio Baldato (Ita) Fassa Bortolo                                    
DNF Francesco Chicchi (Ita) Fassa Bortolo                                
DNF Claudio Corioni (Ita) Fassa Bortolo                                  
DNF Alberto Ongarato (Ita) Fassa Bortolo                                 
DNF Peter Van Petegem (Bel) Davitamon - Lotto                            
DNF Tom Steels (Bel) Davitamon - Lotto                                   
DNF Stephan Schreck (Ger) T-Mobile Team                                  
DNF Lars Bak (Den) Team CSC                                              
DNF Thomas Eriksen (Den) Team CSC                                        
DNF Christian Müller (Ger) Team CSC                                      
DNF Jan Boven (Ned) Rabobank                                             
DNF Robert Hunter (RSA) Phonak Hearing Systems                           
DNF Martin Elmiger (Swi) Phonak Hearing Systems                          
DNF Victor Hugo Pena (Col) Phonak Hearing Systems                        
DNF Michael Barry (Can) Discovery Channel Team                           
DNF Antonio Cruz (USA) Discovery Channel Team                            
DNF Stijn Devolder (Bel) Discovery Channel Team                          
DNF Ryder Hesjedal (Can) Discovery Channel Team                          
DNF Rubens Bertogliati (Swi) Saunier Duval - Prodir                      
DNF Rafael Casero Moreno (Spa) Saunier Duval - Prodir                    
DNF Juan Jose Cobo (Spa) Saunier Duval - Prodir                          
DNF David De La Fuente (Spa) Saunier Duval - Prodir                      
DNF Manuel Quinziato (Ita) Saunier Duval - Prodir                        
DNF Ivan Ravaioli (Ita) Saunier Duval - Prodir                           
DNF Francisco Ventoso (Spa) Saunier Duval - Prodir                       
DNF Wilfried Cretskens (Bel) Quick Step                                  
DNF Filippo Pozzato (Ita) Quick Step                                     
DNF Guido Trenti (USA) Quick Step                                        
DNF Rene Haselbacher (Aut) Gerolsteiner                                  
DNF Sven Krauss (Ger) Gerolsteiner                                       
DNF Sebastian Lang (Ger) Gerolsteiner                                    
DNF Michael Rich (Ger) Gerolsteiner                                      
DNF Sébastien Hinault (Fra) Credit Agricole                              
DNF Cyril Lemoine (Fra) Credit Agricole                                  
DNF Damien Nazon (Fra) Credit Agricole                                   
DNF Bradley Wiggins (GBr) Credit Agricole                                
DNF Christophe Detilloux (Bel) Francaise Des Jeux                        
DNF Francis Mourey (Fra) Francaise Des Jeux                              
DNF Allan Davis (Aus) Liberty Seguros - Würth Team                       
DNF Jesus Hernandez (Spa) Liberty Seguros - Würth Team                   
DNF Aaron Kemps (Aus) Liberty Seguros - Würth Team                       
DNF Sergio Paulinho (Por) Liberty Seguros - Würth Team                   
DNF Ivan Santos (Spa) Liberty Seguros - Würth Team                       
DNF Daniele Bennati (Ita) Lampre - Caffita                               
DNF Giosuè Bonomi (Ita) Lampre - Caffita                                 
DNF Samuele Marzoli (Ita) Lampre - Caffita                               
DNF Daniele Righi (Ita) Lampre - Caffita                                 
DNF Thierry Marichal (Bel) Cofidis Credit Par Telephone                  
DNF Staf Scheirlinckx (Bel) Cofidis Credit Par Telephone                 
DNF Iker Flores (Spa) Euskaltel - Euskadi                                
DNF David Herrero (Spa) Euskaltel - Euskadi                              
DNF Inigo Landaluze (Spa) Euskaltel - Euskadi                            
DNF Antton Luengo (Spa) Euskaltel - Euskadi                              
DNF Aketza Pena (Spa) Euskaltel - Euskadi                                
DNF Aitor Silloniz (Spa) Euskaltel - Euskadi                             
DNF Walter Beneteau (Fra) Bouygues Telecom                               
DNF Yohann Gene (Fra) Bouygues Telecom                                   
DNF Christophe Kern (Fra) Bouygues Telecom                               
DNF Rony Martias (Fra) Bouygues Telecom                                  
DNF Matej Jurco (Svk) Domina Vacanze                                     
DNF Mirco Lorenzetto (Ita) Domina Vacanze                                
DNF Rafael Nuritdinov (Uzb) Domina Vacanze                               
DNF Ivan Quaranta (Ita) Domina Vacanze                                   
DNF Daniel Becke (Ger) Illes Balears-Caisse d'Epargne                    
DNF Imanol Erviti (Spa) Illes Balears-Caisse d'Epargne                   
DNF José Cayetano Julia Cegarra (Spa) Illes Balears-Caisse d'Epargne     
DNF Iker Leonet (Spa) Illes Balears-Caisse d'Epargne                     
DNF Mikel Pradera (Spa) Illes Balears-Caisse d'Epargne                   
DNF Jean-Patrick Nazon (Fra) Ag2R Prevoyance                             
DNF Laurent Mangel (Fra) Ag2R Prevoyance                                 
DNF Loyd Mondory (Fra) Ag2R Prevoyance                                   
DNF Nicolas Portal (Fra) Ag2R Prevoyance                                 
DNF Erki Pütsep (Est) Ag2R Prevoyance                                    
DNF Christophe Riblon (Fra) Ag2R Prevoyance                              
DNF Tomas Vaitkus (Ltu) Ag2R Prevoyance                                  
DNF Mathieu Criquielion (Bel) Landbouwkrediet - Colnago                  
DNF Glenn D'hollander (Bel) Landbouwkrediet - Colnago                    
DNF Thierry De Groote (Bel) Landbouwkrediet - Colnago                    
DNF Ludo Dierckxsens (Bel) Landbouwkrediet - Colnago                     
DNF Jurgen Van Loocke (Bel) Landbouwkrediet - Colnago                    
DNF Linas Balciunas (Ltu) Agritubel                                      
DNF Gilles Canouet (Fra) Agritubel                                       
DNF Cédric Coutouly (Fra) Agritubel                                      
DNF Lenaïc Olivier (Fra) Agritubel                                       
DNF Johan Coenen (Bel) Mrbookmaker - Sportstech                          
DNF Stefan Van Dijk (Ned) Mrbookmaker - Sportstech                       
DNF Francesco Planckaert (Bel) Mrbookmaker - Sportstech                  
DNF Eddy Seigneur (Fra) R.A.G.T. Semences                                
DNF Emilien-Benoît Berges (Fra) R.A.G.T. Semences                        
DNF Roman Luhovyy (Ukr) R.A.G.T. Semences                                
DNF Ludovic Martin (Fra) R.A.G.T. Semences                               
DNF Nicolas Reynaud (Fra) R.A.G.T. Semences                              
DNS Inaki Isasi (Spa) Euskaltel - Euskadi                                 

ProTour standings

1 Tom Boonen (Bel) Quickstep                                        112 pts
2 Alessandro Petacchi (Ita) Fassa Bortolo                            93
3 Oscar Freire Gomez (Spa) Rabobank                                  78
4 George Hincapie (USA) Discovery Channel                            75
5 Bobby Julich (USA) Team CSC                                        85
6 Danilo Hondo (Ger) Gerolsteiner                                    70
7 Juan Antonio Flecha Giannoni (Spa) Fassa Bortolo                   65
8 Thor Hushovd (Nor) Crédit Agricole                                 55
9 Danilo Di Luca (Ita) Liquigas - Bianchi                            51
10 Alejandro Valverde Belmonte (Spa) Illes Balears-Caisse d'Epargne  43