103rd Paris-Roubaix - PT
France, April 10, 2005
2005 Roubaix closer than ever
By Les Clarke
Magnus Backstedt triumphs in 2004
Photo ©: Olympia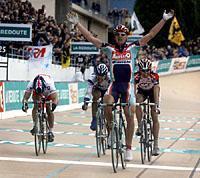 The 'Queen of the Classics', Paris Roubaix, is the race every one-day specialist wants to win, and every fan wants to see his or her hero triumph in the Roubaix velodrome. In 2005 it's the Belgian contingent and their fans that have most reason to be hopeful, with their men winning last Wednesday's Gent-Wevelgem (Nico Mattan) and last Sunday's Ronde van Vlaanderen (Tom Boonen), and both carrying great form into Sunday's race.
The 103rd edition of the 'Hell of the North' promises to be a monumental battle, with most of last year's top ten back for another crack on the pave; Backstedt, Hincapie, Cancellara and Boonen all come into the event keen to perform. Roger Hammond, after standing on the third step of the podium in 2004 was looking to step up a notch with his Discovery Channel team in '05 but injury has probably forced him out after a crash at Wednesday's Gent-Wevelgem
Last year's winner Magnus Backstedt is back in an attempt to take successive Roubaix victories. Injury as a result of a recent crash means that he'll be riding bruised and a little battered, but the big Swede is likely to overcome this. 2003 winner Peter van Petegem rode well to take third in de Ronde, and appears to be hitting top form at the right time.
Tom Boonen is the obvious favourite - a third place in 2002 (at the remarkably tender age of 21), and wins in last year's E3 Prijs and Gent-Wevelgem, and this year's E3 Prijs and Ronde have established the 24-year-old Belgian as a strongman of the classics, taking the place of three-time Paris-Roubaix winner Johan Museeuw in the hearts of Belgian cycling fans, and surely the man to beat in the big-distance races.
Some protagonists from previous years' editions are absent, but other such as Tom Steels have returned, and if he's there for a sprint in Roubaix's velodrome, he's a real chance of taking it out. Discovery Channel's George Hincapie finds himself in a position similar to 2004 - last year he missed the break in Flanders and went on to Roubaix looking to assert himself; in 2005 he'll be doing the same. After missing the big move last weekend, the winner of Kuurne-Brussels-Kuurne is keen to overcome recent ill health and triumph in a race he's extremely fond of. He'll be doing this alongside young Belgian teammate Stijn Devolder, sure to be at the front after winning the Three days of De Panne.
They'll be challenged by a gang of riders, including young guns Juan Antonio Flecha (Fassa Bortolo) and Alessandro Ballan (Lampre-Caffita), who were both major players in Flanders and Gent-Wevelgem, and veteran Erik Zabel, keen to prove that there's some legs in the old dog yet. Zabel's team-mate, Andreas Klier, will miss the race after being run over by a motorbike - Klier has shown great form to finish runner up to Boonen in both E3 Prijs and Ronde van Vlaanderen. This leaves the T-Mobile squad looking to Stefan Wesemann and Zabel to bring home the bacon.
Paris-Roubaix presents a mythical blend of treacherous road conditions, particularly the pave, and weather almost as tough. The longest stretch of cobbles is at Hornaing - Wandignies, with 3.7km of bone and bike-rattling road surface at the 178.5km mark. The popular and pivotal sections through the Arenberg forest and the famous Trouée d'Arenberg have been scrapped in 2005, with ASO citing safety concerns for changing the route.
This doesn't mean the riders get it any easier; there will be 26 cobblestone stretches, making a total distance of 54.7km, two kilometres more than in 2004. These sections are separated by as little as 3km and no more than 10km, meaning that only the strongest riders and equipment survive - punctures are frequent, and it's not unusual for winners of previous editions to puncture three times and still take victory.
With light rain and low temperatures forecast for Sunday, and winds at a moderately gusty 15-30 km/h, it's likely that the weather isn't going to make the cobbles any easier, and if rain does eventuate, look out for crashes to shake the cart a bit - with the cobination of course changes and unsettled, unpredictable weather, 2005 may throw plenty of obstacles at riders and provide fans with a real race to remember.
Countdown to Roubaix - the pave sections
Paris-Roubaix organiser ASO grades the pave sections from * (easiest) to ***** (hardest) according to their length, irregularity of the cobblestones, general condition and location.
Location                    Race distance   Length    Grade
26 Troisvilles                   km 97.5    2200m      ***
25 Viesly                       km 103.8    1800m      ***
24 Quievy                       km 106.4    3700m     ****
23 Quievy – Saint-Python        km 111.1    1500m       **
22 Escarmain                    km 122.7    1500m        *
21 Vertain                      km 126.9    1900m      ***
20 Du Buat                      km 133.6    1700m      ***
20 Preseau                      km 143.8    2000m        *
19 Aulnoy-lez-Valenciennes      km 149.7    2600m    *****
18 Famars                       km 153.0    1200m      ***
17 Artres - Querenaing          km 155.8    1400m      ***
17 Querenaing - Maing           km 157.0    2500m      ***
16 Monchaux-sur-Ecaillon        km 160.9    1600m      ***
15 Haveluy                      km 172.4    2400m     ****
14 Hornaing - Wandignies        km 178.5    3700m      ***
13 Warlaing - Vrillon           km 186.0    2400m     ****
13 Tilloy - Sars-et-Rosières    km 189.5    2400m      ***
12 Orchies                      km 200.4    1700m      ***
11 Auchy-lez-Orchies            km 206.5    2600m      ***
10 Mons-en-Pévèle               km 212.0    3000m    *****
9 Merignies                     km 218.0     700m       **
8 Pont-Thibaut                  km 221.4    1400m      ***
7 Templeuve l'Epinette          km 226.7     200m        *
7 Le Moulin de Vertain          km 227.3     500m      ***
6 Cysoing - Bourghelles         km 233.6    1400m     ****
5 Camphin-en-Pévèle             km 239.9    1800m     ****
4 Le Carrefour de l'Arbre       km 242.6    2100m    *****
3 Gruson                        km 244.8    1100m       **
2 Hem                           km 251.4    1400m        *
1 Roubaix                       km 257.6     300m        *



Live coverage
Cyclingnews will be providing live coverage of the 103rd Paris-Roubaix starting from 11:00 CEST (Europe)/5:00 EDT (USA)/2:00 PDT (USA)/19:00 AEST (Australia) .