World Track Championships - CM
Melbourne, Australia, May 26-30, 2004
Tales from the track
News and gossip from day 2 of the Melbourne World Track Championships
By Gerard Knapp
Ulmer breaks world record
Sarah Ulmer
Photo ©: Mark Gunter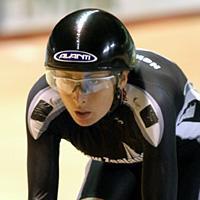 In the final qualifying heat of the women's 3km individual pursuit, New Zealand's Sara Ulmer has broken the world record with a time of 3.30.604, two-tenths of a second inside the record that was set by Holland's Leontien Zijlaard - Van Moorsel in a semi-final at the Sydney Olympics.
Immediately after her heat - where she was chasing down Zijlaard - Van Moorsel - Ulmer said, "I am stoked, absolutely stoked.
"I am just elated. My boyfriend was giving me the call so I knew." Despite the time, she was not thinking of a gold medal just yet: "I just want to catch my breath and warm down. I don't want to get carried away just yet. But Yeah, I am stoked".
Katie Mactier, who like many other members of the Australian team has been suffering from some flu, finished with the third-fastest time. "I am relieved it's over. It would take more than a cough and cold to keep me away. It's fabulous preparation for Athens.
"Sarah is a class act. I am thrilled for her. It's not a surprise that she broke the world record."
Zijlaard - Van Moorsel told Cyclingnews after the heat: "yeah, a record that was standing for four years is likely to be broken, it's normal that some should break it now.
"She (Ulmer) is in really good shape right now and it is good for her to do it." In an earlier interview on Cyclingnews, Zijlaard - Van Moorsel expected that Ulmer would break her record in Melbourne and that she wanted take it back at the Athens Olympic Games. "Yes! When the track is hot enough I think it will be possible, and when I am at the right condition.
The Dutch rider thought her own time of 3.35.349 was "OK. I am happy with this time - for the moment."
Related story: 2003 Sarah Ulmer interview
More Day 2 News from the Melbourne World Track Championships
By Karen Forman in Melbourne