World Track Championships - CM
Melbourne, Australia, May 26-30, 2004
Tales from the track
News and gossip from day 1 of the Melbourne World Track Championships
By Karen Forman in Melbourne
Cesario beats viral infection to get on track for Athens
Enzo Cesario Farias (Chile)
Photo ©: Mark Gunter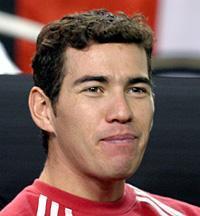 There was a time that doctors feared Chilean team pursuit specialist Enzo Cesario wouldn't ride his bike again - let alone achieve his goal to ride at an Olympic Games. And there he was at the World Track Championships in Sydney tonight, doing his utmost to qualify for the Athens Olympics.
Two years ago, the 23 year old from Vina Del Mare contracted a viral infection, which had doctors baffled. They didn't know where he had got it. They didn't really know what to call it. And they didn't really know how to treat it. But they DID know that it would take six months to go away. And they were right.
"The virus infected by nervous system and I lost the use of my right arm," he told Cyclingnews through an interpreter. "Just one day it was there. I had no strength at all. The doctors said it would take six months, so I knew I had to be strong and would have to wait. I never thought I wouldn't be able to ride again. I just waited until I could. And after six months, I was better."
It started, he said, with nervous pulses in his arm and severe pain, which spidered from his shoulder and went down to his hand. Not good for the young rider who had spent 13 years in a sport his father had recommended to him and who had taken the gold medal at the 2003 Pan American Games in the teams pursuit.
After all, he had enough to deal with. "It is hard to be a cyclist in Chile, it is very complicated," he said. "The State helps a little with money, although not much. It is barely enough to live. I live with my family. If I didn't, it would be impossible to be a bike rider."
Once the infection cleared, Cesario spent several months undergoing a complete rehabilitation program and has been on the up and up every since. "From time to time when we compete in the Tour of Chile, Spanish teams come to talent spot us," he said. "I have been made some offers which is good."
Now he wants to qualify for the Olympic Games. "I hope for top 10 here, God willing," he said. "I want to qualify for the Olympics." He also has a goal for his team: "We want to build a strong team and take a medal at the Olympic level. It is for the group, the team.
Major rivals will be Australia, Lithuania, Russia and New Zealand, he said.
It's the second time Cesario has visited Australia. "I came to prepare for the Pan American Games last year and I love it here," he said. "It is very nice and clean. Tranquillo. Not so complicated as Chile."
More Day 1 News from the Melbourne World Track Championships
By Karen Forman in Melbourne