World Track Championships - CM
Melbourne, Australia, May 26-30, 2004
Event program and results Qualifying First round
Women's 3000m Individual Pursuit finals
Finals - May 28, 2004
Ulmer adds world championship to world record
By Karen Forman
Sarah Ulmer (New Zealand)
Photo ©: Mark Gunter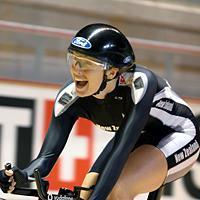 May 28, 2004: New Zealand's Sarah Ulmer was "fizzing, mate" and also "absolutely stoked" and (again) "absolutely stoked" after clinching the rainbow jersey for the 3km women's individual pursuit at the 2004 World Track Championships in Melbourne today.
The gold medal came just two days after the 28 year old from Auckland shattered Leontian Zijlaard - Van Moorsel's four year old world record in a ride off against the Dutchwoman. Tonight she beat Australian Katie Mactier in 3.31.778 (Mactier was 3.34.859). Bronze medallist was Russian Elena Tchalykh (3.34.199) from a ride off against team mate Olga Slyusareva (3.36.943).
With a primarily Trans-Tasman crowd on hand to cheer on the two blondes, the atmosphere was electric as the gun sounded to start the race that would make one of them the champion of the world. Mactier went out hard and fast and lead for the first two kilometres. The 29-year-old Melburnian got up to 2.133 seconds ahead of Ulmer at one stage, but it soon became obvious that she had hit out too soon.
Sarah Ulmer
Photo ©: Mark Gunter

A smooth pedalling Ulmer started to reel her back in at the three-minute mark and soon increased her lead to 1.853 and then 2.374 and 2.802. Ulmer, travelling at 50.996 kmh, was the winner. But both women were obviously the victors, with coaches, team-mates, family, friends and supporters overwhelming them with hugs, kisses and compliments.
Ulmer, who had to hold onto the handrail as she descended the stairs leading from the track, couldn't wipe the smile off her face. "What was the time?" she was heard to ask her coach. Mactier climbed aboard her road bike on the infield to warm down and and admitted she was disappointed that she hadn't been able to clinch the gold medal, but was delighted for Ulmer.
Ulmer only stopped to speak to the media after dashing into the stand to hug her father Gary, who said: "You little ripper" (one of his favorite sayings) and greet her brother and good friends. Ulmer repeated the words she has had occasion to use over the past two weeks, starting with the Sydney Track World Cup two weeks earlier: "I am stoked, absolutely stoked."
"I am fizzing mate. And I have heaps of family and friends here, that's even cooler. Last time I was a world champion was 10 years ago as a junior so I didn't really know it felt. But it's amazing , it's awesome." Ulmer said the race was a difficult one. "You start, you ride harder on the second kilometre and even harder the third kilometre," she said.
Katie Mactier (Australia)
Photo ©: Mark Gunter

During the post-race press conference, Ulmer said while breaking the world record two days before had been a definite confidence booster, she said it had created more attention than what she had expected, which had in turn created extra pressure. She was looking to celebrate - quietly tonight and then "let my hair down on Sunday" given she has two more races (points race and scratch race) to go, but said "it might be tonight".
Mactier interjected: "It'll be tonight. I know you." Ulmer said while winning the world championship had been on her list of goals she set for herself earlier in the year, she never expected anything until it was done. She plans to return to New Zealand for a week or so before heading to Europe to prepare for the Olympics and says she'll deal with the pressure her world record and gold medal have created by "going AWOL, turning the phone off and being overseas!"
Mactier, who like Ulmer also has a propensity for listening to Eminem through headphones to psyche up for a race, said she might have to find some "calmer" music after being too fast in the early stages. "It's a matter of perhaps not going so fast in the first kilometre," she said. "I tend to charge ahead with my start. Maybe it's what Ian Mackenzie said, that a lot could be nervous energy combined with some fast twitch muscle fibres, which could be addressed by a sports psychologist.
"My start comes out like it's a kilo. But - and I am not just looking for an excuse - the fact is this is only my second World Championships and I only got on a track bike for the first time just over a year ago, so I have got things to learn."
The women's IP podium
Photo ©: Mark Gunter

Mactier said she would now be focussed on preparing for Athens 11 weeks away, looking at ways to improve her endurance. She will keep training for a while in Melbourne with coach John Beasley and then join the Australian team in Germany.
"I must say I am really thrilled for Sarah though. She is a terrific friend. I am disappointed but there's no point being a sore loser. If anything, it makes me hungrier to do better in Athens. It's rare in this sport to be able to race against someone who is a friend. It's very special.
"I am very humble to have been beaten by Sarah. And I am humble to have so many people here for me.. . . and to be honest, a little embarrassed."
Photography
Images by Mark Gunter
Images by Shane Goss/www.licoricegallery.com
Images by Mark Gunter
Results
Bronze medal final
 
1 Elena Tchalykh (Russia)           1.13.864 (2) 2.23.536 (1)  3.34.199 (50.420km/h)
2 Olga Slyusareva (Russia)          1.13.675 (1) 2.24.302 (2)  3.36.943 (49.782km/h)
 
Gold medal final
 
1 Sarah Ulmer (New Zealand)         1.13.635 (2) 2.22.059 (2)  3.31.778 (50.996km/h)
2 Katie Mactier (Australia)         1.11.502 (1) 2.21.676 (1)  3.34.859 (50.265km/h)
 
Final classification
 
1 Sarah Ulmer (New Zealand)
2 Katie Mactier (Australia)
3 Elena Tchalykh (Russia)
4 Olga Slyusareva (Russia)
5 Leontien Zijlaard Van Moorsel (Netherlands)
6 Katherine Bates (Australia)
7 Karin Thürig (Switzerland)
8 Emma Davies (Great Britain)
9 Lada Kozlikova (Czech Republic)
10 Maria Luisa Calle (Colombia)
11 Marion Clignet (France)
12 Adrie Visser (Netherlands)
13 Apollinaria Bakova (Russia)
14 Erin Mirabella (USA)
15 Juliette Vandekerckhove (France)
16 Meifang Li (China)
17 Hanka Kupfernagel (Germany)
18 Tatiana Shishkova (Moldavia)
19 Sofiya Pryshchepa (Ukraine)
20 Uyun Muzizah (Indonesia)
21 Cherifa Adda (Algeria)
Start list
Bronze medal final 
 
55 Elena Tchalykh (Russia)
54 Olga Slyusareva (Russia)
 
Gold medal final 
 
49 Sarah Ulmer (New Zealand)
5 Katie Mactier (Australia)