World Track Championships - CM
Melbourne, Australia, May 26-30, 2004
An interview with Chris Boardman
The expert
World hour record holder and arguably Britain's greatest ever cyclist, Chris Boardman is finding a perfect role in retirement as a advisor and mentor to the British team. He spoke to Mal Sawford about the team's ambitions at the world's and longer-term goals in an Olympic year.
British cycling legend Chris Boardman
Photo ©: Shane Goss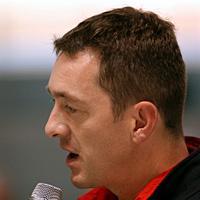 Chris Boardman is well known to most cycling fans. The one time track pursuit specialist burst into prominence with a world record ride to win the gold medal at the 1992 Barcelona Olympics aboard the revolutionary Lotus 'Superbike'. His career progressed to a number of seasons with the French GAN road team, where he won Tour de France prologue stages and wore the coveted leader's yellow jersey.
His attempts on the world hour record saw him battle Graeme Obree, Miguel Indurain and Tony Rominger, culminating in a distance of 56.375km in 1996, and led to the UCI's introduction of the 'classic' hour record, forcing riders to use traditional track frames with spoked wheels, without any aerodynamic aids. Boardman became the new owner of the 'absolute' record in 2000, riding 49.441km.
Cyclingnews: What is your role with the team from Great Britain?
Chris Boardman: My title is 'expert adviser'. What that actually means is open to interpretation. I do about ten different roles for the organisation from equipment development projects to 'coaching coaches' I suppose you could call it, mentoring for riders as well. To be honest, I guess its still a matter of finding an appropriate role - I seem to have a finger in too many pies at the moment!
CN: You are widely acknowledged as the rider who pioneered the massive technological rush. Do you see that technology carrying on into the bikes and positions that the British team uses today?
CB: Well they [the UCI] pulled it back when they tried to make bikes more conventional but like Formula 1, technology has found a way to move forward. Physiologically the riders are ever so slightly better now, so we're almost coming up to the same time barriers.
Now they've taken away the 'Superman' position which was about as extreme as it gets - which I think was a very good move incidentally - I think that a time of 4:14 is equivalent to the best time I ever did [the current world record of 4:11.114, set in the 'Superman' position at the 1996 World Championships], so once we see that barrier met we're at the same point.
CN: What are your ambitions for the British team in Melbourne?
Looking thoughtful as the team trains
Photo ©: Shane Goss

CB: It's a very unusual year. It's almost like the biggest World Cup as opposed to the World Championships, because of the Olympics of course. The main goal of the whole trip is the qualification points, but a lot of that was done at the Sydney World Cup, so here we have some internal battles, the teams sprint guys (Craig McLean, Chris Hoy, Jason Queally and Jamie Staff) are fighting for their places in that team, and they're obviously one of the world's best. That's a nice problem to have!
The team pursuit is a little bit under strength, but that's okay, and they'll fight and see what they can pull out of this, hopefully a podium place. And of course the kilometre time trial, I hope to be quite competitive in too.
CN: Is there a target medal tally for the Championships?
CB: It is all about qualifying for the Olympics. I'm afraid it has to be. In a year like this you have to prioritise, we've got the likes of Bradley Wiggins, who's not even here, he's had to stay on the road because that's the best for his Olympic preparation, but we have to do the qualifying work here.
The Madison is very important to us, because with a top ten place in the Madison we get a points race place, so that's very important, but mostly it's about internal selection, so we'll just see what we get.
CN: Will the final Olympic teams be selected based on the performances this week, or are there still further opportunities for the riders to earn a place in the teams?
CB: Barring illness and injury, the final selection for the Olympic Games will take place on Sunday night, after this competition has wrapped up, the selection will be wrapped up. But of course I think all the coaches have got a fair idea and they're just looking for confirmation now.
CN: British rider Russel Downing looked very comfortable qualifying for the points race final, what are expecting from him?
CB: It's not really his event. The Madison's more his thing with the repeated sprints, [in] sustained efforts he struggles a little bit. A top ten finish would be good, top six fantastic. [Downing eventually finished 14th despite many attempts to gain a lap on the field]. Chris Newton [Britain's regular points race rider] has opted to concentrate on the team pursuit, and if he rode the points race just prior to the team pursuit that would have an impact, so that was a sacrifice he decided to make.
CN: It sounds like a few of the other riders are pretty happy Chris made that decision?
CB: Yeah, and it was a big call for Chris, and it shows that his commitment to the team is very strong, and a lot of people respect that within the Great Britain team. Hopefully it pays off for him.
CN: The British track endurance squad seems to spend a lot of time in Australia, racing the Bay Classic for the past two years. What is it about Australia that makes it the preferred pre-season venue?
CB: You've got space, you've got good roads, and you've got a - well relative to us - cycling friendly community, great facilities and it's the right time of year for us. Australia's got everything we need to prepare.
CN: How much longer will you be staying in Melbourne after the World Championships?
CB: Well, I've got another trip in three days after this one, and then another one three days after that, so literally the next day we'll be out of here. We even looked at catching the midnight flight on Sunday which is a bit of a shame, because I would have liked to gone scuba diving which is my primary passion these days, but it's not going to happen.