Recently on Cyclingnews.com
Tales from the peloton, September 17, 2008
Boonen's worldly statement
With the world championships just around the corner, Tom Boonen's second Vueta stage win came as a timely reminder that the Belgian is one of the favourites to become the king of the road again.
By Bjorn Haake in Zamora
Boonen wins again
Photo ©: AFP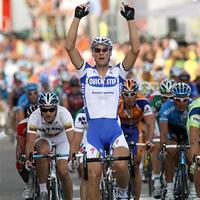 With his second stage win in the Vuelta a España, Belgian Tom Boonen showed he is ready to fight for the rainbow jersey in Varese, Italy. Boonen ended a hot day in Zamora ahead of Filippo Pozzato (Liquigas) and Heinrich Haussler (Gerolsteiner) to prove he's in good shape ahead of the world championships in less than two weeks' time.
The 2005 world champion felt very comfortable with his form, having started the race with an early sprint win. Towards the end of a hard Vuelta, he is gaining more confidence ahead of the world championships. "To start with victory on the third day and then one day before I go home shows that my condition has not decreased, but increased."
Boonen emphasised his good condition by saying he was very strong, even in the mountains. Of course, he knew how to evaluate that. "If you are feeling strong in the mountains, you still have to see how it goes in the sprint."
Obviously, the signs are good for Boonen. He could especially feel his zing in the last two kilometres, when it really counts. "You know it's the third week. This is when everybody is tired." Boonen knows that positioning is everything and his Quick Step team, including the impressive Paolo Bettini, led Boonen out perfectly.
The Belgian believes the sprints in the third week play out differently than those in the first week. "The muscles are tired and everybody is waiting for Madrid. If you can still win then it shows you have a clear head and strong legs." Boonen explained that his injuries weren't bothering him anymore, although his Vuelta had been far from ideal. His knee was still bothering him a bit as he headed through mountains during the second week. "It was not really the best way to recover. I crashed one day before the first rest day, then we had the three mountain stages; the one in Andorra in really bad weather," he said.
As he began to recover, the second set of mountain stages awaited the peloton, including the famous and extremely difficult Angliru. Arriving at the third week, Boonen has control of the situation. "I am feeling OK now, even though my muscles are still a bit tight. The bone underneath my knee cap was a little bit crunched, but it's nothing too serious."
Kicking back - for a couple of days
For Boonen the most important factor is the general state of his body. "The strength is there, so too the conditioning," he said. "Now I'll have a few days to recover... then I will be fine." Indeed, recovery is vital to Belgium's captain for worlds. In fact, the idea of a detailed workout programme seemed to amuse him. "If you think about training now, it's too late!" Boonen will hang around in Spain for one more stage, although he wasn't sure if he could contest another sprint finish, saying, "I haven't even looked at the profile yet."
Boonen's schedule calls for his return to Belgium for three days to recover. Then he can start final preparations, which also include recovery. "I will do two long rides - one of four hours, the other six and a half. Everything is good now. Of course, if you don't do anything you will have really bad legs, so one or two training rides and for the rest [of the programme] it's just recovery."
If all goes to plan for Boonen, he could prevent one rider from entering the history books: Paolo Bettini. In preparation for his own assault on the world title, the Italian did a pile of work for Boonen ahead of the Belgian's second Vuelta stage win. Bettini is a likely candidate to become the first rider to take out three consecutive world championships, and on September 28 the alliance between the two riders will be on hold - for about six hours, at least.