Scott Sunderland's Vuelta diary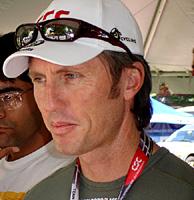 CSC-Saxo Bank's Directeur Sportif, Scott Sunderland
Photo: © Sabine Sunderland
CSC-Saxo Bank's Directeur Sportif, Scott Sunderland, will be guiding the Danish team's nine riders – including Tour de France winner Carlos Sastre – through the hot and testing three-week Vuelta a España. Back with years of experience and just off a win in this year's Tour, he will be providing Cyclingnews' readers with an exclusive insight to one of the most dominant teams.
Friday, August 29 , 2008
Not wasting any time
Greetings from sunny Spain!
It is nice and warm here, really warm! It was 35° yesterday and about 30° again today, just perfect for this time of year.
We arrived Wednesday evening. Thursday all the riders went out for a training ride, nothing specific, just riding their bikes. They did a few climbs before returning to the hotel for massages and visits to the osteopath. This is a good time to take care of those little problems, before they become big ones.
Today [Friday] they went out with their time trial bikes for two and a half hours. We did a little work on their positions on the bike, who will ride behind who, stuff like that. It was mainly to get a feel for the whole thing and for the bikes and the positioning. Then they changed over to the regular road bikes to spin their legs out.
Tonight is the team presentation, and we are the very last. We go on at 8PM. Then it will be back to the hotel for a late dinner. Tomorrow is the day, the opening day of the Vuelta!
They will shut off traffic and open the circuit to the riders at 4PM, so we will ride a few laps to warm up. At the moment the weather forecast is for dry weather, which is good, because a city course like this can be really dangerous and slippery if it is wet.
The course is very technical, and that just makes it all the more difficult for a team time trial. The first guy has the perfect line, but each one behind him gets a little further off and the last guy gets a whiplash effect, like a rubber band.
We are the last again and go off at 7:57. Hopefully we will get in before it turns dark! The reason for our late start is that they pushed the whole thing back 20 minutes because of the television coverage.
We are very confident with our team. We have two good sprinters here in Matti Breschel and J.J. Haedo, who will have their chances in the breakaways. Karsten Kroon and Alexandr Kolobnev are just back from the Olympics and they are good for breakaways. And of course Carlos Sastre is highly motivated for the podium.
We need to do our best and not waste any time!