Recently on Cyclingnews.com
Sylvain Chavanel's Vuelta diary
Sylvain Chavanel
Photo ©: Roberto Bettini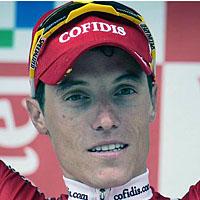 Cofidis rider Sylvain Chavanel has had an excellent year so far. With seven wins to date, including one at the Tour de France, our diarist from the Grande Boucle is back with more insight from the Vuelta a España - and hoping to score once more before his breakthrough season ends.
September 5, 2008
A golden rest day
I just came back from a 60km-ride and will head off to lunch soon, but first a few words to my Cyclingnews readers. As you probably know, I took over the maillot oro yesterday. It was great to get my first Grand Tour leader's jersey - different to a stage win. Wearing the jersey is a great honour, too, as it is part of the value of a race. But I see it more as a reward for my great time trialling two days ago, which brought me into this opportune position in the first place.
I will do everything I can to defend it, but it will be hard. Tomorrow, we'll already be getting into the high mountains with a summit finish in Andorra, so I will have a tough time against the climbers. But in any case, it will be a blast to ride the stage wearing that jersey, the longest of this year's Vuelta!
I have to say that it is also a great collective feat from my entire team. Yesterday, the strategy was clear, and we were able to realise it perfectly: We did not want to let any big breakaway go, and in the end, there were three riders. We took them back ten kilometres before the first sprint at km115, so the guys had to ride early on. It was a nervous and fast stage, with a lot of crashes. We went faster than 45km/h on average, so it was stressful. Moreover, we only have seven riders left in the race, and not all of them could put on the pace as some were needed to get water bottles, etc. So it was a great team effort of which I'm really proud.
But I must admit the sprints themselves were not too contested. I was motivated, and the other riders weren't that much... Some of these riders have a little more time in this race to take the leader's jersey!
Speaking of which - I was surprised they give you only one maillot oro at the Vuelta. I know that at the Tour, you're given a number of jerseys. But here, they took back the one I got on the podium, and gave me just one jersey instead to wear in tomorrow's stage! But hey, maybe I'll get another one tomorrow!!
Time to go to lunch, then sleep a bit, see the osteopath... with 35° outside, it's good to hang out a bit at a hotel. Tomorrow's a big day.
I'll write again soon! Adiós,
Sylvain