Sylvain Chavanel's Vuelta diary
Sylvain Chavanel
Photo ©: Roberto Bettini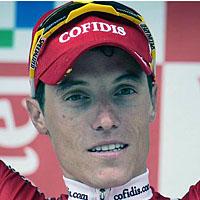 Cofidis rider Sylvain Chavanel has had an excellent year so far. With seven wins to date, including one at the Tour de France, our diarist from the Grande Boucle is back with more insight from the Vuelta a España - and hoping to score once more before his breakthrough season ends.
Friday, August 29 , 2008
Back on the attack
Hello again Cyclingnews readers,
it's good to be back racing a Grand Tour! After the Tour de France, I went to the Clásica San Sebastián and finished 14th. I also did five criteriums, and then came back to real competition at the GP Plouay. I felt good then, but not great.
Since the start of the Vuelta, however, I feel better every day. It showed yesterday in the time trial, which I was able to finish second! Now, with only two seconds away from the race lead, I will of course try to do get the jersey from Levi Leipheimer.
Today seems a good stage to do that. There is a climb just five kilometres before the finish in Toledo (see stage six profile ), so I will try and go from there. You never know, do you? If I can get the jersey tonight, I can probably hold it until the stage that goes to Andorra - that would be nice!
But once the race is in the Pyrenees, I can't really do anything against the likes of Valverde, Contador etc., that is for sure. Being a puncher, I don't stand a chance against the pure climbers on a summit finish like the one in Andorra, and the ones afterwards. But that's okay, as my objective is now the World Championships time trial.
My race against the clock yesterday went really well. My legs feel very good, and are getting better every day. So that's the most important thing for me right now.
So even if I can't take the leader's jersey today, I'm happy racing the Vuelta. Towards the end of the season, it's always nicer to be here in the sun than to take the rain somewhere in Germany - even though I don't actually mind the bad weather normally! But I must admit that I'm getting a little saturated mentally. At the end of the year, I will look back on 97 days of racing! So I'm sort of looking forward to the holidays, too, as you can imagine...
Thanks for reading and wish me luck! I'll be back with another diary entry soon.
Until then, hasta luego!
Sylvain