Recently on Cyclingnews.com
Sylvain Chavanel's Vuelta diary
Sylvain Chavanel
Photo ©: Roberto Bettini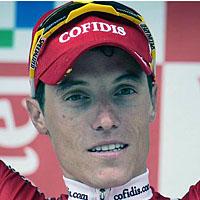 Cofidis rider Sylvain Chavanel has had an excellent year so far. With seven wins to date, including one at the Tour de France, our diarist from the Grande Boucle is back with more insight from the Vuelta a España - and hoping to score once more before his breakthrough season ends.
September 15, 2008
Tiny brackets and a cough
Hi again Cyclingnews readers,
sorry I didn't have time to update my diary lately; it's a busy race! All is well at the Vuelta; except that I caught a cold on Saturday when we climbed the Angliru. Everybody told me what a monster this climb was, and it's true that it's quite impressive, especially on the last five kilometres. The gradients are really very steep, even more so in the curves. It was the first time in my career that I had to put a 34x29 bracket on!
Even though I got this cough, I still felt really well yesterday on the stage to the Fuentes del Invierno ski station. I was in the break and took the mountains points for my team-mate Moncoutié. We still got caught because they put on a hard rhythm behind us, too. We never had more of a four-minute lead, and with the hairpins, it was 'mission impossible'. Still, it served a good purpose.
Somebody asked me why, on Thursday, when Valverde lost all of this time on GC, there weren't any more Caisse d'Epargne riders with us when we tried chase back (Valverde, Philippe Gilbert and myself). The answer is: we were all flat out, there was nothing better we or they could have done! Valverde accelerated on a small climb, Gilbert and I joined him. Maybe he thought he could bridge up by himself. We came back on the first group by 25 seconds, but that was it. They put on such a speed that in the end, he lost more than three minutes.
A few days ago, the big news about Lance Armstrong's return broke. We talk about it at the Vuelta, of course. I don't think too much of it; it won't change anything for me or my career. But you have to respect the guy's decision, I think.
Today, I don't think I will try for a break again, as I spilled a lot of beans yesterday. I'll see how well I recovered overnight. Tomorrow, the stage profile doesn't suit me particularly. But maybe on Wednesday, I can try something again. We'll see, I need to manage my forces well, especially with the World Championships on my mind.
Wish me luck, and hopefully my cold will get better soon!
Thanks
Sylvain