Scott Sunderland's Vuelta diary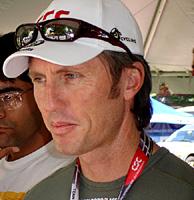 CSC-Saxo Bank's Directeur Sportif, Scott Sunderland
Photo: © Sabine Sunderland
CSC-Saxo Bank's Directeur Sportif, Scott Sunderland, will be guiding the Danish team's nine riders – including Tour de France winner Carlos Sastre – through the hot and testing three-week Vuelta a España. Back with years of experience and just off a win in this year's Tour, he will be providing Cyclingnews' readers with an exclusive insight to one of the most dominant teams.
September 9, 2008
Surviving
It's been a tough few days since we last spoke. There was a lot of news on the rest day, and as everybody already knows Carlos and I will be moving teams in 2009. So all in all there wasn't much rest for me and I ended up turning off my phone.
We got back to racing on Saturday, with the first day in Andorra. It was a very tough stage with 223 kilometres, and plenty of climbing. The weather didn't help and we had rain practically throughout and that combined with the parcours made it very tough on the team. To make matters worse, the attacks started early, and didn't stop.
Congratulations to David Moncoutié though, who took a fantastic stage win. He has been around for a while now and he's won some important stages in the Tour, but he was obviously the strongest man today.
In the end Carlos and the team survived. It has been such a big week for him - between the racing and the speculation and announcement - that you'd be forgiven for thinking that he was tired. However, he's okay and he only lost a few seconds to Contador. So there's plenty still to race for.
It was the same again on Sunday. A short stage, but bang from the start, just race, race, race. Attack, attack, attack. The team did well to keep Carlos up there and support him. It did appear that he was struggling a bit on the last climb, but Carlos knows himself and he knows the climb, so he was able to ride at his own rhythm and close the gap. That's the mark of a Tour champion for you.
The rest of the week is just a case of surviving. We are out of the mountains and now the wind will play a major role. We noticed it today: we had a head-wind and side-wind, both left and right. The GC riders and the sprinters all want to be at the front so it makes for nervous racing. The most important factor is that you can't win the race on a windy day, but you can sure as hell lose it.
In today's stage, our sprinter J.J. Haedo was tired. He got off to a bad start yesterday and chased the whole day. In the finale, the boys brought him into the right position and with 500 metres he had a good chance, but he just didn't have the legs for it. What with Hinault getting in there and beating some of the big sprinting names, you could tell there were some riders there with tired legs.
Now we hope to survive through to the rest day. After that the fun starts – at least for the fans!
Scott