Scott Sunderland's Vuelta diary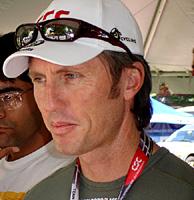 CSC-Saxo Bank's Directeur Sportif, Scott Sunderland
Photo: © Sabine Sunderland
CSC-Saxo Bank's Directeur Sportif, Scott Sunderland, will be guiding the Danish team's nine riders – including Tour de France winner Carlos Sastre – through the hot and testing three-week Vuelta a España. Back with years of experience and just off a win in this year's Tour, he will be providing Cyclingnews' readers with an exclusive insight to one of the most dominant teams.
September 12, 2008
The rain in Spain
Hello from rainy Spain,
We all came through okay yesterday. It was a difficult day, for sure. It started out with beautiful sunshine and a little wind. Then we turned off the main road and went into the hills. Off the feed zone, about half way through the stage, the weather went totally bad -- wind, fog, heavy rain. Everyone was scrambling around for arm warmers, jackets and gloves. It was very cold too, at one point it got down to 8°C. That all combined to make it a very tough day. The course wasn't all that bad, really, but the wind and the rain just made it that more difficult.
In the climbs, the question is do you want to keep warm or do you want to take off your rain jacket in order to go faster? That's a hard choice when it is 8° and you are soaked to the bone. That's what happened to Valverde. He went back to the team car for himself, and we saw the consequences of that.
We had four riders up front with Carlos Sastre. Of course, Astana had the most riders in the group, so they took control, along with Euskaltel, to put distance into Valverde. Unfortunately, some of my riders were in the second group, but it doesn't really matter all that much. Jurgen Van Goolen is still in a good position and all the other guys are okay.
Today, the rest day, we planned to go training at 11 this morning, but it was still raining, so the guys decided to do the home-trainer routine. Well, seven of them did, anyway. Carlos and Iñigo Cuesta decided to wait a while and they are now out on their bikes. They preferred to put on warm clothes and get out on the road.
Tomorrow will be a tough one. I was talking to a Spanish TV reporter earlier and he said the weather forecast doesn't look good. The weather should be worse than Thursday. They are worried about not being able to broadcast, but of course it is not something they can control.
That also means that it won't be good for the riders. It's a tough parcours tomorrow, with the finish on Angliru. It will be very risky, it could be dangerous. It will demand a lot from the riders and they will have to be very concentrated.
The Angliru has up to 23 percent gradient or so, so we will be using compact crank sets tomorrow. On the front we will have a 34 inside chain ring and a 52 outside chain ring. In the rear we will have 11/28.
We have three tough stages coming up, and by Sunday night things should be a lot clearer about who will go for the win.
The big news of course is Lance Armstrong and his proposed return. I think this is something he has not done hastily. Obviously he has informed himself as to what is necessary to make a comeback. I think he has the goals and motivation to do this, but he has not yet made clear what they are. He will talk about that at a press conference later this month.
For me, I want to wait and hear what his motivation is. Is he coming back to win an eighth Tour de France, or just for fun, or to help fight cancer. I'm not real sure yet, and I want to wait and see. One thing is for sure, though. Lance Armstrong is big, bigger than any team. Whether it is negative or positive, everybody knows Lance Armstrong and will be talking about him.
Scott