Tour of the Gila - NE
USA, April 30-May 4, 2008
Main Page Results Overall standings Previous Stage Next Stage
Stage 4 - May 3: Downtown Silver City Criterium,
Vogels on top in criterium
By Kirsten Robbins
Henk Vogels (Toyota-United)
Photo ©: Mitch Clinton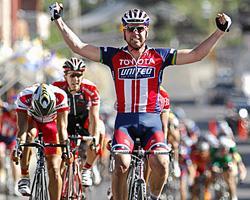 Toyota-United's Henk Vogels claimed victory for the team just one day after learning Toyota wouldn't be renewing its sponsorship agreement after this season. The Australian gained a head start in the mass-sprint finish by jumping early from the final corner to win from Alejandro Borrajo (Colavita/Sutter Home) and Ian Macias Hernandez (Tecos).
After climbing thousands of feet in the opening three stages, the men settled into Tour of the Gila's stage four 40 lap criterium. The event, held on a simple course of four 90 degree corners and 80 feet of elevation change over the lap, offered the peloton a much welcomed rest after the previous days' action.
Team Bissell set a high tempo to protect its race leader Tom Zirbel. The rider claimed a two second advantage over Gregorio Ladino Vega (Tecos) on the previous day's time trial, where Zirbel claimed a convincing stage victory.
While there were several attacks throughout the race, all breaks were reabsorbed to set up a mass-sprint finish. "The team rode like animals," said Zirbel. "That was the easiest ride I have ever had in a criterium. I think I'm just going to get the leader's jersey in every tour from here on out just so I can soft pedal in the crits."
Vogels took the lead for Toyota-United on the final corner. The super experienced Vogels shot out of the corner with a handy gap, leaving Borrajo and Hernandez to battle one another for second place.
Heal claims well-timed win
Rachel Heal (Tibco)
Photo ©: Mitch Clinton
A late bridge across to the decisive breakaway proved the right move by Briton Rachael Heal (Tibco). Heal's late addition to the break was timed perfectly, with the rider sprinting from the group to victory ahead of Alison Testroete (Aaron's) and Suz Weldon (Proman Racing).
"I thought going into the criterium to be aggressive and make the race as hard as we could," said Heal. "Attacking lots and trying to get a small group away was good for us. In the end it was Alisone Testroete attacked, creating the break that stuck. We helped keep the pace high."
With five laps to go, Testroete and Weldon rode clear off the front of the field and were later joined by Heal. "Finally the elastic snapped, four or five laps out," said Heal. "I covered the move and it took me half to catch up to the other two."
"I jumped going into the last corner, which I did for a prime earlier in the race to see if it would work," she added. "I didn't want to leave it to a hundred metre sprint."
Photography
For a thumbnail gallery of these images, click here
Images by Mitch Clinton/www.clintonphoto.com
Images by Kurt Jambretz /www.actionimages.cc
Results
Pro men
 
1 Henk Vogels (USA) Toyota-United                            1.35.07
2 Alejandro Borrajo (Arg) Colavita Sutter Home                      
3 Ian Macias Hernandez (Mex) Tecos                                  
4 Juan Magallanes (Mex) Tecos                                       
5 Alessandro Bazzana (Ita) Successful Living Pro Cycling            
6 Eder Jacques-Maynes (USA) Bissell Pro Cycling                     
7 Ryan Anderson (Can) Symmetrics                                0.03
8 Roman Kilun (USA) Healthnet Maxxis                                
9 Phil Zajicek (USA) Healthnet Maxxis                               
10 Allen Krughoff (USA) Team Rio Grande                             
11 Ben Sonntag (Ger) Kahala-Lagrange                                
12 Craig Luekens (USA) Targetraining U-25/Elite                     
13 Justin England (USA) Toyota-United                               
14 Will Routley (Can) Symmetrics Cycling                            
15 Jose Soto Quitl (Mex) Arenas Tlax-Mex Cycling Team               
16 Chris Wherry (USA) Toyota-United                                 
17 Fausto Esparza Munoz (Mex) Tecos                                 
18 Aaron Olson (USA) Bissell Pro Cycling                            
19 Sheldon Deeny (USA) Empire Cycling Team                          
20 Tiago Depaula (USA) Latinos Cycling Team                         
21 Michael Grabinger (USA) Successful Living Pro Cycling            
22 Anthony Colby (USA) Colavita Sutter Home                         
23 Jonny Clarke (USA) Toyota-United                                 
24 Chris Baldwin (USA) Toyota-United                                
25 Gregorio Ladino Vega (Col) Tecos                                 
26 Bernardo Colex Tepoz (Mex) Tecos                                 
27 Tyler Wren (USA) Colavita Sutter Home                            
28 Paul Esposti (USA) Team Legacy Energy                            
29 Jose Sanchez Sotelo (Mex) Arenas Tlax-Mex Cycling Team           
30 David Nelson (USA) Landis Trek                                   
31 Tom Zirbel (USA) Bissell Pro Cycling                             
32 Burke Swindlehurst (USA) Bissell Pro Cycling                     
33 Luis Amaran (USA) Colavita Sutter Home                           
34 Andrew Guptill (USA) Colavita Sutter Home                        
35 Tom Matamoros Navarro (Mex) Tecos                                
36 Mike Olheiser (USA) Marx And Bensdorf                            
37 Tom Peterson (USA) Slipstream-Chipotle                           
38 Brian Jensen (USA) Successful Living Pro Cycling                 
39 Bradley White (USA) Successful Living Pro Cycling                
40 Morgan Schmitt (USA) Bissell Pro Cycling                         
41 Walker Savidge (USA) Vmg/Felt/Rgm                                
42 Bradley Oyarzun Guinez (Chi) Tecos                               
43 Heath Blackgrove (USA) Toyota-United                             
44 Chris Winn (Aus) Mob Cyclery/Rmcef Racing                        
45 Eder Arenas Machorro (Mex) Arenas Tlax-Mex Cycling Team          
46 Jared Berger (USA) Team Legacy Energy                            
47 Charles Coyle (USA) Successful Living Pro Cycling                
48 Markus Weinberg (Ger) Kahala-Lagrange                            
49 Joshua Liberles (USA) Colavita New Mexico P/B Jnf                
50 Troy Wells (USA) Team Clif Bar                                   
51 Gilberto Porras (Mex) Rica Burguer                               
52 Curtis Gunn (USA) Successful Living Pro Cycling                  
53 Ian Gray (USA) Team Legacy Energy                                
54 Lee Rosenthal (USA) Targetraining U-25/Elite                     
55 Eddy Kwon (USA) Mob Cyclery Racing                               
56 Brad Cole (USA) Team Legacy Energy                               
57 Stefan Rothe (USA) Marx And Bensdorf                             
58 Phil Mann (USA) Team Legacy Energy                               
59 Jose Manuel Garcia (USA) Toyota-United                           
60 Taylor Shelden (USA) Team Rio Grande                             
61 Andrew Talansky (USA) Toshiba-Santo Presented By                 
62 Alister Ratcliff (USA) Fiordifrutta                              
63 Matt Seagrave (USA) Kahala-Lagrange                              
64 Sam Silvey (USA) Marx And Bensdorf                               
65 Ryan Blickem (USA) Landis Trek                                   
66 Jared Gilyard (USA) Colavita New Mexico                          
67 Kyle Colavito (USA) Landis Trek                              0.24
68 Ryan Hamity (USA) Team Rio Grande                            0.31
69 Christian Valenzuela (Mex) Successful Living Pro Cycling     0.33
70 Tim Carolan (USA) Landis Trek                                    
71 Joel Alamillo Avila (Mex) Arenas Tlax-Mex Cycling Team       0.46
72 Joseph Saperstein (USA) Team Rio Grande                      0.52
73 Joe Wiley (USA) Kahala-Lagrange                              0.56
74 Arturo Luna Romero (Mex) Arenas Tlax-Mex Cycling Team        1.02
75 Jeremy Vennell (NZl) Bissell Pro Cycling                     1.06
76 Jonathan Baker (USA) Vitamin Cottage                         1.09
77 Omer Kem (USA) Bissell Pro Cycling                               
78 Mike Mathis (USA) Empire Cycling Team/Crca                       
79 Randy Reichardt (USA) Vitamin Cottage P/B Xp                 1.30
80 Graham Howard (USA) Bissell Pro Cycling                      1.38
81 David Reid (USA) Landis Trek                                 4.08
82 Sam Johnson (USA) Hagens Berman Llc Cycling                  4.19
83 Jorge Alvarado (Mex) Kahala-Lagrange                         5.35
84 Ben Day (USA) Toyota-United                                  6.47
85 Ryan Heydenrych (USA) Marx & Bensdorf Realtors /             9.30
86 Marco Rullo (Ita) TSCyclingUSA.com                          13.35
87 Juan Pablo Villela (Mex) Rica Burguer                       15.51
88 Roman Ayala Navarro (Mex) Arenas Tlax-Mex Cycling Team      19.01
 
General classification after stage 4
 
1 Tom Zirbel (USA) Bissell Pro Cycling                       9.28.47
2 Gregorio Ladino Vega (Col) Tecos                              0.02
3 Bernardo Colex Tepoz (Mex) Tecos                              0.27
4 Anthony Colby (USA) Colavita Sutter Home                      0.39
5 Justin England (USA) Toyota-United                            0.52
6 Burke Swindlehurst (USA) Bissell Pro Cycling                  0.54
7 Chris Baldwin (USA) Toyota-United                             0.59
8 Chris Wherry (USA) Toyota-United                              1.31
9 Eder Jacques-Maynes (USA) Bissell Pro Cycling                 1.34
10 Bradley White (USA) Successful Living Pro Cycling            1.38
11 Phil Zajicek (USA) Healthnet Maxxis                          1.40
12 Michael Grabinger (USA) Successful Living Pro Cycling        1.50
13 Aaron Olson (USA) Bissell Pro Cycling                        2.11
14 Bradley Oyarzun Guinez (Chi) Tecos                           2.25
15 Will Routley (Can) Symmetrics Cycling                        2.31
16 Tyler Wren (USA) Colavita Sutter Home                        2.33
17 Jonny Clarke (USA) Toyota-United                             3.17
18 Brian Jensen (USA) Successful Living Pro Cycling             4.17
19 Fausto Esparza Munoz (Mex) Tecos                             4.31
20 Luis Amaran (USA) Colavita Sutter Home                       4.33
21 Tom Peterson (USA) Slipstream-Chipotle                       5.13
22 Heath Blackgrove (USA) Toyota-United                         5.44
23 Mike Olheiser (USA) Marx And Bensdorf                        5.56
24 Tom Matamoros Navarro (Mex) Tecos                            6.19
25 Brad Cole (USA) Team Legacy Energy                           6.21
26 Ben Sonntag (Ger) Kahala-Lagrange                            6.28
27 Roman Kilun (USA) Healthnet Maxxis                           6.48
28 Juan Magallanes (Mex) Tecos                                  6.52
29 Ian Macias Hernandez (Mex) Tecos                             7.32
30 Eder Arenas Machorro (Mex) Arenas Tlax-Mex Cycling Team      8.00
31 Jared Berger (USA) Team Legacy Energy                        9.12
32 Andrew Guptill (USA) Colavita Sutter Home                    9.45
33 Walker Savidge (USA) Vmg/Felt/Rgm                            9.46
34 Ian Gray (USA) Team Legacy Energy                            9.57
35 Joel Alamillo Avila (Mex) Arenas Tlax-Mex Cycling Team      10.31
36 Markus Weinberg (Ger) Kahala-Lagrange                       11.01
37 Stefan Rothe (USA) Marx And Bensdorf                        11.08
38 Paul Esposti (USA) Team Legacy Energy                       11.20
39 Ben Day (USA) Toyota-United                                 11.37
40 Morgan Schmitt (USA) Bissell Pro Cycling                    11.43
41 Omer Kem (USA) Bissell Pro Cycling                          11.58
42 Jose Soto Quitl (Mex) Arenas Tlax-Mex Cycling Team          12.19
43 Christian Valenzuela (Mex) Successful Living Pro Cycling    12.42
44 David Nelson (USA) Landis Trek                              13.25
45 Taylor Shelden (USA) Team Rio Grande                        13.36
46 Jose Sanchez Sotelo (Mex) Arenas Tlax-Mex Cycling Team      13.37
47 Lee Rosenthal (USA) Targetraining U-25/Elite                13.40
48 Jared Gilyard (USA) Colavita New Mexico                     13.57
49 Sheldon Deeny (USA) Empire Cycling Team                     16.48
50 Ryan Anderson (Can) Symmetrics                              16.59
51 Alejandro Borrajo (Arg) Colavita Sutter Home                17.05
52 Jeremy Vennell (NZl) Bissell Pro Cycling                    17.08
53 Andrew Talansky (USA) Toshiba-Santo Presented By            17.26
54 Craig Luekens (USA) Targetraining U-25/Elite                17.43
55 Graham Howard (USA) Bissell Pro Cycling                     18.22
56 Alessandro Bazzana (Ita) Successful Living Pro Cycling      19.20
57 Allen Krughoff (USA) Team Rio Grande                        20.16
58 Curtis Gunn (USA) Successful Living Pro Cycling             21.10
59 Phil Mann (USA) Team Legacy Energy                          21.19
60 Joe Wiley (USA) Kahala-Lagrange                             22.34
61 Ryan Blickem (USA) Landis Trek                              23.18
62 Jonathan Baker (USA) Vitamin Cottage                        24.54
63 Alister Ratcliff (USA) Fiordifrutta                         25.33
64 Sam Johnson (USA) Hagens Berman Llc Cycling                 27.42
65 Henk Vogels (USA) Toyota-United                             28.53
66 Roman Ayala Navarro (Mex) Arenas Tlax-Mex Cycling Team      30.38
67 Mike Mathis (USA) Empire Cycling Team/Crca                  31.50
68 Matt Seagrave (USA) Kahala-Lagrange                         33.07
69 Chris Winn (Aus) Mob Cyclery/Rmcef Racing                   35.35
70 Jose Manuel Garcia (USA) Toyota-United                      36.07
71 Gilberto Porras (Mex) Rica Burguer                          41.20
72 Jorge Alvarado (Mex) Kahala-Lagrange                        43.12
73 Ryan Hamity (USA) Team Rio Grande                           44.15
74 Kyle Colavito (USA) Landis Trek                             47.21
75 Joshua Liberles (USA) Colavita New Mexico P/B Jnf           49.48
76 Tim Carolan (USA) Landis Trek                               50.23
77 Eddy Kwon (USA) Mob Cyclery Racing                          51.52
78 Charles Coyle (USA) Successful Living Pro Cycling           55.11
79 Joseph Saperstein (USA) Team Rio Grande                     55.16
80 Arturo Luna Romero (Mex) Arenas Tlax-Mex Cycling Team     1.01.23
81 Tiago Depaula (USA) Latinos Cycling Team                  1.06.25
82 Randy Reichardt (USA) Vitamin Cottage P/B Xp              1.07.51
83 Troy Wells (USA) Team Clif Bar                            1.19.30
84 Sam Silvey (USA) Marx And Bensdorf                        1.26.51
85 David Reid (USA) Landis Trek                              1.27.16
86 Juan Pablo Villela (Mex) Rica Burguer                     1.27.38
87 Marco Rullo (Ita) TSCyclingUSA.com                        1.50.08
88 Ryan Heydenrych (USA) Marx & Bensdorf Realtors /          2.09.50
 
Teams
 
1 BISSELL PRO CYCLING                                       28.28.06
2 TECOS Trek                                                    1.23
3 Toyota-United                                                 1.31
4 Successful Living Pro Cycling                                 5.57
5 Colavita Sutter Home p/b                                      6.22
6 Arenas Tlax-Mex Cycling Team                                 21.08
7 Team Legacy Energy                                           21.31
8 Kahala-LaGrange                                              26.09
9 Landis Trek                                                1.08.04
10 Team Rio Grande                                           1.16.22
11 Marx and Bensdorf/Tristar                                 1.42.10
 
Women 1-2
 
1 Rachel Heal (GBr) Team Tibco                               1.05.31
2 Alison Testroete (Can) Aaron's Professional Women's               
3 Suz Weldon (USA) Proman Racing                                    
4 Leda Cox (GBr) America's Dairyland                                
5 Joanne Kiesanowski (USA) Team Tibco                           0.08
6 Anne Samplonius (Can) Cheerwine Cycling                           
7 Virginia Perkins (USA) Proman Racing                              
8 Kristin Sanders (USA) Aaron's Professional Women's                
9 Kristin McGrath (USA) Colavita/Sutter Home                        
10 Felicia Gomez (USA) Aaron's Professional Women's                 
11 Linsey Bradshaw (USA) Dewalt                                     
12 Betsy Shogren (USA) America's Dairyland                          
13 Leigh Hobson (Can) Cheerwine Cycling                             
14 Julie Beveridge (Can) Aaron's Professional Women's               
15 Rachel Lloyd (USA) Proman Racing                                 
16 Melanie Meyers (USA) Specialized D4W/Bicycle Haus                
17 Amber Rais (USA) Team Tibco                                      
18 Sarah Stewart (Can) Proman Racing                                
19 Helen Kelly (Aus) Team Tibco                                     
20 Megan Hottman (USA) America's Dairyland                          
21 Heather Sborz (USA) Specialized D4W/Bicycle Haus                 
22 Marisa Asplund-Owens (USA) Cheerwine Cycling                     
23 Jane Despas (USA) Metromint Cycling On Marin                     
24 Nina Baum (USA) Sobe Bella                                       
25 Olivia Dillon (USA) Touchstone Climbing                          
26 Susannah Gordon (USA) Colobikelaw.Com                            
27 Abby Lyn Cooper (USA) Proman Racing                              
28 Megan Elliott (USA) Unattached                                   
29 Courtney Hammond (USA) Team Rock                                 
30 Jennifer Tribe-Wilson (USA) Sobe Bella                           
31 Chrissy Ruiter (USA) Valueact Capital Cycling Team               
32 Maria Monica (USA) Touchstone Climbing                           
33 Kelly McDonald (USA) Touchstone Climbing                         
34 Leah Goldstein (Isr) Valueact Capital Cycling Team               
35 Megan Rathwell (Can) Team H&R Block                              
36 Beverly Harper (USA) Webcor Builders                             
37 Kristina Seley (USA) Proman Racing                               
38 Emily Zell (USA) Valueact Capital Cycling Team                   
39 Sharon Allpress (USA) Valueact Capital Cycling Team              
40 Andrea Dvorak (USA) Colavita/Sutter Home                         
41 Sarah Bamberger (USA) Cheerwine Cycling                      2.50
42 Sonya Looney (USA) Sobe Bella                                3.08
43 Cara Gillis (USA) Touchstone Climbing                        3.26
44 Molly Van Houweling (USA) Metromint Cycling On Marin         3.51
45 Rushlee Buchanan (NZl) Team Tibco                            4.22
46 Clare Vlahopoulos (Aus) America's Dairyland                  4.40
47 Danielle Haulman (USA) Team 5280/Slipstream                      
48 Josephine Nelson (USA) Sobe Bella                            5.27
49 Shannon Gibson (USA) Sobe Bella                                  
50 Megan Gonzalez-Ferrat (Mex) Metromint Cycling On Marin       5.57
51 Chellie Terry (USA) Fitzgerald's Bicycles                    6.33
52 Lana Atchley (USA) Team Rock                                 6.47
53 Melanie Wong (USA) Gs Boulder                                7.16
54 Kate Thurston-Hicks (USA) Colobikelaw.Com                    8.11
55 Marni Hambleton (Can) Valueact Capital Cycling Team          9.21
56 Lisa Tumminello (USA) Colobikelaw.Com                       10.55
 
General classification after stage 4
 
1 Leah Goldstein (Isr) Valueact Capital Cycling Team         9.37.27
2 Kristin McGrath (USA) Colavita/Sutter Home                    2.19
3 Leigh Hobson (Can) Cheerwine Cycling                          2.27
4 Marisa Asplund-Owens (USA) Cheerwine Cycling                  3.04
5 Kristin Sanders (USA) Aaron's Professional Women's            3.12
6 Felicia Gomez (USA) Aaron's Professional Women's              3.21
7 Joanne Kiesanowski (USA) Team Tibco                           4.14
8 Andrea Dvorak (USA) Colavita/Sutter Home                      4.28
9 Kelly McDonald (USA) Touchstone Climbing                      4.30
10 Rachel Heal (GBr) Team Tibco                                 5.38
11 Julie Beveridge (Can) Aaron's Professional Women's           5.54
12 Leda Cox (GBr) America's Dairyland                           5.57
13 Suz Weldon (USA) Proman Racing                               6.03
14 Sharon Allpress (USA) Valueact Capital Cycling Team          6.16
15 Beverly Harper (USA) Webcor Builders                         6.37
16 Susannah Gordon (USA) Colobikelaw.Com                        6.43
17 Megan Hottman (USA) America's Dairyland                      6.54
18 Anne Samplonius (Can) Cheerwine Cycling                      7.16
19 Alison Testroete (Can) Aaron's Professional Women's          7.23
20 Chrissy Ruiter (USA) Valueact Capital Cycling Team           8.02
21 Maria Monica (USA) Touchstone Climbing                       8.13
22 Sarah Stewart (Can) Proman Racing                            8.29
23 Emily Zell (USA) Valueact Capital Cycling Team               8.41
24 Jennifer Tribe-Wilson (USA) Sobe Bella                       9.18
25 Jane Despas (USA) Metromint Cycling On Marin                 9.32
26 Amber Rais (USA) Team Tibco                                  9.39
27 Melanie Meyers (USA) Specialized D4W/Bicycle Haus            9.45
28 Olivia Dillon (USA) Touchstone Climbing                     10.04
29 Nina Baum (USA) Sobe Bella                                  10.10
30 Heather Sborz (USA) Specialized D4W/Bicycle Haus            10.31
31 Rachel Lloyd (USA) Proman Racing                            10.32
32 Betsy Shogren (USA) America's Dairyland                     12.15
33 Virginia Perkins (USA) Proman Racing                        12.57
34 Helen Kelly (Aus) Team Tibco                                13.12
35 Abby Lyn Cooper (USA) Proman Racing                         13.13
36 Linsey Bradshaw (USA) Dewalt                                13.23
37 Cara Gillis (USA) Touchstone Climbing                       13.52
38 Josephine Nelson (USA) Sobe Bella                           15.01
39 Sarah Bamberger (USA) Cheerwine Cycling                     15.17
40 Kristina Seley (USA) Proman Racing                          16.02
41 Megan Rathwell (Can) Team H&R Block                         20.22
42 Chellie Terry (USA) Fitzgerald's Bicycles                   20.43
43 Molly Van Houweling (USA) Metromint Cycling On Marin        23.18
44 Courtney Hammond (USA) Team Rock                            28.44
45 Rushlee Buchanan (NZl) Team Tibco                           33.48
46 Lana Atchley (USA) Team Rock                                33.50
47 Megan Gonzalez-Ferrat (Mex) Metromint Cycling On Marin      39.00
48 Shannon Gibson (USA) Sobe Bella                             52.05
49 Danielle Haulman (USA) Team 5280/Slipstream                 54.48
50 Lisa Tumminello (USA) Colobikelaw.Com                       54.56
51 Clare Vlahopoulos (Aus) America's Dairyland               1.04.50
52 Kate Thurston-Hicks (USA) Colobikelaw.Com                 1.06.00
53 Megan Elliott (USA) Unattached                            1.07.22
54 Sonya Looney (USA) Sobe Bella                             1.21.16
55 Marni Hambleton (Can) Valueact Capital Cycling Team       1.21.58
56 Melanie Wong (USA) Gs Boulder                             1.27.38
 
Teams
 Cheerwine Cycling                                                  
1 Aaron's Professional Women's                              29.00.48
2 ValueAct Capital Cycling                                      3.25
3 Team TIBCO                                                    4.17
4 Touchstone Climbing                                          11.25
5 PROMAN Racing                                                13.38
6 America's Dairyland                                          16.04
7 Sobe Bella                                                   16.29
8 Metromint Cycling on Marin                                   22.29
9 ColoBikeLaw.com                                            1.03.23
10
 
Senior men 2
 
1 Jesse Dekrey (USA) Kahala-Lagrange                         1.12.30
2 Logan Garey (USA) G.S. Boulder Cycling Club                       
3 Brad Bingham (USA) Team Rio Grande                                
4 Danny Summerhill (USA) Vmg/Felt/Rgm                               
5 Joseph Pinkerton (USA) Vitamin Cottage Cycling Team               
6 Emiliano Jordan (USA) Colavita Pb Jnf Enterprises                 
7 Robert Lofgran (USA) Porcupine Cycling                            
8 Will Hickey (USA) Team Legacy Energy                              
9 Christiaan De Vries (Can) H&R Block                               
10 Dan Workman (USA) Team Legacy Energy                             
11 Max Haines-Stiles (USA) Metromint Cycling On Marin               
12 Tim Mitchell (USA) Flatbread-Ottercreek Cycling                  
13 Ian Tuttle (USA) Above Category Racing                           
14 Kris Lunning (USA) Fitzgeralds Bicycles                          
15 Brian Cornelius (USA) Team Waste Management                      
16 John Behrens (USA) Celo Pacific/Bailey                           
17 Dustin Eskelson (USA) Canyon Bicycles Of Salt Lake               
18 Conor Mullervy (USA) Grand Junction                              
19 Bill Demong (USA) Aradd                                          
20 Rodrigo Castillo (Gua) Malta Gallo - Bicimania                   
21 Luca Ortolani (USA) San Francisco                                
22 Blair Berbert (USA) Ncvc/Inova Health System                     
23 Julian Kyer (USA) Rmcef Racing                                   
24 Kevin Mullervy (USA) Littleton                                   
25 Joseph King (USA) Hagens Berman Llp Cycling                      
26 Anthony Steenbergen (Can) Team H&R Block                         
27 Bradley Gehrig (USA) Salt Lake Cycling                           
28 John Bailey (USA) Celo Pacific/Bailey                            
29 Joe Cooper (USA) Twin Peaks Racingteam                           
30 Paul Lengermann (USA) Ncvc/Inova Health System                   
31 Taylor Kneuven (USA) Team Rio Grande                             
32 Andy Lee (USA) Austin                                            
33 Justin Maka (USA) Catchmeifucan                                  
34 Patrick Ramirez (USA) Contender Bicycles                         
35 Matt Landen (USA) Nebraska Medical Center                        
36 Russell Folger (USA) High Country Racing Team                    
37 Mark Barnum (USA) Bollo Racing                                   
38 Julian Martinez (USA) Metromint Cycling On Marin                 
39 Robin Eckmann (USA) -5280                                        
40 Scott Nagelkerke (USA) Rmcef Mob Cyclery                         
41 Steve Forbes (USA) Vitamin Cottage                               
42 Andrew Barker (USA) Team 5280 Magazine                           
43 Corey Piscopo (USA) Moots/Noreast Cycling                        
44 Loren Dodson (USA) Velossimo Racing/Jack And                     
45 Brent Cannon (USA) Contender Bicycle                             
46 Eric Kenney (USA) Horizon Organic Cycling                        
47 Nathan Keck (USA) Unattached                                     
48 Alan Adams (USA) Hagens Berman                                   
49 Jon Mullen (USA) Rmcef Racing                                    
50 Mike Sohm (USA) Porcupine/Specialized                            
51 David Rendon (USA) Colavita New Mexico                           
52 Robert Pasco (USA) Safeway/G.A.                                  
53 Mark Weideman (USA) Simply Fit/Action Sports                 0.43
54 Ryan Belew (USA) Gs Boulder                                  2.30
 
General classification after stage 4
 
1 Danny Summerhill (USA) Vmg/Felt/Rgm                        9.57.14
2 Blair Berbert (USA) Ncvc/Inova Health System                  2.32
3 Bill Demong (USA) Aradd                                       2.53
4 Emiliano Jordan (USA) Colavita Pb Jnf Enterprises             5.18
5 Rodrigo Castillo (Gua) Malta Gallo - Bicimania                5.27
6 Dan Workman (USA) Team Legacy Energy                          5.38
7 Robin Eckmann (USA) -5280                                     5.57
8 Robert Lofgran (USA) Porcupine Cycling                        7.44
9 Loren Dodson (USA) Velossimo Racing/Jack And                  9.19
10 Ian Tuttle (USA) Above Category Racing                       9.28
11 Joseph Pinkerton (USA) Vitamin Cottage Cycling Team          9.41
12 Andrew Barker (USA) Team 5280 Magazine                       9.54
13 Eric Kenney (USA) Horizon Organic Cycling                   10.13
14 Logan Garey (USA) G.S. Boulder Cycling Club                 10.20
15 Robert Pasco (USA) Safeway/G.A.                             11.08
16 Matt Landen (USA) Nebraska Medical Center                   11.33
17 John Behrens (USA) Celo Pacific/Bailey                      12.08
18 Mike Sohm (USA) Porcupine/Specialized                       13.02
19 Andy Lee (USA) Austin                                       13.25
20 Joe Cooper (USA) Twin Peaks Racingteam                      15.34
21 Brad Bingham (USA) Team Rio Grande                          15.35
22 Kris Lunning (USA) Fitzgeralds Bicycles                     15.42
23 Justin Maka (USA) Catchmeifucan                             16.29
24 Steve Forbes (USA) Vitamin Cottage                          18.08
25 Taylor Kneuven (USA) Team Rio Grande                        18.39
26 Jesse Dekrey (USA) Kahala-Lagrange                          20.06
27 Jon Mullen (USA) Rmcef Racing                               20.22
28 Nathan Keck (USA) Unattached                                21.33
29 Max Haines-Stiles (USA) Metromint Cycling On Marin          23.00
30 Christiaan De Vries (Can) H&R Block                         24.04
31 Dustin Eskelson (USA) Canyon Bicycles Of Salt Lake          24.24
32 Paul Lengermann (USA) Ncvc/Inova Health System              28.33
33 Julian Kyer (USA) Rmcef Racing                              29.00
34 Kevin Mullervy (USA) Littleton                              29.39
35 Mark Weideman (USA) Simply Fit/Action Sports                30.37
36 Julian Martinez (USA) Metromint Cycling On Marin            30.45
37 Tim Mitchell (USA) Flatbread-Ottercreek Cycling             31.12
38 John Bailey (USA) Celo Pacific/Bailey                            
39 Mark Barnum (USA) Bollo Racing                              31.15
40 Luca Ortolani (USA) San Francisco                           31.46
41 Anthony Steenbergen (Can) Team H&R Block                    33.18
42 Ryan Belew (USA) Gs Boulder                                 36.49
43 Brian Cornelius (USA) Team Waste Management                 36.54
44 Conor Mullervy (USA) Grand Junction                         36.58
45 Bradley Gehrig (USA) Salt Lake Cycling                      37.03
46 Patrick Ramirez (USA) Contender Bicycles                    37.28
47 David Rendon (USA) Colavita New Mexico                      41.58
48 Russell Folger (USA) High Country Racing Team               45.00
49 Corey Piscopo (USA) Moots/Noreast Cycling                   46.22
50 Alan Adams (USA) Hagens Berman                              52.59
51 Scott Nagelkerke (USA) Rmcef Mob Cyclery                    56.31
52 Will Hickey (USA) Team Legacy Energy                        57.58
53 Brent Cannon (USA) Contender Bicycle                      1.03.21
54 Joseph King (USA) Hagens Berman Llp Cycling               1.06.37
 
Senior men 3
 
1 Nick Schaffner (USA) Cyclepaths/Wild Cherries                50.19
2 Nate Freed (USA) Cyclepaths/Wild Cherries                         
3 Tucker Gerald (USA) Cain's Cycling Team                           
4 Kevin Abraham (USA) Longmont                                      
5 Scott Damman (USA) South Central Racing- Amicas               0.04
6 Jim Hebert (USA) Fort Collins Cycling Team                        
7 Stoney Landers (USA) Delta Cases                                  
8 Brian Huggins (USA) Hart/Bang Salon                               
9 Brian Loflin (USA) Team Echelon Spokes And                        
10 Evan Bowman (USA) Team Waste Management                          
11 Diego Zelaya (Gua) Team Hino/Pizza Hut                           
12 Matthew Beck (USA) University Of New Mexico                      
13 Barry Schmidt (USA) Loveland                                     
14 Steve Dunn (USA) Echelon Spokes And Slopes                       
15 Julio A. Cirici (Gua) Team Hino/Pizza Hut                        
16 Matt Morgan (USA) Skins Racing                                   
17 Alberto Coto (CRc) Team Hino/Pizza Hut                           
18 Robbie Stout (USA) Horizon Organic                               
19 Brett Kirby (USA) Bang Salon/Hart                                
20 Timothy Schoeny (USA) Rio Grande Racing Team                     
21 Yannick Eckmann (USA) -5280                                      
22 Josh Rider (USA) Nmvs                                            
23 Oscar Gordillo (Gua) Team Hino/Pizza Hut                         
24 Eric Moore (USA) American R.A.D.D.                               
25 Brad Winn (USA) Colorado Springs                                 
26 Roberto Montano (Gua) Team Hino/Pizza Hut                        
27 Dermot Kealey (GBr) Summit Velo                                  
28 Jordan Sher (USA) Bang Salon/ Hart                               
29 Ethan Ensley (USA) Sport Systems-Mountaintop                     
30 Joe Ebenroth (USA) Xxx Racing/Athletico                          
31 Peter Kenyon (USA) Telluride                                     
32 Bruce Rahmig (USA) Rmrc                                          
33 Alan Enos (USA) Gs Boulder                                       
34 Chris Cardoza (USA) Telluride                                    
35 Matthew Edwards (USA) Bang Salon/Hart                            
36 Chris Carr (USA) Gs Boulder                                      
37 Doug VanGethem (USA) New Mexico Velosport                        
38 Evangelos Gatseos (USA) Mob Cyclery/Rmcef                        
39 Isaac Dancy (USA) Longmont                                       
40 Carlos Cano (Mex) Team Uach                                      
41 Jonathan Scott Rath (USA) New Mexico Velo                        
42 David Rutledge (USA) Zia Velo Racing Team                        
43 Trevor Bell (USA) Mesa                                           
44 Brian Flaherty (USA) Telluride                                   
45 Michael Hanna (USA) Bang Salon/Hart                              
46 Nathan Shay (USA) Sano Bici/Mastercraft Metals                   
47 Adam Cadez-Schmidt (USA) International Christian Cycling         
48 Sem Gallegos (USA) Crazy Cat Cyclery                             
49 Matthew Segur (USA) Colobikelaw.Com                              
50 Draye Redfern (USA) Velossimo Racing                             
51 Sean Peck (USA) 3D Racing                                        
52 Francis W. Bruderer (Gua) Team Hino/Pizza Hut                    
53 Ryan Hughes (USA) Rocky Mounts / Izze                            
54 Paul Kealey (USA) Summit Velo                                    
55 Alex Dossin (USA) Nebc/Cycle Loft/ Devonshire                    
56 Adam Masters (USA) Now-Ms Society U23                            
57 Robert Helton (USA) Bang Salon/Hart                              
58 Keith Snyder (USA) Kissena Cycling Club                          
59 Jan Koles (USA) Rmcef Racing/Mob Cyclery                         
60 Roberto Barrowclough (USA) Vittamin Cottage                      
61 Jonathan Kranzley (USA) Wellesley                                
62 Daniel Kelly (USA) Nm Sports &                                   
63 Ben Stalker (USA) Fort Lewis College Cycling                     
64 Jeremy Duerksen (USA) Erie                                       
65 Danny Hiller (USA) Slipstream 5280                           1.36
66 Paul Benson (Can) Manitoba/Oakley/Alter Ego                  3.21
67 Jose Castilleja (USA) Longmont                               6.17
68 Paul Griffiths (USA) Zia Velo                                7.11
69 Isidro Solano (USA) Ziavelo Racing Club                     10.03
 
General classification after stage 4
 
1 Brian Loflin (USA) Team Echelon Spokes And                 8.43.32
2 Evan Bowman (USA) Team Waste Management                       2.04
3 Matthew Beck (USA) University Of New Mexico                   2.49
4 Jonathan Kranzley (USA) Wellesley                             3.44
5 Chris Carr (USA) Gs Boulder                                   4.21
6 Barry Schmidt (USA) Loveland                                  4.29
7 Doug VanGethem (USA) New Mexico Velosport                     4.40
8 Matthew Segur (USA) Colobikelaw.Com                           4.52
9 Julio A. Cirici (Gua) Team Hino/Pizza Hut                     5.09
10 Josh Rider (USA) Nmvs                                        5.30
11 Brad Winn (USA) Colorado Springs                             5.31
12 Roberto Montano (Gua) Team Hino/Pizza Hut                    5.47
13 Brett Kirby (USA) Bang Salon/Hart                            5.59
14 Nate Freed (USA) Cyclepaths/Wild Cherries                    6.05
15 Yannick Eckmann (USA) -5280                                  6.12
16 Jonathan Scott Rath (USA) New Mexico Velo                    6.35
17 Scott Damman (USA) South Central Racing- Amicas              6.50
18 Bruce Rahmig (USA) Rmrc                                      6.58
19 Eric Moore (USA) American R.A.D.D.                           7.10
20 Ryan Hughes (USA) Rocky Mounts / Izze                        7.15
21 Jan Koles (USA) Rmcef Racing/Mob Cyclery                     7.31
22 Roberto Barrowclough (USA) Vittamin Cottage                  8.06
23 Jeremy Duerksen (USA) Erie                                   8.29
24 Matt Morgan (USA) Skins Racing                               8.58
25 Robbie Stout (USA) Horizon Organic                           9.42
26 Brian Flaherty (USA) Telluride                              10.12
27 Adam Cadez-Schmidt (USA) International Christian Cycling    10.26
28 Alex Dossin (USA) Nebc/Cycle Loft/ Devonshire               10.33
29 Tucker Gerald (USA) Cain's Cycling Team                     11.56
30 Alberto Coto (CRc) Team Hino/Pizza Hut                      12.34
31 Sem Gallegos (USA) Crazy Cat Cyclery                        13.19
32 Sean Peck (USA) 3D Racing                                   13.33
33 Carlos Cano (Mex) Team Uach                                 14.47
34 Peter Kenyon (USA) Telluride                                16.00
35 Brian Huggins (USA) Hart/Bang Salon                         17.33
36 David Rutledge (USA) Zia Velo Racing Team                   18.12
37 Alan Enos (USA) Gs Boulder                                  19.09
38 Dermot Kealey (GBr) Summit Velo                             20.40
39 Isaac Dancy (USA) Longmont                                  21.21
40 Daniel Kelly (USA) Nm Sports &                              21.39
41 Francis W. Bruderer (Gua) Team Hino/Pizza Hut               22.08
42 Joe Ebenroth (USA) Xxx Racing/Athletico                     23.01
43 Stoney Landers (USA) Delta Cases                            23.16
44 Jordan Sher (USA) Bang Salon/ Hart                          26.01
45 Nathan Shay (USA) Sano Bici/Mastercraft Metals              27.28
46 Nick Schaffner (USA) Cyclepaths/Wild Cherries               28.07
47 Jim Hebert (USA) Fort Collins Cycling Team                  29.33
48 Kevin Abraham (USA) Longmont                                30.54
49 Jose Castilleja (USA) Longmont                              32.37
50 Steve Dunn (USA) Echelon Spokes And Slopes                  33.47
51 Isidro Solano (USA) Ziavelo Racing Club                     34.44
52 Paul Kealey (USA) Summit Velo                               36.29
53 Ben Stalker (USA) Fort Lewis College Cycling                39.51
54 Adam Masters (USA) Now-Ms Society U23                       40.53
55 Oscar Gordillo (Gua) Team Hino/Pizza Hut                    43.06
56 Danny Hiller (USA) Slipstream 5280                          45.19
57 Trevor Bell (USA) Mesa                                      48.16
58 Ethan Ensley (USA) Sport Systems-Mountaintop                48.26
59 Evangelos Gatseos (USA) Mob Cyclery/Rmcef                   49.21
60 Matthew Edwards (USA) Bang Salon/Hart                       50.44
61 Timothy Schoeny (USA) Rio Grande Racing Team                52.06
62 Diego Zelaya (Gua) Team Hino/Pizza Hut                      57.32
63 Keith Snyder (USA) Kissena Cycling Club                   1.00.01
64 Michael Hanna (USA) Bang Salon/Hart                       1.01.14
65 Chris Cardoza (USA) Telluride                             1.02.56
66 Draye Redfern (USA) Velossimo Racing                      1.03.35
67 Paul Griffiths (USA) Zia Velo                             1.09.06
68 Paul Benson (Can) Manitoba/Oakley/Alter Ego               1.11.16
69 Robert Helton (USA) Bang Salon/Hart                       1.37.00
 
Men 35+
 
1 Andy Phillips (USA) Boulder                                  50.14
2 Jeff Hartman (USA) Michelob Ultra - Big Shark                     
3 Christopher Mosora (USA) Lucas Oil Cycling                        
4 Dennis Farrell (USA) Littleton                                    
5 Marc Holbert (USA) Boulder Velo Racing                            
6 Juergen Eckmann (USA) Boulder                                     
7 Phillip Sladek (USA) Geri Atrix                                   
8 Michael Carroll (USA) Durango Wheel Club                          
9 Tom Bain (USA) Geri Atrix                                         
10 Douglas Philippone (USA) Monterey Bay Racing                     
11 Unknown                                                          
12 Briant Smith (USA) Fightin' Bobas                                
13 Peter Ismert (USA) Excel Sports                                  
14 Miroslav Novak (USA) Era Oxford Realty                           
15 Matt Vawter (USA) Mix1                                           
16 Gaige Sippy (USA) Durango Wheel Club                             
17 Al Senft (USA) Colavita New Mexico                               
18 Mitch Carrier (USA) Durango Wheel Club                           
19 Mike Slattery (USA) Olev Rapido                                  
20 Johnny Biggers (USA) Crested Butte                               
21 Keith Ashmore (USA) Colavita Nm/ Jnf                             
22 Doug Robison (USA) South Central Racing                          
23 P David Lepell (USA) Olev Rapido / Nmbra                         
24 Paul Marabito (USA) Canyon                                       
25 John O'Brien (USA) Amarillo                                      
26 Joel Grimmett (USA) Lone Star Racing Club                        
27 Tony Routley (Can) Team Whistler                                 
28 Tom Murphy (USA) Albuquerque                                     
29 Frank Kurzawa (USA) Violet Crown Sports                          
30 Steven Myers (USA) Arvada                                        
31 Ben Lieberson (GBr) Team Helens                                  
32 Bill Stalhuth (USA) Bvr Mix1                                     
33 Glenn Sanders (USA) Subway/Peerless-Bmct                         
34 Bruce Hodgkins (USA) Excel Sports                                
35 Michael Carter (USA) Littleton                                   
36 Chris Orton (USA) Team Rio Grande                            0.21
37 Phil Davis (USA) Littleton                                       
38 Kevin Perry (USA) Avon                                       4.11
39 James Slauson (USA) Bicycle-Heaven                               
40 Brad Senska (USA) Summit Velo                                5.34
41 Keith Sanders (USA) Chipolte Titus                               
42 Chip Chilson (USA) Aspen                                         
43 Mark Cuoccio (USA) Albuquerque                               8.12
44 Steven Betton (USA) Pbba                                    12.33
45 Franco Panveno (USA) Alberto's                              12.45
46 Ken Pittaway (USA) Permian Basin Bicycle Assoc                   
 
General classification after stage 4
 
1 Michael Carter (USA) Littleton                             8.30.53
2 Jeff Hartman (USA) Michelob Ultra - Big Shark                 4.07
3 Dennis Farrell (USA) Littleton                                5.50
4 Al Senft (USA) Colavita New Mexico                            7.53
5 Joel Grimmett (USA) Lone Star Racing Club                    10.51
6 Juergen Eckmann (USA) Boulder                                10.54
7 Gaige Sippy (USA) Durango Wheel Club                         11.49
8 Michael Carroll (USA) Durango Wheel Club                     12.35
9 John O'Brien (USA) Amarillo                                  12.56
10 Marc Holbert (USA) Boulder Velo Racing                      13.53
11 Mike Slattery (USA) Olev Rapido                             15.35
12 Unknown                                                     16.57
13 Bill Stalhuth (USA) Bvr Mix1                                22.56
14 Andy Phillips (USA) Boulder                                 23.02
15 Bruce Hodgkins (USA) Excel Sports                           25.21
16 Glenn Sanders (USA) Subway/Peerless-Bmct                    26.38
17 Phillip Sladek (USA) Geri Atrix                             29.50
18 Keith Ashmore (USA) Colavita Nm/ Jnf                        30.33
19 Miroslav Novak (USA) Era Oxford Realty                      30.46
20 Matt Vawter (USA) Mix1                                      30.54
21 Steven Myers (USA) Arvada                                   37.39
22 Christopher Mosora (USA) Lucas Oil Cycling                  38.39
23 Brad Senska (USA) Summit Velo                               39.31
24 Mitch Carrier (USA) Durango Wheel Club                      40.11
25 Tom Bain (USA) Geri Atrix                                   41.19
26 Douglas Philippone (USA) Monterey Bay Racing                41.24
27 Ben Lieberson (GBr) Team Helens                             41.44
28 Johnny Biggers (USA) Crested Butte                          42.25
29 P David Lepell (USA) Olev Rapido / Nmbra                    44.29
30 Chris Orton (USA) Team Rio Grande                           44.35
31 Frank Kurzawa (USA) Violet Crown Sports                     45.41
32 Briant Smith (USA) Fightin' Bobas                           46.44
33 Peter Ismert (USA) Excel Sports                             46.47
34 Paul Marabito (USA) Canyon                                  51.51
35 Tony Routley (Can) Team Whistler                            55.20
36 Mark Cuoccio (USA) Albuquerque                            1.00.21
37 Kevin Perry (USA) Avon                                    1.08.26
38 Tom Murphy (USA) Albuquerque                              1.14.22
39 Phil Davis (USA) Littleton                                1.20.33
40 Keith Sanders (USA) Chipolte Titus                        1.26.31
41 Chip Chilson (USA) Aspen                                  1.35.52
42 Doug Robison (USA) South Central Racing                   1.39.56
43 James Slauson (USA) Bicycle-Heaven                        1.46.02
44 Steven Betton (USA) Pbba                                  2.08.55
45 Ken Pittaway (USA) Permian Basin Bicycle Assoc            3.07.14
46 Franco Panveno (USA) Alberto's                            3.20.59
 
Senior men 4-5
 
1 Brian Bangma (USA) Grand Rapids Bicycle                      37.53
2 Christopher Downs (USA) Nob Hill Velo                             
3 Mike Kaeske (USA) Bicycling Magazine                              
4 Robert Love (USA) Blue Sky Velo                                   
5 Kenny Wehn (USA) kenny wehn                                       
6 Scott Warren (USA) Team FITaos                                    
7 Spencer Compton (USA) Durango Wheel Club                          
8 Roger Phillips (USA) Colobikelaw.com                              
9 Shawn Hanka (USA) Bicycling Magazine                              
10 Lance Webster (USA) Ciclistas del Rio                            
11 Tim Crossen (USA) Front Rangers Cycling Club                     
12 Tyson Kaman (USA) FCCT                                           
13 Brett Pirie (USA) Colobikelaw.com                                
14 Michael Robinson (USA) 6's & 7's Racing                          
15 Donald Ward (USA) team el paso                                   
16 Jon Hayes (USA) RMRC                                             
17 Rob Burnett (USA) HART                                           
18 Chris Skinner (USA) RMRC                                         
19 Bruce Mazur (USA) Therapy Solutions                              
20 Benjamin Frederiksen (USA) Adventure Gallup Racing               
21 Jeff McGaughey (USA) Sano Bici/MasterCraft Metals                
22 Taylor Jung (USA) RMRC                                           
23 Eric Burris (USA) Durango Wheel Club                             
24 Christopher Murphy (USA) unattached                              
25 Dirk Hollebeek (USA) Grand Rapids Bicycle Co.                    
26 Peter Durso (USA) Albuquerque                                    
27 Randy Ellis (USA) RMRC                                           
28 Peter Tempest (USA) Rez Dog Racing                               
29 Ryan Lewandowski (USA) Blue Sky Velo                             
30 Jesse Seavers (USA) Sano Bici                                    
31 Douglas Schneebeck (USA) New Mexico Velo Sport                   
32 Paul Clark (USA) Park City                                       
33 Nick Gillock (USA) Kahala/La Grange                              
34 Spencer Canon (USA) Kahala LaGrange                              
35 Jean Paul Fontana (USA) New Mexico Bike & Sport                  
36 David Hassinger (USA) Boise                                      
37 Jeff Becker (USA) Zia Velo                                       
38 Christian Krueger (USA) Sano Bici                                
39 Stefan Gomez (USA) Acqua 2/SDBC                                  
40 Matt Davis (USA) Kahala LaGrange                                 
41 Alan Zarembo (USA) Kahala LaGrange                               
42 Nathan West (USA) GS Boulder                                     
43 Francisco Portero (USA) ciclo spor Spain                         
44 Lee Herndon (USA) RMRC                                           
45 Sean Hassinger (USA) Albuquerque                                 
46 Jacob Hines (USA) Velocity, Inc                                  
47 Shane Buysse (USA) Team Aquaphor                                 
48 Andy Stravers (USA) Adventure Gallup Racing                      
49 Jason Kaminski (USA) Blue Sky Velo                           0.17
50 Brian Robinson (USA) 6's & 7's Racing                        0.24
51 Kent Chou (USA) Therapy Solutions                            2.42
52 Steve Delong (USA) HLHAP                                     3.09
53 Ross Matthews (USA) Blue Sky Velo                                
54 James Nisbet (USA) Solar Eclipse                                 
55 Tsama Pineda (USA) Sano Bici                                 3.34
56 Ben Coffey (USA) Therapy Solutions                               
57 Kevin Reedy (USA) Cain's Cycling Team                            
58 Alan Philips (USA) Adventure Gallup Racing                   3.47
59 David Twinam (USA) Vitamin Cottage Cycling Team                  
60 Michael Henderson (USA) Ciclistas del Rio                        
61 Layrd Olliff (USA) Swiss American                                
62 Dominic Dahl-Bredine (USA) Silver City                           
63 Frank Sotomayor (USA) Therapy Solutions                      4.44
64 Jim McIntosh (USA) BiciClub                                      
65 Chuck Vandrunen (USA) Adventure Gallup Racing                    
66 Jeff Reese (USA) Sano Bici                                       
67 Stefan Andermann (USA) Therapy Solutions                     5.08
68 Jack Boltz (USA) Chipotle-Titus                              5.17
69 Manuel Ivan Garza (USA) Enzacta                              5.24
70 Richard Castro (USA) Southwest Hand                              
71 Beau Savage (USA) Durango Wheel Club                             
72 John Goodman (USA) Bluegrass Racing Club                         
73 Gustavo Bolanos (USA) Team Hino/Pizza Hut                    6.18
74 Douglas Lamunyon (USA) Ciclistas del Rio                         
75 William Waller (USA) Black Hills Domestiques                     
76 Craig Ayers (USA) Bicycle-Heaven                                 
77 Manuel A. Siekavizza (USA) Team Hino/Pizza Hut               7.34
78 Joseph Holguin (USA) Silver City                                 
79 Andrew Gonzales (USA) 6's & 7's racing                           
80 Thomas Nordstrand (USA) New Mexico Velo Sport                9.28
81 Craig Miranda (USA) Silver City                              9.31
82 Raymer Seavers (USA) Sano Bici                                   
 
General classification after stage 4
 
1 Shawn Hanka (USA) Bicycling Magazine                       4.30.50
2 Mike Kaeske (USA) Bicycling Magazine                          0.16
3 Spencer Compton (USA) Durango Wheel Club                      0.38
4 Nathan West (USA) GS Boulder                                  0.53
5 Christopher Downs (USA) Nob Hill Velo                         1.10
6 Tyson Kaman (USA) FCCT                                        1.23
7 Jesse Seavers (USA) Sano Bici                                 1.38
8 Peter Durso (USA) Albuquerque                                 1.52
9 Roger Phillips (USA) Colobikelaw.com                          2.02
10 Alan Zarembo (USA) Kahala LaGrange                           2.27
11 Michael Robinson (USA) 6's & 7's Racing                      2.28
12 Paul Clark (USA) Park City                                   2.29
13 Kenny Wehn (USA) kenny wehn                                  2.38
14 Shane Buysse (USA) Team Aquaphor                             2.43
15 Robert Love (USA) Blue Sky Velo                              2.44
16 Rob Burnett (USA) HART                                       2.47
17 Brian Robinson (USA) 6's & 7's Racing                        2.54
18 Stefan Gomez (USA) Acqua 2/SDBC                              3.41
19 Lee Herndon (USA) RMRC                                       3.49
20 Scott Warren (USA) Team FITaos                               4.02
21 Douglas Schneebeck (USA) New Mexico Velo Sport               4.22
22 Sean Hassinger (USA) Albuquerque                             4.41
23 Donald Ward (USA) team el paso                               4.46
24 Randy Ellis (USA) RMRC                                       4.51
25 Peter Tempest (USA) Rez Dog Racing                           5.20
26 David Hassinger (USA) Boise                                  5.23
27 Ryan Lewandowski (USA) Blue Sky Velo                         5.50
28 Bruce Mazur (USA) Therapy Solutions                          5.52
29 Francisco Portero (USA) ciclo spor Spain                     5.55
30 Taylor Jung (USA) RMRC                                       9.47
31 Benjamin Frederiksen (USA) Adventure Gallup Racing          10.07
32 Brett Pirie (USA) Colobikelaw.com                           10.13
33 Brian Bangma (USA) Grand Rapids Bicycle                     10.46
34 Matt Davis (USA) Kahala LaGrange                            10.57
35 Nick Gillock (USA) Kahala/La Grange                         10.58
36 Andy Stravers (USA) Adventure Gallup Racing                 12.34
37 Alan Philips (USA) Adventure Gallup Racing                  15.41
38 Jean Paul Fontana (USA) New Mexico Bike & Sport             17.29
39 Steve Delong (USA) HLHAP                                    18.21
40 Chris Skinner (USA) RMRC                                    21.29
41 Dirk Hollebeek (USA) Grand Rapids Bicycle Co.               22.32
42 Eric Burris (USA) Durango Wheel Club                        22.42
43 Jason Kaminski (USA) Blue Sky Velo                          23.56
44 Lance Webster (USA) Ciclistas del Rio                       24.46
45 Tim Crossen (USA) Front Rangers Cycling Club                25.40
46 Jon Hayes (USA) RMRC                                        27.02
47 Jim McIntosh (USA) BiciClub                                 27.03
48 Spencer Canon (USA) Kahala LaGrange                         27.07
49 Jeff McGaughey (USA) Sano Bici/MasterCraft Metals           28.56
50 Ben Coffey (USA) Therapy Solutions                          30.18
51 Dominic Dahl-Bredine (USA) Silver City                      32.42
52 James Nisbet (USA) Solar Eclipse                            32.49
53 Michael Henderson (USA) Ciclistas del Rio                   33.00
54 Chuck Vandrunen (USA) Adventure Gallup Racing               33.51
55 David Twinam (USA) Vitamin Cottage Cycling Team             34.04
56 Jeff Becker (USA) Zia Velo                                  34.37
57 Ross Matthews (USA) Blue Sky Velo                           35.32
58 Jacob Hines (USA) Velocity, Inc                             37.17
59 Jeff Reese (USA) Sano Bici                                  38.57
60 Kent Chou (USA) Therapy Solutions                           39.02
61 Beau Savage (USA) Durango Wheel Club                        39.08
62 Jack Boltz (USA) Chipotle-Titus                             40.03
63 Tsama Pineda (USA) Sano Bici                                42.54
64 Frank Sotomayor (USA) Therapy Solutions                     44.14
65 Christopher Murphy (USA) unattached                         44.53
66 Stefan Andermann (USA) Therapy Solutions                    45.05
67 Layrd Olliff (USA) Swiss American                           45.06
68 Manuel Ivan Garza (USA) Enzacta                             46.02
69 Douglas Lamunyon (USA) Ciclistas del Rio                    46.39
70 Kevin Reedy (USA) Cain's Cycling Team                       47.18
71 Christian Krueger (USA) Sano Bici                           47.23
72 John Goodman (USA) Bluegrass Racing Club                    47.28
73 Richard Castro (USA) Southwest Hand                         51.09
74 William Waller (USA) Black Hills Domestiques                52.05
75 Andrew Gonzales (USA) 6's & 7's racing                      57.31
76 Thomas Nordstrand (USA) New Mexico Velo Sport             1.00.31
77 Raymer Seavers (USA) Sano Bici                            1.03.14
78 Craig Ayers (USA) Bicycle-Heaven                          1.05.52
79 Joseph Holguin (USA) Silver City                          1.13.46
80 Gustavo Bolanos (USA) Team Hino/Pizza Hut                 1.15.37
81 Manuel A. Siekavizza (USA) Team Hino/Pizza Hut            1.23.01
82 Craig Miranda (USA) Silver City                           1.46.28
 
Women 3-4
 
1 Elizabeth Cash (USA) Colavita New Mexico                     35.15
2 Shantelle Pierce (USA) shantelle pierce                           
3 Laurie Mauderly (USA) New Mexico Velo Sport                       
4 Mindy Caruso (USA) Olev Rapido/NM Sports and                      
5 Kelsey Withrow (USA) PCIM                                         
6 Spring Clegg (USA) Broadway Bikes/Air Force                       
7 Sarah Germundson (USA) RMCEF Racing/MOB Cyclery                   
8 Jane Finsterwald (USA) Chipotle Titus                             
9 Cheryl Moffett (USA) RMCEF Racing/MOB Cyclery                     
10 Lindsay Argue (USA) Manitoba                                     
11 Erin Reedy (USA) Old Tascosa/Cain's Cycling                      
12 Amber Shay (USA) Sano Bici/Mastercraft Metals                0.05
13 Erika Burleigh (USA) Bici Club                                   
14 Jona Bollinger (USA) Telluride                                   
15 Siah Hemphill (USA) Silver City                                  
16 Melanie Russek (USA) Durango Wheel Club                          
17 Karen Rishel (USA) Zia Velo Racing                           0.14
18 Trish Parker (USA) Therapy Solutions                             
19 Annie Deprey (USA) Squadra Velocita                              
20 Sue Stokes (USA) RMCEF Racing/MOB Cyclery                        
21 Gretta Hunstiger (USA) Silver City                               
22 Cindy Sanchez (USA) Summit Velo                                  
23 Sheri Boltz (USA) Chipotle-Titus                                 
24 Jessica Fornandez (USA) Chiuahha                             2.57
25 Heather Ruiz (USA) Silver City                               3.33
26 Cindy Neely (USA) Silver City                                4.42
 
General classification after stage 4
 
1 Laurie Mauderly (USA) New Mexico Velo Sport                5.04.43
2 Shantelle Pierce (USA) shantelle pierce                       1.01
3 Lindsay Argue (USA) Manitoba                                  2.52
4 Elizabeth Cash (USA) Colavita New Mexico                      3.08
5 Kelsey Withrow (USA) PCIM                                     3.29
6 Jane Finsterwald (USA) Chipotle Titus                         3.44
7 Spring Clegg (USA) Broadway Bikes/Air Force                   3.46
8 Erin Reedy (USA) Old Tascosa/Cain's Cycling                   4.00
9 Melanie Russek (USA) Durango Wheel Club                       4.01
10 Sarah Germundson (USA) RMCEF Racing/MOB Cyclery              4.11
11 Sue Stokes (USA) RMCEF Racing/MOB Cyclery                    4.27
12 Erika Burleigh (USA) Bici Club                               8.36
13 Annie Deprey (USA) Squadra Velocita                          9.33
14 Mindy Caruso (USA) Olev Rapido/NM Sports and                11.09
15 Cheryl Moffett (USA) RMCEF Racing/MOB Cyclery               13.01
16 Karen Rishel (USA) Zia Velo Racing                          14.04
17 Siah Hemphill (USA) Silver City                             14.52
18 Cindy Sanchez (USA) Summit Velo                             15.36
19 Amber Shay (USA) Sano Bici/Mastercraft Metals               16.29
20 Sheri Boltz (USA) Chipotle-Titus                            16.38
21 Jona Bollinger (USA) Telluride                              17.22
22 Gretta Hunstiger (USA) Silver City                          18.59
23 Jessica Fornandez (USA) Chiuahha                            29.04
24 Heather Ruiz (USA) Silver City                              43.56
25 Trish Parker (USA) Therapy Solutions                        44.03
26 Cindy Neely (USA) Silver City                               51.31