Cyclingnews 2004 Reader Poll Results
Best male track rider
Ryan Bayley (top) in action against Theo Bos
Photo ©: AFP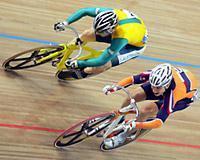 Dual Olympic gold medalist Ryan Bayley was your selection for male track cyclists of the year, after he made winning an Olympic keirin look easy and annihilated Theo Bos in a sprint revenge for Bos' victory at the world championships. In a year that saw the Australian track team hounded by the press after Mark "implausible" French's allegations of drug use, Bayley's victories came as a huge relief, proving that you could win at the highest level and still be a likable bloke fuelled by KFC and Coke!
Second-placed Bradley Wiggins comes from the endurance camp in track cycling and demonstrated that the UK, with its long tradition of early-morning time trial races, can still produce top pursuiters. Wiggins took home a gold medal from Athens to demonstrate that the national lottery money being channeled into cycling is money well spent.
Third-placed Theo Bos has emerged as one of the current and future stars of sprinting, winning the world championship in Melbourne and taking silver at Athens. His rivalry with Bayley looks set to entertain track fans for years to come; the next round will be in march when the two clash again at the world championships in Los Angeles.
Results
                                        Votes     %ge
 
1 Ryan Bayley                              174   23.7
2 Bradley Wiggins                          118   16.1
3 Theo Bos                                  57    7.8
4 Chris Hoy                                 53    7.2
5 Stuart O'Grady                            52    7.1
6 Marty Nothstein                           40    5.5
7 Bradley McGee                             34    4.6
8 Colby Pearce                              19    2.6
9 Graeme Brown                              16    2.2
10 Jame Carney                              13    1.8
11 Greg Henderson                           12    1.6
12 Arnaud Tournant                          10    1.4
13 Sean Eadie                                8    1.1
13 Matthew Gilmore                           8    1.1
15 Ben Kersten                               7    1.0
16 Robert Bartko                             5    0.7
17 Shane Kelly                               4    0.5
17 Jens Fiedler                              4    0.5
17 Iljo Keisse                               4    0.5
17 Florian Rousseau                          4    0.5
17 Bobby Lea                                 4    0.5
22 Stephen Alfred                            3    0.4
22 Mikhail Ignatiev                          3    0.4
22 Luke Roberts                              3    0.4
22 Gideon Massie                             3    0.4
22 Franco Marvulli                           3    0.4
 
Total                                      733