Cyclingnews 2004 Reader Poll Results
Best Male road rider
Lance Armstrong (USPS)
Photo ©: Roberto Bettini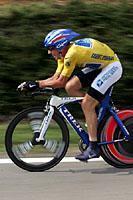 Lance Armstrong cops a fair amount of criticism for focusing almost solely on the Tour de France, but this year nobody could deny the efficacy of that focus as Armstrong blew away all threats in the Tour to take his sixth consecutive victory in the only bike race that the whole world pays attention.
After the struggles of 2003 we saw a supremely confident Lance Armstrong this year, riding a programme that brought him into perfect form for the crucial second two weeks of the Tour de France. That meant, on the way, conceding races he's previously dominated such as the Critérium du Dauphiné Libéré. That race, and especially Iban Mayo's victory over Armstrong on the Mont Ventoux time trial, caused some speculation that Armstrong was weaker in 2004. It turned out to be all part of the plan, and when the Tour de France hit the mountains Armstrong unleashed a world of pain on rivals Ivan Basso, Andreas Klöden and Jan Ullrich, taking four stages on the way the Paris podium's top step.
Armstrong's Tour victory made him the world's most visible road cyclist in 2004, but runners-up in our poll Damiano Cunego and Paolo Bettini also had strong years. Cunego's emergence from relative obscurity to world number one was little short of breath-taking as he first clobbered his team leader Gilberto Simoni - and everyone else - at the Giro and then sealed the year with a win at Giro di Lombardia. As the youngest rider ever to top the world ranking, Cunego is likely to keep us entertained for the next decade or so.
Paolo Bettini didn't have quite as strong a year in 2004 and the last couple, but still won the Olympic road race, three rounds of the World Cup and the overall series after a season-long struggle with Davide Rebellin.
Results
                                        Votes     %ge
 
1 Lance Armstrong                          475   33.5
2 Damiano Cunego                           256   18.0
3 Paolo Bettini                            202   14.2
4 Stuart O'Grady                            46    3.2
5 Davide Rebellin                           45    3.2
6 Tyler Hamilton                            40    2.8
7 Tom Boonen                                28    2.0
8 Erik Zabel                                26    1.8
9 Alejandro Valverde                        21    1.5
9 Chris Horner                              21    1.5
11 Floyd Landis                             19    1.3
12 Oscar Freire                             18    1.3
13 Ivan Basso                               17    1.2
13 Jan Ullrich                              17    1.2
15 Alessandro Petacchi                      10    0.7
16 Robbie McEwen                             9    0.6
17 George Hincapie                           7    0.5
17 Jens Voigt                                7    0.5
17 Michael Rogers                            7    0.5
20 Bradley McGee                             6    0.4
 
Total                                     1420