Cyclingnews 2004 Reader Poll Results
Most improved rider
Damiano Cunego
Photo: ©Sirotti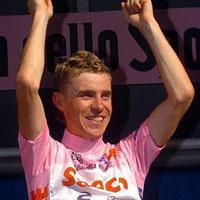 Perhaps one of the most predictable victories in this year's poll, Damiano Cunego's astonishing ascent into cycling's top rank landed him the award for most improved rider. Cunego shot from somewhere in the 200s on UCI ranking to world number one, picking up victories at the Giro d'Italia and Lombardy World Cup on the way.
Runner-up Floyd Landis didn't improve dramatically in 2004 so much as finally deliver on the promise he showed when he came second in the 2002 Critérium du Dauphiné Libéré behind team leader Lance Armstrong. Neverthless, his 11 days in the leader jersey in the Vuelta and unstoppable work for Armstrong in the Tour clearly indicated a new, serious grand tour contender had arrived.
Ivan Basso also delivered on his promise this year, taking a stage of the race where he won Best Young Rider in 2002, the Tour de France. For those fans who dislike Lance Armstrong's single-minded focus on the Tour de France, there was the schadenfreude of seeing Armstrong get beat to spice Basso's win.
Here are some of the many reasons you gave for your choices
Damiano Cunego
If you're only 22 and you can make Simoni whine...
He did a real demonstration of his talent during the giro. Could be the next to watch in 2005.
That guy hit the top so fast...we knew he was good, but with that trajectory, now we don't even know how far he can go.
Where did he come from? to Giro Winner.
Ousting his team leader at the Giro and then taking the race of the falling leaves, that's cool, and not a bad job for one season.
There may be others who actually made bigger strides but winning the Giro is really impressive at his age.
He was an average pro last year, now he is the best in the world, perfect reason eh!
From nowhere to #1. How could you even consider someone else? You might call Bettini or Armstrong rider of the year but they were already great before this year.
From support player for Gilberto Simoni to No. 1 ranked in the world and a grand tour win. I think that somewhat exceeds what Saeco was thinking they'd get from him at the beginning of the season.
Largest UCI rankings jump from last year, Giro win, world cup win
He was brilliant to watch in the giro, and really made the race exciting, especially the way he blew the race apart on the stage to Falzes. He didn't win much last season as far as I know, so to win the Giro and the Tour of Lombardy is quite an improvement on last season.
Where the hell did he come from? I know he was a junior world champ, but he exploded!
Fantastic Giro and then tops it off with the tour of lombardy and still only in his early twenties, awesome talent for the future.
Floyd Landis
He seems to be working at a completely different level this year.
Earned his stripes in the tour
Holy cow, what a quantum leap. From helper to hey slow down buddy!
He lasted a lot longer in the mtns of the Tour, and held the yellow jersey in the Vuelta for a long time as well.
Giant leap this year in both support and performance
Kicked @$$ in the mountain stages of the tour -- Lance owes his victory in large part to Floyd. Can't wait to see what he does for Phonak
Really starting to come into his own, as seen in the Vuelta. Especially after breaking his hip in 2003.
Was around all year, in good form, and showed he's worth of being a team captain.
As a US race fan, he proved to world that he can race with the best and US is producing talent in addition to Hamilton and Armstrong.
Not that he was a nobody, but was so instrumental this year for Lance and a player in other races as well.
Ivan Basso
Only one who could keep pace with Lance.
While he's placed highly before, in prior tours he never seemed to be able to hang with the front riders when it got steep.
From 7th to 3rd in the TDF is a huge step. A third in Lombardia ain't bad either.
Even though he's been good, snagging third in the Tour and STAYING with Lance on the climbs is extremely impressive. Nobody else has been able to do that for five years.
From almost-forgotten hopeful to top Grand Tour and Classics rider, in one glorious season.
Took a great step forward in the Tour this year and is an all round great rider and getting better all the time
La Mongie, that easy.
He showed some incredible performances during the Mountain Stages. He just needs some improvements in time trialling to become a tour winner.
Showing signs of reaching his potential with this year's Tour result
From promising youngster to a Tour podium in one year? Look out... Runner up is Floyd Landis.
Third in the tour.. Lombardia had a good year after being labelled a "Donkey"-- can you say Riis?
Results
                                        Votes     %ge
 
1 Damiano Cunego                           318   30.4
2 Floyd Landis                             125   12.0
3 Ivan Basso                                88    8.4
4 Bobby Julich                              74    7.1
5 Thomas Voeckler                           40    3.8
6 Tom Boonen                                38    3.6
7 Andreas Klöden                            34    3.3
8 Allan Davis                               28    2.7
9 Davide Rebellin                           19    1.8
10 Roger Hammond                            16    1.5
11 Bradley McGee                            14    1.3
12 Magnus Backstedt                         11    1.1
13 Stuart O'Grady                            9    0.9
14 Santi Perez                               8    0.8
14 Ryan Trebon                               8    0.8
14 Michael Rogers                            8    0.8
14 Alejandro Valverde                        8    0.8
18 Me                                        7    0.7
18 George Hincapie                           7    0.7
20 David Zabriskie                           6    0.6