Cyclingnews 2004 Reader Poll Results
Legend of Cycling
Lance Armstrong rides into history
Photo: © Caroline Yang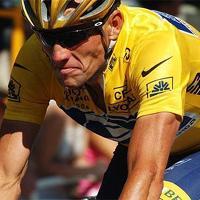 If there was any doubt that Lance Armstrong deserved a place alongside cycling's historical greats after his fifth Tour win in 2003, he dispelled it in 2004 with a faultless, aggressive, attacking sixth Tour de France victory. Even readers who say they don't much like Armstrong nevertheless voted for him this year.
Armstrong's focus on the Tour in 2004 was almost total, treating even races he's targetted in the past - such as the Dauphine Libere - as training outings, but still picking up a win on home soil in the Tour of Georgia on the way, plus stages of Tour Du Languedoc-Roussillon and Volta Ao Algarve. His previous achievements include a World Championship (1993), Dauphine Libere (2002, 2003), Tour de Suisse (2001), GP des Nations (2000), Fleche Wallonne (1996) and an Olympic bronze medal in the time trial (2000). Added to these results is his incredible comeback from testicular cancer which threatened his life in 1997 and his ongoing efforts since then to support the cancer community.
Runner-up with a shade over 15 percent of the vote was Johan Museeuw, generally considered the greatest Classics rider of his generation whose long career finally came to a close in April this year. Although the twilight of that career was tainted by his implication in a doping affair, Museeuw's tough unpretentiousness and sheer grit earned your respect.
His seventh Tour mountains jersey earned Richard Virenque a grudging third place with just under 4 percent of the vote.
Here are some of the reasons you gave for your choices.
Lance Armstrong
Look at the record books
Six.
Because he won 6. Because he has set the standard for training and racing! Like Julie Furtado did back in her day!
Because he won like Merckx & Hinault. His sprint wins from TdGeorgia through TdF showed he's more than a climber or a TT specialist. He showed some 'cannibal'.
C'mon, what choice do we really have? Even specializing the way he does, to be that consistently dominant in the biggest race six years in a row is legendary.
He's the only genuine global star in the sport who is know by anyone outside it.
Statistically, he should be dead from cancer. Yet, he showed immense mental strength to come back and win the Tour six times. He is arguably the best time trialist in the world, as well.
Six Tours plus a World Championship, Tour de Suisse, Dauphin Libere, Volta Catalonya and numerous other victories throughout his career.
He created his own legend, a story not of direct ascension to the top of cycling, but conquering his own obstacles, beyond the competition, the mountains, and even cancer. His discipline and intelligence created the legend we see now.
6x winner of Tour de France, simply dominant, has perfected the art of training for the biggest cycling race in the world. He's bigger than the sport and his fight against cancer has touched millions.
Personally I'm not a great Lance fan, however 6 consecutive tours is pretty hard to ignore. Credit where credit is due I guess. Let's face it, the guy totally dominated the tour this year and if he shows up on the start line next year, it would be hard to pick any other favourite to win again.
Although I don't like him, I must admit that he deserves to be called a Legend
What can I say? I think he has done more for "professionalizing" the sport of cycling than anyone since Super Mario. He's lifted the standard of performance across the whole cycling calendar - and for much more than the month of July
He has shown meticulous planning, focus, & preparation for cycling's biggest race. The cancer survivor piece is a great story, but for me, what he does with his unwavering focus on a goal is a lesson that can be carried over into every facet of people's lives... that is why he is one of my heroes.
6 tour wins; plus the way he did it; 4 mountain top wins + a second; granted the team was the best ever assembled in the history of the race; Postal put on a definitive stage racing clinic in fact
Do we need to actually enter a reason?
I know he is hyped up but to come back from terrible illness, to have the determination and guts to go for it, the brains and OK the money to surround himself with the best people to make his dream happen then when it all comes down to the final pedal stroke he can do it so brilliantly when he is left as last man going.
Johan Museeuw
11 World Cup Classic Victories, was still competitive this year, and had to make numerous comebacks from injuries along the way.
The 'Lion' was on top if his game in the classics for so long. He's only a couple of years younger than me and I stand in awe of his abilities.
The Lion of Flanders taking a curtain call at Paris-Roubaix. Thanks for some great races in a remarkable career.
No one in the modern era has a better one day record that the Lion of Flanders, 'nuff said.
Despite his ties to doping at the end of his career, he is and was the iron man of Belgium.
Regardless of the current situation. Check out the mans C.V.
A class act. If not for a puncture, he could have gone out on top.
The greatest Classics rider of his generation, and a classy personality
Absolute machine - one of the few riders around today who has the class and season long strength of the old guard of legends
Retired in April but hands down one of the best cyclists of all time. Even with the allegations (of which there is no ACTUAL PROOF)
Roubaix's modern legend. I wouldn't dare try to take a wheel from him...
Hard man. Able to forgive him for drugs more easily than I could Virenque. Races like I would like to race
It was a toss up between he and Tyler Hamilton. Museeuw has a lot of class. I don't believe the allegations against him, he is not that type of rider. For him to break his knee in the Arenberg Forest, then come back and win Paris-Roubaix (having no fear over those same cobbles) is amazing.
The Lion of Belgium finally hung up his shoes. Paris Roubaix this year should have been his. Stylish, strong & a never say die attitude makes him a legend.
In Hispanic parlance, the guy has cojones. Tough, rough, never-say-die.
Richard Virenque
Came back from doping, won the Mountains Jersey again.
Drugs or no drugs, still the most charismatic
He is why people are enthralled by cycling. He races passionatly and dealt well with the controversy to come out on top.
Despite the drug scandal, he showed grit, determination, an uncanny ability to suffer and please his fans. 7 KOM jerseys aren't just given away, and the way he rode post-scandal was as exciting as before, if not even more dramatic. Let the critics have their say, but EPO isn't what taught him his style and determination.
Though I intensely dislike the man, he has undeniably written himself in as one of the legends of racing this year with his 7th polka dot jersey win.
His style, character and KOM jersey - perfect combination. He is still one of the most favourite riders in spite of doping affaire.
7 polka dots, and an attacking personality, capable of rebuilding a career after doping issues, a quality that poor Pantani did not find in himself.
Results
                                         Votes    %ge
 
1 Lance Armstrong                          435   41.3
2 Johan Museeuw                            159   15.1
3 Richard Virenque                          41    3.9
4 Jacky Durand                              40    3.8
5 Erik Zabel                                36    3.4
6 Mario Cipollini                           35    3.3
6 Michele Bartoli                           35    3.3
8 Paolo Bettini                             27    2.6
9 Viatcheslav Ekimov                        24    2.3
10 Marco Pantani                            18    1.7
11 Jan Ullrich                              16    1.5
12 Tyler Hamilton                           11    1.0
13 Leontien Zijlaard-Van Moorsel            10    0.9
13 Scott Sunderland                         10    0.9
15 Andrea Tafi                               8    0.8
16 Oscar Freire                              7    0.7
17 Damiano Cunego                            5    0.5
17 Jeannie Longo                             5    0.5
17 Thomas Voeckler                           5    0.5
20 Filip Meirhaeghe                          4    0.4
20 Gunn Rita Dahle                           4    0.4
20 Stuart O'Grady                            4    0.4
 
Total                                     1053