Cyclingnews 2004 Reader Poll Results
Rider of the Year
Lance Armstrong
Photo: © Caroline Yang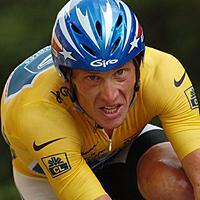 After two years as runner-up, Lance Armstrong finally landed the Cyclingnews reader Poll Rider of the Year category for 2004, and clearly one thing clinched it for the Texan: six Tour de France victories. Other riders won more races this year, but nobody wrote himself into the history books like Armstrong. Not just six Tour victories, but six in a row, and the sixth executed in unexpected style, recovering from the struggle of 2003 to blow all challengers out of the water in 2004.
If a Hollywood scriptwriter had tried to pitch the Armstrong story a decade ago, he'd have been laughed at for crafting something so implausible. Child of single parent dabbles in triathlon , turns out to be quite good, but more so in the bike leg, turns to cycling, wins world championship and begins to build a solid career as a one-day specialist before cancer looks like ending both his career and his life. Survives cancer, mostly by insisting on being given the most powerful anti-cancer drugs available and consequently going through hell, then rebuilds sporting career to win the biggest bike race on the planet an unprecedented six times.
It reads like a fairytale and while it's easy to be cynical about the achievements of any cyclist, Armstrong's unquestionable devotion to the cause of cancer research, treatment and survival has touched and inspired millions around the world - even if they're not quite sure what those yellow wristbands they're wearing signify. Combine that with his Tour victory this year and it's no surprise that he has taken out this award.
From a rider at the peak of his career to one at the very beginning. Damiano Cunego was second with 21 percent of the vote after winning the Giro and Lombardia and ending the year as world number one. A spectacular emergence of a new star.
Perennial favourite Paolo Bettini was third. The World Cup and Olympic champion had another great year, but simply found himself overshadowed by the scale of Cunego's and Armstrong's achievements in 2004.
Here are some of the reasons you gave for your choices.
Lance Armstrong
Every year he has thrown down the gauntlet, told everyone his training methods, lost major domestiques to other teams but yet still manages to pummel the competition in the hardest race of the year. No other current Pro in the peloton has done this.
Forget about cancer, comebacks and controversies, LA made the Tour his race. Eddy might be the greatest ever, but LA must be the greatest Tour rider ever. LA has distinguished himself.
I know we're all a little tired of it, but you can't argue with history.
He was the rider of the year -- all eyes on him, none blinking, and never (hardly ever) a weak moment in the spot light.
As much as he takes flak over concentrating on the TDF at the expense of other races... no one does a month on the bicycle better. 6 Tours. 7 if he wants it. Who would stand in his way?
Have to go with Lance. The man won his 6th Tour in a row this year. Had many other victories, and totally dominated the Tour from start to finish this year dispensing with the rumors that he'd "lost a step or 2".
6 tours, lots of money, lots of exposure, but still looked like a bike bum on Overhaulin'
I think his accomplishment of six tour victories rises above other great successes (Rebellin, Basso) and there have been no drug related indictments on his achievements
Lance puts so much fear into his opponents that they trash themselves in training just trying to get to his level. He won his 6th, then went home to his rockstar lifestyle. Very cool.
His results may not have ranked among the best this year but he won the biggest race of the year. He also dominated that race and his season was a beautiful story of progression.
To be told by everyone that it would be impossible to win 6... to be told that more hot competitors "would" be at the Tour than in the 5 yrs before... to be told that he's too old/fat/complacent... and then CRUSH the competition... WOW ! No gifts!
Won 6 Tours plus tirelessly promotes cancer awareness and fund-raising for a cure.
Although he only focuses on the tour, he gives it everything.
6 TdFs + the Live Strong phenomenon, and his cancer research activities.
Can he ever be disputed as not only the best cyclist of all time, but also the greatest athlete of our time? What Armstrong has accomplished is more than an unprecedented 6 wins in the world's biggest sporting event, but he is an ambassador for cancer survivors, Americans, fathers, and cyclists.
Six in a row is difficult to ignore. Historical accomplishment by a rider who has changed the sport.
To win "The Tour" six times will not be matched for some time. It's unprecedented and the rider who accomplishes this deserves the acknowledgements that comes with this feat.
So many candidates (Cunego, Ulmer, Bettini, Basso et al) but how can you not give it to the greatest rider the Tour has ever known? Total domination in July gives the Big Texan Six Tours! In a row!?! Hands down, Lance is THE man.
He re-wrote history this year.
Damiano Cunego
This kid won the Giro out of nowhere and dominated it. Yeah LA won Le Tour Again but come on Cunego won a classic or 2 as well. Runner up: Bettini
What a year he had. What a future he has. Our new fair haired boy.
Rode more days and more races than all the rest of the top rider and deserves to be UCI number 1, after a great April, May and Autumn.
Dominating in the Giro, lots of smaller race wins, a World Cup victory... all at age 22/23. Can't wait to see him line-up against Basso at the Giro and TdF in 2005.
Has the balls to win while Simoni is whingeing and the class to let his legs do the talking.
#1 ranked rider.
a very long season, full of success in tours and 1 day races. a hope for a cycling different from Armstrong cycling
He's an all-around great cyclist. He showed us he can win the Giro d'Italia by climbing better than the rest, and he also can win a one day World Cup race.
Because, he went from a good young rider to the number one in the world--and is now the rider to watch in 2005.
I really believe Cunego if he continues to stay motivated and focused can do what we expected Jan Ulrich to do in 1996. Cunego came out of no where to show the world the new kid on the block. His performance at the Giro, tour of spain, and Giro di Lombardia where epic. We can only hope this guy can stay on track.
He started the season as the 227th ranked rider, and ended up as #1. Winning in the spring, riding a dominant race in the Giro's mountains, absorbing all the media attention and honoring sponsorship obligations, and finishing up with a win in Lomardia and then going on to ride well in Japan. What more could one ask of a great champion than that. We even saw areas in which he could improve, so the future of cycling is HERE NOW with Damiano Cunego.
To win the Giro plus the Tour of Lombardy in the same year was impressive - to do it at the age of 23 - simply outstanding!
I brought your water, Mr. Simoni. Feeling a little tired? Don't worry I'll just dash on ahead and take the stage for the team. Then he finishes the year at number one, which even Lance didn't manage. Pretty impressive young whipper-snapper.
Paolo Bettini
He is the best all round rider, period. World cup, Olympic gold, and anything he puts his mind on. He is one of the most generous riders for his team, and will lay down in the middle traffic for a teammate, if it came to that. He is one of the only riders who will put everything on the line for a win, and he could be a grand tour contender if he wanted to be.
Everyone predicted he would win the Olympics. Everyone marked him the whole way. He still won in convincing style. And hey, three world cup overalls in a row ain't too bad either. I think that accomplishment was under appreciated.
Class, Class, Class. Year-round 100% effort. You can never count him out, as he usually comes up with the goods. Who is more consistent?
Contrary to Rebellin's breakdown, Bettini kept his cool both in the World Cup and in the Olympics. He also never says anything bad about anybody.
There were other good contenders, but Bettini took both the world cup and the Olympics, which kind of by default makes him the no. 1 in my book. Had he won the world's there would have been no question.
A guy who rides strongly and figures highly in races throughout the year (not just in July). He has enough class to be able to ride in support of his team as well to lead the team in other races.
Third straight World Cup win + Olympic Gold - let's see if Lance could manage that?
Apart from the world championships, head and shoulders above everyone else all year.
Olympic and World Cup Champion, is unselfish and honest in his approach to racing and is a team player. He is gifted but not arrogant and loves his job yet comes across as a family man also. A great all-rounder and rides the entire season.
Other riders, like Armstrong, were great. But Bettini did it for longer than the others. He was better for longer than Rebellin, who really only had his little purple patch in April. Armstrong, of course, didn't do too much outside of July. He got some results, but not a lot. Bettini was there a lot longer, performing consistently in the World Cup races and dominating the Olympic Road Race.
He won a very difficult Olympic road race, and then the world cup. Life still goes on outside of stage racing. And, Bettini is the best one-day racer in the world.
Results
                                         Votes    %ge
 
1 Lance Armstrong                          427   34.6
2 Damiano Cunego                           257   20.8
3 Paolo Bettini                            105    8.5
4 Davide Rebellin                           59    4.8
5 Stuart O'Grady                            33    2.7
6 Tyler Hamilton                            32    2.6
7 Gunn Rita Dahle                           17    1.4
8 Alejandro Valverde                        16    1.3
9 Tom Boonen                                15    1.2
10 Bobby Julich                             14    1.1
11 Oscar Freire                             12    1.0
11 Ivan Basso                               12    1.0
13 Floyd Landis                             11    0.9
14 Thomas Voeckler                          10    0.8
14 Sarah Ulmer                              10    0.8
14 Alessandro Petacchi                      10    0.8
17 Thomas Voeckler                           9    0.7
18 Chris Horner                              7    0.6
19 Roberto Heras                             6    0.5
19 Robbie McEwen                             6    0.5
 
Total                                     1234