Cyclingnews 2004 Reader Poll Results
Best Moment of 2004
Lance Armstrong (USPS) beats Andreas Klöden in your favourite moment of 2004
Photo ©: Roberto Bettini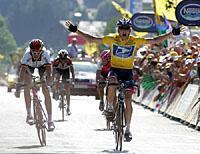 The Tour, baby! The Tour de France yielded four of your top five most memorable moments of 2004, with Lance Armstrong's "no more gifts" defeat of Andreas Klöden in stage 17 topping the poll, just ahead of Armstrong's overall victory itself.
The individual time trial up Alpe d'Huez also captured your imagination, as did Magnus Backstedt's victory in Paris-Roubaix. Thomas Voeckler's battle to stay in a yellow jersey that he knew he really only had on loan rounded out the top five.
Lance Armstrong winning Tour stage 17 against Klöden
How the hell did Klöden lose that stage?
Talk about getting punked . . . if you ever want to see why Armstrong is such a champion . . .
He has the Tour sewn up but just wanted that win. I was in awe of his thirst.
Ullrich and Klöden wouldn't let Landis go a few kilometers earlier, lance reached deep and thrilled us
Proved he was the most powerful rider in the world on that day.
This was a truly amazing finish, Lance showed the essence of cycling and made honor (amende honorable) to the legends like Hinault and Merckx. A few days earlier he let Basso win and that was pitiful to watch.
With Landis unable to go for the win Klöden looked to have the win in the bag well ahead of the chasers. Suddenly Armstrong pulls out the sprint of his life and takes the win! Amazing!
The man took no prisoners. The most exciting stage finish of this year's Tour.
Lance didn't need to win the stage, but put in an incredible effort to show he is the best in the world
This moment sealed the victory, or at least confirmed Armstrong's right to be the greatest tour rider of all time
It could've been anyone sprinting up from behind to win. It wasn't that it was Lance, it was the grit and determination of the move that blew us away.
Lance wanted to give the stage to Landis, but not to be outdone by the T-Mobile boys, Lance hammers in the final meters to take the German.
Lance Armstrong's sixth Tour win
He made history that may never be repeated!
Self explanatory...
He rewrote history
It's never been done before
Best Tour rider ever
It's history in action-it may never happen again and may have been a little predictable but it's still amazing
Because everyone said it couldn't be done
Never been done, will never be repeated
He is a living legend and raced with pure bravado.
So many things could have gone wrong over those six years. Pulling off the win proves that with the right stuff a new level is possible
Even though I'm not a big Lance fan, it was a huge achievement particularly considering what he has been through
Armstrong's crowning moment, finally smashing the record to take Tour #6
Alpe d'Huez time trial
Showed how strong each rider is mentally and physically.
Lance's courage and determination to get up that mountain in the fastest time despite the rowdy and sometimes spiteful crowd.
Madness
real test for riders, crowds around, atmosphere
So much hype coming down to 1 day.
death threats, divorce, cancer nothing stops this guys, then when everyone predicts failure, remember Dauphine ITT on Ventoux, he comes back and kicks ass
Proved he was the most powerful rider in the world on that day.
[Armstrong passed Basso] right as they passed a huge Texas flag chalked on the pavement...and right after "Rip their balls off Lance!"
The absolute look of defeat on Basso's face, he knew he would lose time, but never would have predicting such a crushing blow.
This was incredible! I'm not a Lance fan, but this was proof that Lance was more determined to win than anyone else in the field!
Results
                                                        Votes    %ge
 
1 Lance Armstrong winning Tour stage 17 against Kloeden   107   10.6
2 Lance Armstrong's sixth Tour win                        102   10.1
3 Alpe d'Huez time trial                                   62    6.1
4 Magnus Backstedt winning Paris-Roubaix                   58    5.7
5 Thomas Voeckler hanging on to Tour yellow jersey         47    4.6
6 Damiano Cunego vs Simoni to  win Giro                    42    4.1
7 Davide Rebellin's three wins                             29    2.9
8 Paolo Bettini winning Olympic gold                       25    2.5
9 Erik Dekker winning Paris-Tours                          22    2.2
10 Tyler Hamilton winning Olympic TT                       20    2.0
 
Total                                                    1013