Cyclingnews 2004 Reader Poll Results
Best One-day Race
Magnus Backstedt wins Roubaix
Photo ©: Olympia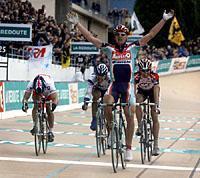 Magnus Bäckstedt provided inspiration to everyone who will never weigh 150lb when he won the Queen of the Classics Paris-Roubaix in April and once again Paris-Roubaix swept the category of best one day race.
No other single day contest captures the imagination like this one. It's a long 260km from the outskirts of Paris to the Roubaix velodrome and on the way riders routinely have to contend with weather that varies from indifferent to appalling (though just occasionally a fine Spring day bathes them in Northern European sunshine), and of course the cobbles. Roubaix's famed and feared pavé makes this truly a race for the hard men of French and Belgian cycling, and gives rare advantage to bigger riders who can pound over the cobbles.
Distant second and third places went to two other Northern Classics, the Tour of Flanders and Liège-Bastogne-Liège. Hillier than Roubaix, and no less popular with the fans that line the route, these two great races nevertheless don't quite have that Roubaix mystique.
Here's a selection of your reasons for making Paris-Roubaix number one.
The result was never a foregone conclusion. The race went down to the line.
Mystique, prestige, first time winner in Bäckstedt. Museeuw's flat. Thrill of victory, agony of defeat.
Never a fluke winner in this one -- always goes to the hardest man on that day.
One of the real tests of man and machine, a real effort for your body and bike to make it to the end.
Because Bäckstedt is a hero to all of us who will never weigh 150.
The original hard man competition and just when cyclists around the world are waking up from winter.
Everything a road race should not be, and better for it.
The mother of all 1 day races.
The cobbles, the dirt, the mud, the legend.
Great suspense. I'm a fan of Bäckstedt, because he is big and "heavy", like me.
It's the most dramatic, and early in the season when anticipation is high.
THE race for the strong men. The ones that get no media attention during the heavily covered grand tours.
Museeuw's heartbreaking flat in his last P-R, and Bäckstedt's surprising win
The Brits don't have much to cheer, so seeing Hammond on the podium was great. Also Bäckstedt was immense, and you had the two great Belgians van Petegem and Museeuw battling back to them in vain.
It's a real man's race. No wimpy racers allowed.
Good to see Museeuw almost get there but the determination of Maggy Bäckstedt was awesome
21 sections of cobbles
This year's race was super exciting. I thought Hincapie had a great chance to win near the end, but it was meant to be again this year.
Results
                                         Votes    %ge
 
1 Paris-Roubaix                            531   50.7
2 Tour of Flanders                          86    8.2
3 Liège-Bastogne-Liège                      78    7.4
4 Giro di Lombardia                         55    5.2
5 Olympic Mens Road Race                    54    5.2
6 Milan - San Remo                          39    3.7
7 T-Mobile International                    35    3.3
8 Paris-Tours                               25    2.4
9 World championship mens road race         23    2.2
10 Amstel Gold                              21    2.0
11 US Pro Championship                      10    1.0
12 HEW CyClassic World Cup                   6    0.6
13 Olympic Time Trial                        5    0.5
14 Women's Olympic  Road Race                4    0.4
15 Grafton to Inverell                       3    0.3
15 Ghent-Wevelgem                            3    0.3
15 Fleche-Wallone                            3    0.3
15 'Cross World's                            3    0.3
 
Total                                     1048