USGP#1 - Derby City Cup - C2
Louisville, KY, USA, October 27, 2007
Powers and Compton Prevail
By Ed Donovan
Jeremy Powers wins!
Photo ©: Mitch Clinton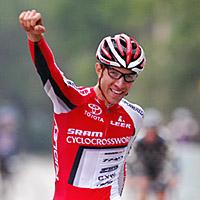 Jeremy Powers (Cyclocrossworld.com) won the elite men's race and Katie Compton (Spike Shooter) notched another win in the elite women's competition on day one of the six-race fall classic that is the 2007 U.S. Gran Prix of cyclo-cross presented by Crank Brothers at the Papa John's Derby City Cup presented by Toyota.
On an overcast day with a few light showers, more than 3,000 raucous spectators descended upon Champions Park in Louisville to witness the first UCI sanctioned cycling event ever in Kentucky.
Elite Men
The men's race was an incredible race with multiple lead changes throughout. Out of the gate it was a group of five off the front which included defending USGP champion Ryan Trebon (Kona-YourKey.com), Barry Wicks (Kona-YourKey.com), Tim Johnson (Cannondale/Leer/Cyclocrossworld.com), Jeremy Powers (Cyclocrossworld.com) and Chris Jones (Nerac Pro Cycling).
A few laps in the group dissolved with Jones crashing and Wicks being dropped. Trebon, just back from Europe, attacked repeatedly but was unable to put distance between himself, Powers and Johnson.
Johnson, Powers and Wicks
Photo ©: Mitch Clinton

Eventually, Johnson attacked Powers but Trebon couldn't answer. It was Powers and Johnson alone until the last lap when Powers pulled away for the win with Johnson finishing for a close second. Wicks fought back to finish third and Trebon finished fourth.
Adam Craig (Giant), who started in the fourth row, fought through the entire field to finish in fifth. For his efforts, Craig was awarded the SRAM Most Aggressive Rider. For Powers, today's win marks three UCI wins in three weeks (Gloucester and Wissahickon).
Elite Women
Katie Compton wins
Photo ©: Mitch Clinton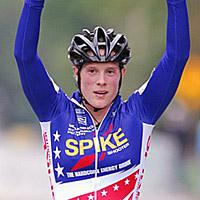 The women's race was never really a race but an amazing smack down by the number one ranked Katie Compton (Spike Shooter). The world championship silver medallist exploded from the start and went wire to wire for the victory.
Behind Compton was a determined group of three Canadians - Wendy Simms (Kona-YourKey.com), Lyne Bessette (Cyclocrossworld.com) and Alison Sydor (Rocky Mountain Haywood). The trio, one week removed from their clash in the Canadian national championships, battled together for the entire race.
It looked as if one of these women would finish second but theirs ended up a battle for third after Georgia Gould (Luna), who started the day in 27th starting position, fought her way the entire race back up to the lead then proceeded to attack the group of Bessette/Simms/Sydor. Gould eventually pulled away from them for second place. For her effort Gould was awarded the SRAM Most Aggressive Rider.
It was then Bessette, Simms and Sydor in a bunch sprint for third which was won by former MTB World Champion Sydor. Simms took fourth and Bessette fifth.
Photography
For a thumbnail gallery of these images, click here
Images by Mitch Clinton/www.clintonphoto.com
Images by Action Images/www.actionimages.cc
Images by Dave McElwaine/www.trailwatch.net
Results
Elite Men (85 starters)
 
1 Jeremy Powers (USA) Cyclocrossworld.com                                       1.04.07
2 Timothy Johnson (USA) Team Leer/Cannondale/Cyclocrossworld.com                   0.05
3 Barry Wicks (USA) Kona Yourkey.com                                               1.13
4 Ryan Trebon (USA) Kona Yourkey.com                                               1.48
5 Adam Craig (USA) Giant                                                           2.20
6 Matt White (USA) FiordiFrutta Elite Cycling Team                                 2.34
7 Jesse Anthony (USA) Jamis Bicycles                                               2.47
8 Christopher Jones (USA) Nerac                                                    2.58
9 Joachim Parbo (Den) CCV                                                          3.07
10 Troy Wells (USA) Clif Bar                                                       3.12
11 Chris Horner (USA)                                                              3.19
12 Chris Sheppard (Can)                                                            3.24
13 Adam Myerson (USA) Nerac                                                        3.41
14 Danny Summerhill (USA) Clif Bar Developmental cyclo-cross team                      
15 Jamey Driscoll (USA) FiordiFrutta Elite Cycling Team                                
16 Michael Gallagher (USA) U S Armed Forces                                            
17 Mathieu Toulouse (Can) Maxxis                                                   3.54
18 Geoff Kabush (Can) Team Maxxis                                                  3.56
19 Matt Shriver (USA) Jittery Joe's/Sonic Cyclocross                               4.07
20 Brent Prenzlow (USA) Alan North America                                         4.19
21 Tristan Schouten (USA) Planet Bike                                              4.38
22 Eric Tonkin (USA) Kona Yourkey.com                                              4.45
23 Bjorn Selander (USA) Ridley Factory Team                                        4.48
24 Chance Noble (USA) California Giant Berry Farms/Specialized                     4.49
25 Brandon Dwight (USA) Boulder Cycle Sport                                            
26 Matt Kraus (USA) RGM Watches / Richard Sachs                                    5.05
27 Mark McCormack (USA) Clif Bar                                                   5.17
28 Ryan Leach (USA) GPOA-Cannondale                                                5.38
29 Brian Matter (USA) PCW / TREK                                                   5.49
30 Mike Garrigan (USA) Epic Ride/Jet Power Oro                                     6.07
31 Donald Reeb (USA) CMG Racing                                                    6.18
32 Ryan Iddings (USA) Lapierre USA                                                 6.53
33 Frederick Bottger (USA) Team Bearclaw                                           6.55
34 Nicholas Weighall (USA) Rad Racing NW                                           7.05
35 Nicholas Keough (USA) Jittery Joe's/ Sonic Cyclocross                           7.13
36 Kevin Bradford-Parish (USA) Redline Team                                            
37 Justin Robinson (USA) California Giant Berry Farms/Specialized                  7.16
38 Greg Wittwer (USA) FORT Factory Team                                            7.44
39 Ethan Gilmour (USA) Jittery Joe's/Sonic Cyclocross                              7.47
40 Mitchell Peterson (USA) Devo                                                    8.02
41 Toby Marzot (USA) Fiordifrutta                                                  8.12
42 Sam Krieg (USA) Sienna Dev't                                                        
43 Jason First (USA)                                                               8.24
44 Mike Sherer (USA) Metlife/Pony Shop                                             8.42
45 Anthony Slowinski (USA) Clarksville Ateam                                       9.01
46 Jerome Townsend (USA) Ridley Factory Team                                      10.00
47 Isaac Neff (USA) Alderfer Bergen Cycling Team                                  10.05

One lap behind

48 Stephen Cummings (USA) Indiana Regional Medical Center                              
49 Stephen De Lisle (USA) FORT Factory Team                                            
50 John Behrens (USA) Bailey/Black Mountain Bicycles                                   
51 Tim Barrett (USA) Team Myogenesis                                                   
52 Kristopher Holden (USA) Vertical Earth                                              
53 Brady Kappius (USA) Clif Bar Development Cyclocross Team                            
54 Joshua Johnson (USA) Big Shark Racing                                               
55 Scott Mclaughlin (USA) SRAM Factory Team                                            
56 Mitch Comardo (USA) Bike Barn                                                       
57 Nathan Wyatt (USA) Sram/Santa Cruz Bicycles                                         
58 John Stevens (USA) Barbasol                                                         
59 Carson Miller (USA) Fred Meyer/Northwest Adventure                                  
60 Ryan Knapp (USA) Ridley Factory Team/BikeReg.com                                    
61 Mitch Graham (USA) Bio Wheels                                                       
62 Nathanael Ziccardi (USA) team awesome/ jeni's ice cream                             
63 Kieran Sikdar (USA) BikeSource/Ohio Orthopedic                                      
64 Tim Swain (USA) A&F/Masi                                                            
65 Brent Evans (USA) color me safe racing                                              
66 Derek Laan (USA) Turin Bicycling Society                                            
67 Jay Moncel (USA) Trek Factory Racing                                                
68 Chris Strout (USA) World Bicycle Relief/SRAM                                        
69 Chad Berg (USA) Redline Bicycles                                                    
70 Ernesto Marenchin (USA) Asylum Cycles                                               
71 Scott Ogilvie (USA) Mesa Cycles                                                     
72 Mark Nagy (USA) Dogfish Racing Team                                                 
73 Gordon Daniell (USA) Barbasol/Rapid Transit Racing                                  
74 Scott Moro (USA) Ohio Orthopedic/BikeSource                                         
75 Oscar Clark (USA) Jittery Joe's/Sonic Cyclocross                                    
 
Elite Women (37 starters)
 
1 Katie Compton (USA) Spike Shooter                                               43.50
2 Georgia Gould (USA) Luna                                                         1.20
3 Wendy Simms (Can) Kona Yourkey.com                                               1.44
4 Alison Sydor (Can) Rocky Mountain-Haywood                                            
5 Lyne Bessette (Can) Cyclocrossworld.com                                              
6 Rachel Lloyd (USA) Proman/Paradigm                                               2.47
7 Kerry Barnholt (USA) Tokyo Joes / Van Dessel                                     3.19
8 Sue Butler (USA) River City Bicycles                                             3.28
9 Wendy Williams (USA) River City Bicycles                                         3.50
10 Sarah Kerlin (USA) HRS/ Rock Lobster                                            4.21
11 Maureen Bruno-Roy (USA) IF/Wheelworks/SRAM p/b General Catalyst    
12 Barbara Howe (USA) Velo Bella Kona                                              4.42
13 Kathy Sherwin (USA) Velo Bella - Kona                                           4.50
14 Shelley Olds (USA) California Giant Berry Farms/Specialized                     4.51
15 Kelli Emmett (USA) Team Giant                                                   4.56
16 Megan Monroe (USA) BMC-Sports Garage                                            5.06
17 Amy Dombroski (USA) Excel Sports Boulder                                        5.20
18 Melissa Thomas (USA) Team Maxxis                                                5.30
19 Josie Beggs (USA) California Giant Berry Farms/Specialized                      5.50
20 Rebecca Wellons (USA) Ridley Factory Team                                       5.51
21 Kristi Berg (USA) Redline Bicycles                                              6.05
22 Annajean Dallaire (USA) Barbasol / Rapid Transit                                6.58
23 Anne Schwartz (USA)                                                             7.07
24 Jennifer Maxwell (USA) Team Kenda Tire                                          7.09
25 Melanie Swartz (USA) Velo Bella - Kona                                          7.36
26 Amy Wallace (USA) RGM Watches / Richard Sachs                                   7.45
27 Anna Milkowski (USA) Velo Bella-Kona                                            8.10
28 Melodie Metzger (USA) California Giant Berry Farms/Specialized                  8.19
29 Kim Sawyer (USA) BMW-Bianchi                                                    8.51
30 Debbie Dust (USA) Team Kenda Tire                                               9.26
31 Cara McCauley (USA) BMW-Bianchi                                                11.00

One lap behind

32 Kathryn Roszko (USA) BikeReg.com                                                    
33 Beth Mason (USA) C3-Sollay.com                                                      
34 Catherine Johnson (USA) Organic Athlete Cycling Team p/b VegNews                    
35 Whitney Kroll (USA) Cane Creek                                                      
 
2/3 Men
 
1 John Grant (Texas Roadhouse)                                                         37.28
2 Marc Bavineau (Essex County Velo)                                                     0.21
3 Stewart Scovil (Papa John's Cycling Team)                                             0.31
4 Mike Purvis (Companheiro Racing)                                                      0.33
5 Donald Galligher (Drt Consulting)                                                     0.35
6 Mitchell Kersting (Team Louisville / University Fo Kentucky)                              
7 Matthew Ashley (Flying Rhino Cycling Club)                                            0.48
8 Eric Wondergem (Hup United)                                                           0.49
9 Eric Linder (Hunt Valley Bikes / Marathon Roofing)                                    1.01
10 Daniel Ott (Darkhorse-Smitty's Cyclery)                                              1.56
11 William Crecelius                                                                    2.02
12 Adam Lang (Kccx Klm)                                                                 2.05
13 Zachary Edwards (Drt Consulting)                                                     2.08
14 Nick Tinsler (Darkhorse - Smitty's Cyclery)                                              
15 Andrew Messer (Ridley)                                                               2.35
16 Michael Jernigan (Prographics Cycling)                                               2.39
17 Todd Braswell (Tri Cities Road Club)                                                 2.41
18 Andrew Will                                                                          2.45
19 Mike Kennedy (Barbasol)                                                              2.47
20 David Emig (Fulcrum Coaching)                                                        2.51
21 Rodney Sauser (Team Dayton)                                                          3.01
22 Matthew Bell (Darkhorse Racing)                                                      3.05
23 Brian Baker (Papa Johns Racing Team)                                                 3.09
24 Charles Garner (Team Louisville)                                                     3.14
25 Keith Lucas                                                                          3.32
26 Andrew Hague                                                                         3.36
27 Michael Seek (Tri-Cities Road Club)                                                      
28 Colt Mcelwaine (Maxxis/N.E. Regional Development)                                        
29 J.C. Breslin (Schellers Racing)                                                          
30 Mark Nagy (Dogfish Racing Team)                                                          
31 Noah Metzler (Wheel And Sprocket)                                                    4.04
32 Darin Shriver (Parker College Of Chiropractic)                                       4.07
33 Jonathan Kindig (Agisko-Viner (Ky) P/B Kinetic-Koffee.Com)                               
34 Josh Biven (Louisville Firefighters)                                                 4.10
35 Steven Gers (Biowheels Racing)                                                       4.17
36 Chad Salla (Alderfer Bergen)                                                             
37 Andys Burns (Central Ohio Bicycle Club)                                              4.34
38 Ben Delaney (Velonews)                                                               4.44
39 Trent Long (Team Gran Fondo)                                                             
40 Dan Tille (Fulcrum Coaching)                                                         4.47
41 Phil Gardner (Ohio Valley Velo-Edt)                                                  4.55
42 Adam Jackson (Team Louisville)                                                       4.58
43 Jeffrey Kiesel (Team Louisville)                                                     5.04
44 Royden Kern (Commonwealth Eye Surgery)                                               5.38
45 Greg Heck (Xxx-Athletico)                                                            5.44
46 Jason Smith (Texas Roadhouse Cycling Team)                                           5.49
47 David Crismon (Louisville Firefighters/ 2Wheelsports)                                6.14
48 Duane Walker (Team Louisville)                                                       6.23
49 Luke Stifler                                                                         6.26
50 David Groen (Team-Cobc.com)                                                          6.34
51 Layne Peters (Bikesource)                                                            6.37
52 James Kirkham                                                                        6.47
53 Andy Johnson (Echelon Cycling Team)                                                  7.02
54 John West (Team Louisville)                                                          7.10
55 Mark Kimmerle (Echelon Cycling Team)                                                 7.23
56 Mason Morgan (Team Awesome)                                                          7.36
57 Jason Fowler (Zipp Factory Team)                                                     7.40
58 Donald Parr (Team Louisville)                                                        7.57
59 Peder Hulse                                                                          8.04
60 Jeffrey Chambers (Schellers Indiana Masters)                                         8.15
61 Matthew Dawson (Dogfish Racing)                                                      8.46
62 Ryan Lindsay                                                                         9.31
63 John Gore (Team Gran Fondo-Bianchi)                                                      
64 Christopher Hurst (Otr Cycling P/B Strenflex)                                            
 
Juniors 17-18
 
1 Luke Keough (Clnoonan Coast To Coast Kam)                                            35.28
2 Steve Fisher (Rad Racing Nw)                                                          0.24
3 Gavin Mannion (Hot Tubes Junior Development Team)                                     0.53
4 Clayton Omer (Papa Johns Racing Team)                                                 0.57
5 Andrew Llewellyn (Papa Johns Racing Team)                                             1.14
6 Eric Emsky (Rad Racing Northwest)                                                     1.20
7 Alex Coelho (Hot Tubes Development Cycling)                                           1.56
8 Ian Terry (Rad Racing Nw)                                                             2.08
9 Zach Mcdonald (Oh Boy Oberto/Redline)                                                     
10 Connor Oleary                                                                            
11 Jeremy Ferguson (Team Spine)                                                         2.20
12 Cody Cox                                                                                 
13 Joshua Berry (Scott Usa)                                                             2.42
14 Andrew Barker                                                                        3.00
15 Rob Bush (Texas Roadhouse)                                                           3.31
16 Cory Stange (Cyclefit)                                                               4.55
17 Jonathan Craig Brentwood                                                             9.08
DQ Simon Lambert Lemay (Hottubes Cycling)                                                   
 
Juniors 15-16
 
1 Matthew Spinks (Skylands Cycling)                                                    29.15
2 Tony Wieczorek (Slc Racing/Jittery Joes Coffee)                                       0.13
3 Chris Wallace (Team X Cycling)                                                        1.07
4 Robin Eckmann (Clif Bar Development Cyclocross Team Boulder)                          1.23
5 Daniel Bush (Red Zone Cycling)                                                        4.08
6 Brandon Lach (Team Turner Logistics)                                                  5.43
7 Cory St Clair (Team Turner Logistics)                                                 6.13
8 Sam Murdock (Team Turner Logistics)                                                  11.07
 
Juniors 10-14
 
1 Luke Haley (Red Zone Cycling)                                                        24.04
2 Ian Mcshane (Red Zone Cycling)                                                            
3 Gavin Haley (Red Zone Cycling)                                                            
4 Samuel Dobrozsi (Queen City Wheels)                                                   1.46
5 JOHN Francisco                                                                        2.12
6 Erick Madis                                                                           3.47
7 Cooper Simon (Red Zone Cycling)                                                       4.04
8 JAMES Francisco                                                                       4.06
9 Eden Webb (Red Zone)                                                                  7.38
10 David Everett (Red Zone Cycling)                                                     9.12
11 Gabe Long (Team Gran Fondo)                                                         13.27
 
3/4 Women
 
1 Cecelia Pleva (Crca/Radical Media)                                                   33.51
2 Elizabeth Cash (Colavita New Mexico)                                                  1.18
3 Sarah Lindsay Hatfield Texas Roadhouse                                                2.07
4 Michelle Morris (One Call Now/Troy Chiropractic)                                      2.38
5 Lisa Meils                                                                            2.51
6 Christine Mccarthy (Jeni's Ice Cream)                                                 3.19
7 Heather Ladd (Jeni's Ice Cream)                                                       4.27
 
Masters 35+
 
1 Jeff Weinert (Giant)                                                                 43.58
2 Will Black (Kccx / Verge)                                                             0.03
3 Todd Hoefer (California Giant Berry Farms/Specialized)                                0.05
4 Roger Aspholm (Westwood Velo)                                                         0.14
5 Richard Feldman (Durance Cycleworks - Lehman Brothers)                                0.47
6 Michael Wissink (Specialized)                                                         0.50
7 Normon Thibault (Frontrunners)                                                        0.54
8 Gannon Myall (California Giant Berry Farms/Specialized)                               1.16
9 Jon Gallagher (Cole Sport)                                                            1.21
10 Joseph Ruggery (Freddie Fu Cycling Team)                                             1.23
11 Todd Cassan (Westwood Velo)                                                          1.27
12 Troy Kimball (Westwood Velo)                                                         1.41
13 Gerry Pflug (Freddie Fu Cycling Team)                                                1.47
14 Henry Kramer (California Giant Berry Farms/Specialized)                              1.51
15 Joshua Liberles (Colavita New Mexico)                                                    
16 Andy Applegate (Paceline Bicycles / Cannondale)                                      2.11
17 Michael Mcshane (Papa John's Racing Team)                                            2.14
18 Ralf Warmuth (Westwood Velo)                                                         2.18
19 Daryl Sawyer (Van Dessel)                                                            2.37
20 Andy Gorski (Netapp - Viner P/B Kinetic-Koffee.Com)                                  2.41
21 Patrick Morrissey (Nm Team Cross)                                                    2.43
22 Morgan Webb (Barbisol)                                                               2.49
23 Kristopher Auer (C3-Sollay.Com)                                                      2.58
24 Mark Kutney (Van Dessel Cycles)                                                      3.11
25 Phil Noble (Bio Wheels)                                                              3.12
26 Don Cameron (Specialized Bicycles)                                                   3.14
27 Scott Bradway (Team S&M)                                                             3.51
28 John Verheul (Bikereg.Com)                                                           4.26
29 Matt Jordan (Hrs Rock Lobster)                                                       4.36
30 Carlos Matias Mendigochea (Kahala-La Grange Westwood)                                4.48
31 Steve Roszko (Bikereg.Com)                                                               
32 Timothy Beirne (Better Cycling/Papa Johns)                                           5.02
33 Dag Selander (Alan Factory Team)                                                     5.05
34 Ron Gratop (Saturn Of Toledo/Shell Cycling Team)                                         
35 William Eisner (Papa John's Racing Team)                                             5.16
36 Sean Wittmer (Bicycle Centres - Collision 1)                                         5.19
37 Mark Murawski (Toc/Gateway Cycling Club)                                             5.44
38 Steve Mcnamee (Ridley Factory Cross Team)                                            6.00
39 Jerrett Deerwester (Sand Hills Cycling Team)                                         6.15
40 Bill Crank (Pedal The Planet)                                                        6.33
41 Judd Milne (Squadra Coppi/Im Saab)                                                   6.52
42 Michael Seaman (Specialized)                                                         7.43
43 Brian Mitchell (Two Wheel Tango/ Morgan & York)                                      7.54
44 Ramon Corpuz (Team-Cobc.Com)                                                         8.15
45 Dan Werle (Remax/Yazoo)                                                              8.44
46 Bob Saffell (Rocky Mountain Cycling Club)                                            9.38
 
Masters 35+
 
47 Joseph Collins (Team Louisville)                                                    54.00
48 Kevin Friddle (Promotion Cycling)                                                   54.01
49 James Turner (Team Ipro)                                                            54.39
 
4 Men
 
1 Blaine Heppner (Team Louisville)                                                     29.37
2 Aaron Hawkins (Drt Consulting)                                                        1.22
3 Andrew Forron (Bianchi Mid- Atlantic)                                                 1.55
4 Ian Mathias (Hunt Valley Bicycles / Marathon Roofing)                                 1.57
5 Robby Schweiss                                                                        2.13
6 Darrell Edwards (Team Louisville)                                                     2.16
7 John Maggard (Sports Connection)                                                      2.28
8 David Young (Drt Consulting)                                                          2.37
9 Joseph Ballante (Bio Wheels Racing)                                                   2.42
10 Martin Meadows                                                                       2.48
11 Jeff Steinrock (Louisville)                                                          2.51
12 Zachary Edwards (Drt Consulting)                                                     2.54
13 Keith Jeneski (Nm Team Cross)                                                        2.57
14 Mike Mefford (Tri-Cities Road Club)                                                  3.15
15 Josh Feazell (Bianchi Mid Atlantic)                                                  3.27
16 Erik Wellman (Ridley Factory Team)                                                   3.29
17 Rick Adams (Snakebite Racing)                                                        3.35
18 Jacob Beers (Ces / Pedal The Planet)                                                 3.51
19 Bryan Bell                                                                           4.00
20 Don Hasner (Team Louisville)                                                         4.08
21 Mark Farmer (Ohio Orthopedic/Bikesource)                                             4.15
22 Todd Gillenwater (Schellers Racing)                                                      
23 Mack Shwab (Humana/Cyclerscafe)                                                          
24 Woodson Smith (Commonwealth Eye Surgery/Promotioncycling.Com)                        4.21
25 Phillip Patterson (Team Louisville)                                                  4.23
26 Martin Bearden                                                                       4.27
27 Scott Bond (Speedway Wheelman)                                                           
28 Aaron Benson (Goose Creek Cycle)                                                         
29 Dominick Wieczorek (South Lyon Cycle Race Team)                                      4.33
30 Ambrose Dobrozsi (Queen City Wheels)                                                 4.42
31 Alex Hasse (Darkhorse-Smitty's Cyclery)                                              4.51
32 Todd Wieringa (Team Barbasol)                                                            
33 John Eric Haas                                                                       4.57
34 Sumner Macdonald (Team Louisville)                                                   5.06
35 James Beers (Ces/Ptp/ Promotioncycling.Com)                                              
36 Ross Stambaugh (Dayton Dental Cannons)                                               5.11
37 Steven Webster (Bikeclicks.Com)                                                      5.23
38 Brad Titzer (Revolution/Biking Bean)                                                 5.35
39 Ben Bonney                                                                           5.40
40 Rusty Melton                                                                         5.46
41 Keith Morlen (Bolla-Wines Of Italy)                                                  6.41
42 Paul Stropkay                                                                        6.45
43 Andy Paskins                                                                         7.09
44 Jim Arnett (Team Louisville)                                                         7.49
45 Evan Clark                                                                           8.08
46 Andy Berry                                                                           8.17
47 Dan Ramsey (7 Hills Racing Inc)                                                      8.30
48 Brian Beckett (Ride Club)                                                            9.08
49 Cameron Poole                                                                        9.38
50 Justin Forbes (Team Koehlinger / Kelly)                                             10.03
51 Chris Barger (Sports Connection)                                                         
52 Daniel Bartholomew                                                                       
53 Brian Segal                                                                              
54 Kevin Lockwood                                                                           
 
Masters 45+
 
1 Robert Bobrow (Papa John's Racing Team)                                              37.17
2 Christian Zauner (Papa John's Racing Team)                                                
3 Mark Wolowiec (Flying Rhino Cycling Club)                                             1.18
4 Jeffrey Craft (Lake Effect Cycling Team)                                              1.31
5 Brad Wunderlich Team Louisville                                                       1.46
6 Matt Baroli (Team Giant-Michigan)                                                     2.05
7 Keith Hutton (Team Bolla)                                                             2.31
8 Daniel Guilfoil (Planet Bike)                                                         2.53
9 Joseph Brown (Flying Rhino Cycling Club)                                              2.56
10 Curtis Tolson (Texas Roadhouse)                                                      3.12
11 Mike Otting (Mercyhealthplex/7Hills Racing)                                          3.13
12 Dwight Wyatt (Carolina Fatz)                                                         3.31
13 Christopher Heintz                                                                   3.49
14 Rick Lyons (Team Louisville)                                                         4.00
15 John May (Barbasol)                                                                  4.13
16 Rick Toler (Team Kreitler Rollers)                                                   4.41
17 Dennis Barber                                                                        4.49
18 Douglas Dobrozsi (Queen City Wheels)                                                 5.14
19 Gary Wolff (Team Maxxis)                                                             5.27
20 Jeff Steinrock (Louisville)                                                          5.40
21 Joe Sohm (Humana/Cyclerscafe)                                                        5.41
22 Chip Ellison (Udf/Qcw)                                                               5.57
23 Scott Nichols (Qcw/Udf)                                                              6.08
24 Brian Jones                                                                          6.24
25 Dwayne Letterman (Tri Cities Road Club)                                              6.26
26 Terry Fina                                                                           6.53
27 Harry Wicks (Bio Wheels)                                                             7.22
28 Lou Beckmeyer (Mercy Healyhplex/7 Hills)                                             7.33
29 Doug Hamilton                                                                            
30 Jonathan Spicker                                                                         
31 Mark Mckenney (7 Hills Racing)                                                           
 
Masters 55+
 
1 Marc Dettman (Priority Health Cycling)                                               44.10
2 Bill Kennedy (Clarksville Schwinn)                                                    0.10
3 Mark Luking (Team Louisville)