Tour de France Cycling News, July 28, 2008
Edited by Laura Weislo
Sastre third consecutive Spanish Tour winner
Sastre savours the moment
Photo ©: Roberto Bettini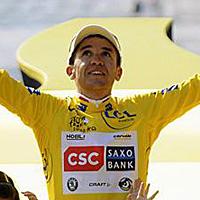 As he crossed the line on the Champs-Elysees, Carlos Sastre turned and embraced his nearest team-mate, Stuart O'Grady, as the third consecutive Spanish Tour de France champion. He followed Alberto Contador, missing from this year's edition due to his Astana team's past doping problems, and Oscar Pereiro, who inherited the title after Floyd Landis was disqualified for doping.
Sastre, a devoted family man, proudly brought his two children onto the podium with both clad in yellow shirts to match his own. At 33, he is the oldest first-time winner of the Tour, and the eighth Spaniard to stand on the highest step in Paris.
"It was beautiful to have my children with me on the podium," he stated, underlining their importance. "It's great to win the Tour de France but my kids represent the biggest victory in my life. They are so important to me and I want to share that moment with them and have them close to me.
"Today was a really nice day," Sastre said. "The team has done everything to make this Tour as easy as possible for me and even as we came to Paris for the final stage, they continued to work for me. It's a great atmosphere now; relief has set in and now everyone is happy."
Sastre's season is far from over, and after the post-Tour criteriums, he has some major objectives still ahead. "Now I have a couple of races to do in Belgium and Holland before I go to the Olympic Games and then start to consider the Vuelta a España."
Steegmans fills the void
By Shane Stokes
Gert Steegmans (Quick Step) proved he belongs among the top sprinters
Photo ©: Roberto Bettini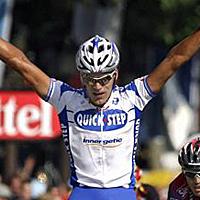 When Tom Boonen was excluded from the Tour de France line-up due to his positive test for cocaine, the Quick Step team was distraught at the news. A costly advertising campaign featuring the 2005 world champion had already been paid for and was scheduled to be shown during the race.
In addition to that, Boonen's absence would lead to less publicity for the team and, very conceivably, less success. The Belgian won the green jersey competition in 2007 and would have been one of the favourites for the title once again. Also, at least one stage victory seemed likely.
World champion Paolo Bettini would have seemed like the obvious stand-in, due both to his strength and also the publicity-generating power of the rainbow jersey. However Quick Step didn't bring the Italian to the race, relying instead on the lesser-known riders in the team.
So, with Boonen missing, sprinting duties passed to 27-year-old Gert Steegmans. He won a Tour stage in Gent last year and took two stages in Paris-Nice this March. He also landed several other victories, prompting hopes that he could step up to the mark.
However, prior to the final stage, Steegmans hadn't succeeded in reproducing that kind of speed. Of the sprint stages, he was third on stage 12, seventh on stage eight, twelfth on stage five and 21st on stage three. With Paris representing the last chance for Quick Step, the pressure was on him once it became clear a sprint would settle the stage.
Fortunately things worked out well. "The team worked perfectly so that I could win this sprint," he said. "I knew the last turn very well and I knew I'd timed it well enough not to be harassed by anyone in the final, except perhaps the two or three who were right on my wheel. Matteo Tossato set a pace that was so fast that I could not even get around him.
"It's great to win here. Tom [Boonen] is usually our leader. The fact that he is not here added pressure on me and also Stijn Devolder. It was not easy, and this victory has been a long time in coming. Still, the team has consistently done its best and finally the work they were doing helped give me that little bit of extra confidence."
Steegmans will leave the team at the end of the season, riding from 2009 onwards – it is heavily rumoured - for the new Russian Katusha team. Although the full line-up hasn't been announced there, it's likely he'll get many more opportunities to show his speed than he would if he stayed alongside Boonen. Moving now would seem to be a good idea.
Until then, he is determined to do as well as possible, adding more successes to his palmares. Taking the 21st and final stage of this year's Tour is something considerable, both for him and the team.
"Several factors have prevented the Quick Step team from winning," he reasoned afterwards. "The first is, of course, Cavendish. And then, Barredo was a little too nervous when he had the opportunity to win the stage a few days ago."
However, although many observers felt that a stage victory was vital for a team of the scale – and past results – of Quick Step, he denied that this was the case. "The team did not need to save its Tour; we had a meeting yesterday and our managers praised our work, even though we had not yet won a stage."
Fofonov fired, detained by police
Dmitriy Fofonov will not have much to laugh in the near future
Photo ©: AFP

Kazakh rider Dmitriy Fofonov was fired from his team and detained by French police for questioning after it was announced that he tested positive for a banned stimulant, heptaminol. The French Anti-doping Agency president Pierre Bordry said that the now former Crédit Agricole rider had tested positive for "very heavy dose" of the drug.
According to The Associated Press Fofonov was arrested at his team's hotel and taken in for questioning. His team manager Roger Legeay said that the rider told him that he bought the product on the Internet. "He says that it was for cramps, but that he forgot to tell the team doctor," Legeay said.
The news of the positive time came while the team was celebrating the finale of the Tour de France on the Champs-Elysees. "I am deeply crushed. I've been riding with him for four years," said team-mate Jimmy Engoulvent. "We are professionals. Whether it's a stimulant or EPO, it's the same thing."
Fofonov was the fourth rider to test positive during the Tour.
"Sensational" Tour for Gerolsteiner
By Hedwig Kröner in Paris
Bernhard Kohl's took a surprise podium
Photo ©: Roberto Bettini

Gerolsteiner directeur sportif Christian Henn was a happy man at the start of the 2008 Tour's last stage from Etampes to Paris on Sunday. Two stage wins, moreover being both time trials of the race, the polka dot jersey of best climber and a podium placing on the Champs-Elysees would make any sports director more than satisfied. And the team had the yellow jersey in its ranks in the first part of the race.
Stefan Schumacher surprised many with his first time trial achievement in Cholet, and even more so with the second one, where he beat World Champion Fabian Cancellara by 21 seconds over 53 kilometres. His room-mate Bernhard Kohl, a small Austrian climber, revealed the full extent of his talent by defending the mountain points lead against such other specialists like overall winner Carlos Sastre and Fränk Schelck (both CSC-Saxo Bank), and moreover defended his overall podium placing in a most impressive way in the race against the clock on Saturday.
"It was a sensational Tour," Henn summed it up. "Berni Kohl rode the time trial of his life yesterday. I was behind him, and we had the five-kilometre times of Sebastian Lang. I think I have never had to tell a climber that he is currently faster than Sebastian and that he'd better watch out, as the second part of the course is more difficult... I think this was good for him, too, because he then got into a better rhythm. He then held Sebastian' time constantly."
Henn also had much praise for Schumacher's feat. "Stefan Schumacher, of course, was awesome, too. That he won both time trials was absolutely sensational for us. What's more, he was constantly in front at this race."
Asked if Henn expected this of him before the Tour or believed that Schumacher could perform this way, he replied, "No, not really. But I was there both times when we previewed the courses, and both times he said to me, 'this is exactly the right course for me.' Rolling hills, not more than two kilometres long, that he could just power over on the big chain ring. It was ideal for him."
The directeur sportif wasn't very surprised at Schumacher's time trial performances, and offered some explanations. "Schumacher has always had good achievements in the time trial. He did a good result also in the German Championships. And he just rode a very consistent race here, from the beginning until the end. He was very strong. He didn't have such a good spring, and I think he still had something to prove from last year's Tour, where he was in low form and couldn't do anything. It was just the other way round this year: bad spring, great Tour."
Henn didn't think that Cancellara's efforts for his team's overall victory in the mountains had any effect on the time trial result. "I don't think that the fact that Cancellara had to work a lot for his team and the yellow jersey had anything to do with Schumacher's win. Schumacher was also in the escapes in the Alps, so I think that levels it out. It's just that Schumi was on a roll," Henn added.
As for the continuation of a sponsorship for the team led by Hans-Michael Holczer, he said that he was hopeful a new contract would be announced within the next few weeks. "I know that Holczer is in talks. Of course, we need a confirmation within the next two or three weeks. The rider negotiations are all going on now, after the Tour. Our riders are in discussions with other teams, too, that is only normal. We hope that we will get a positive signal from Hans-Michael within the next weeks."
Henn added that he would like to keep the team roster as it is now. "We also hope to keep the team as it is, more or less. I think the majority of the riders wants to stay with us, too. Here at the Tour, the team worked well together, we had a good atmosphere and greta calmness within the team. That is also a sign that everything is harmonious. I think that until today, no rider has signed elsewhere yet."
With Gerolsteiner's success at this year's Tour de France, the German team has a few arguments for potential sponsors up its sleeve.
Silence-Lotto toasts to second
By Gregor Brown in Paris
Despite missing out on a Tour de France victory by less than a minute two years in a row, Silence-Lotto's directeur sportif Hendrik Redant took part in the festive environment around the Silence-Lotto team bus following the final stage in Paris.
"We wanted the win, but we still have second place and that is not a shame," Redant said to Cyclingnews as he drank champagne.
He helped Australia's Evans over the three weeks to obtain a second overall and the race leader's maillot jaune for two days. The overall lead of CSC-Saxo Bank's Carlos Sastre was out of reach for Evans' during yesterday's time trial in Saint Amand Montrond.
"The high point was taking the yellow jersey. The low point was the time trial – we could have won the Tour de France and it did not happen. We have been working very hard for four years and intensively this year towards victory in the Tour. We did not make it so it is a disappointment, but it is happy for being second – that is why I am having one glass of champagne," said Redant.
Even in second place, the sponsors and Cadel Evans himself are happy to have made the podium in Paris. "We had the yellow jersey – our goal was to have in Paris. We all believed in yesterday, but it did not happen."
Evans himself decided to focus on the positives he can take away from the Tour. "To wear the yellow jersey after such a selective week of racing was really something special and it was an experience that I think every bike rider wants to have," he said. "I've never worn a world championship jersey but it was quite incredible to be in yellow. It's a good experience and I've learned things that will stand me in good stead for future Tours.
"To come back and finish second and be able to hold off the rider in third... that's something I'm happy with. And I'm pleased that I was able to continue after the crash. To come back and get yellow was a bonus. There's always room for improvement otherwise I might have walked away feeling content with eighth place but I've done a lot in the last four years to improve on that result."
CSC-Saxo's depth out-gunned Silence-Lotto as well as every other team in the Tour. Budget permitting, Redant would like to see the Belgium-based team strengthened for 2009 by adding more mountain domestiques.
"We knew we would have a hard time, but I think the team did not make any mistakes. We used our boys where we could use them and we did not use them where we couldn't, so in a way that was perfect. We were racing against some very strong teams.
"We did not bring men for McEwen this year, but maybe we need to reinforce with more climbers who can handle climbs like Col du Tourmalet and Alpe d'Huez. Popovych was not on his best form, Cioni and Brandt got sick. Popovych had a few good days, but all the rest he was average."
CSC tops Tour in prizes
Carlos Sastre and his CSC mates were strong
Photo ©: Roberto Bettini

Team CSC-Saxo Bank not only paid back its new co-title sponsor with a spectacular performance in the Tour de France this year, it lined its own pockets with the lion's share of the prize money on offer. Of the nearly €2 million on offer, the team of overall winner Carlos Sastre took home over €600,000 thanks to its win in the general classification, teams classification and best young rider category with Andy Schleck.
The team's newest sponsor, Saxo Bank, which signed on with the team just before the Tour, will become the team's sole title sponsor for the next three years. Needless to say, bank founders and CEO's Kim Fournais and Lars Seier Christensen were a bit proud of the squad's achievement.
"Watching Carlos Sastre in the yellow jersey and Andy Schleck in the white, side by side, today, armed with nothing but moral fiber and muscles, was amazing," said Fournais. "Although we expected the team to win, we never dared to hope for a victory of this magnitude."
The magnitude of the team's win, measured in euros, is three times as big as that of second placed prize winner Silence-Lotto, which took just €233,450. The Gerolsteiner team, with two stage wins and the mountains classification was third in earnings, with €192,370.
On the other end of the scale, the Lampre team of Damiano Cunego hardly made enough money to pay for the fuel to drive the team car around France. Its leader crashed out in the final week, and the squad took home just €9,840.
Wim Vansevenant makes Tour history
By Gregor Brown in Paris
Belgium's Wim Vansevenant took his own place in history Sunday by winning the lanterne rouge of last rider in the Tour de France overall classification for the third time in a row. The Silence-Lotto rider was well on the other end of the results sheet from his team-mate Cadel Evans.
"I am happy with the lanterne rouge, it will be remembered well after my career ends. I have made a little bit of history. I hope it inspires some other riders, like Lance Armstrong did winning the Tour seven times," Vansevenant, said following Saturday's time trial to Saint Amand Montrond.
The lanterne rouge is an official award given to the rider who finishes the Tour de France in last place overall – it is similar to the Giro d'Italia's numero nero. Though there is no prize, Vansevenant notoriety will earn him more money in post-Tour criteriums. He bettered three riders who have two lanterne rouge: Belgium's Daniel Masson, France's Jimmy Casper and Austria's Gerhard Schönbacher.
Saturday's time trial in Saint Amand Montrond decided the lanterne rouge competition along with the other classification battles. Vansevenant battled with Austrian Bernard Eisel, who had lost 14'45" in stage 19 and moved into last by 42 seconds, while his team captain battled for the race leaders maillot jaune.
"I did not think to fall back with Eisel in stage 19 to save the lantern rouge because I was glad to be in the peloton – it was going hard. You saw that Flecha and Wegmann were outside the time cut. I know that you can't risk it on stages like that."
The time loss meant that Vansevenant had to keep a close eye on Eisel for the 53-kilometre time trial.
"I talked to Eisel before the time trial and he said I could have it. It was not a problem during the time trial – I rode very easy until the first time check. I heard I was one minute down and then started to ride at a normal pace."
Vansevenant wasn't even last on the day, and finished 142nd. But he was 1'35" behind Eisel and moved back into last overall, but despite this his time trial wasn't easy.
"It was not that I was here on vacation, my shirt was still wet with sweat – I had to work. It was no problem to be within the time cut for the time trial, but I had studied it before hand. If Eisel would have gone for it I would have beat him on the Champs Élysées."
Evans, second overall, was happy for his team-mate. "We wanted to be first and last in the overall. When I head that Wim had last place I said there was one guy who'd reached his goal," said Evans.
Froome shocked on doping in team
By Daniel Benson in Paris
Christopher Froome (Barloworld).
Photo ©: Stephen McMahon

Tour debutant Chris Froome is willing to speak his mind on the problems that dog the sport. As he lined up for the final stage to Paris the Kenyan-born rider gave his assessment of the storm that engulfed his Barloworld team after Moisés Dueñas was removed from the race before stage 11 after it was announced that he had tested positive for EPO.
"To me it's just so shocking," he said. "You always hear about doping scandals and see them in other teams. When that happens you're tempted to just turn away. But to have it happen in our team was such a shock. Moisés is a really decent guy, it's something I didn't expect from him. I've not spoken to him since and I don't think anyone on the team has, either."
When asked about the punishments cyclists should face, and in particular those faced by Dueñas, Froome paused before taking a line that many cycling fans would openly applaud. "I'm sure he's in enough trouble as it is and that he'll regret it for the rest of his life. There's already the possibility of a two-year suspension, a jail sentence and huge fine to pay and I hope he accepts that. I'm sure that he'll regret it for the rest of his life. If that's the only way it's going to stop guys doping then we should throw them in jail."
Froome himself can look back at a job well done. Finishing strongly in 16th place in yesterday's time trial, his main goals of gaining experience and making it to Paris have been achieved, giving Barloworld the right type of positive to finish on.
Sean Kelly impressed with CSC
By Daniel Benson in Paris
As the curtain came down on another Tour de France, cycling legend Sean Kelly spoke to Cyclingnews and gave his take on this year's race. The former five-time winner of the green jersey is still involved with cycling and has been following this year's race as a commentator. After such a close finale the Irishman believes that the best man and the best team came out on top.
"It's been a very close race from start to finish and it's always been exciting with so many riders wearing yellow and a nail-biting time trial yesterday added to it all," said Kelly.
However Kelly reserved special praise for the team that came to dominate the Tour as it unfolded in the second week. Constantly attacking in the mountains, he explained that CSC was head-and-shoulders above their competition. "They have done a lot of work here and Sastre deserves to be in yellow. I remember seeing him at the Dauphiné and I said he wasn't going well. He was quiet then," he added.
As the race unfolded though, Kelly admitted that the Spaniard came into his element and finished as the strongest GC rider. "He was fresher than the others as the race went on, mainly due to his team-mates looking after him. You could see Evans didn't have that, and that's what made the difference in the end. Sastre only really made one big attack in this race."
Kelly also pointed to the terrain and conditions that played an important part in the race. "The mountain stages this year were tough but on several of the last climbs there was a strong headwind and that made it really hard for some of the riders to attack one another. I think if things have been different we could have seen more riders try their luck on stages like the one to Alpe d'Huez," Kelly concluded.
Last chance to win in the Cyclingnews-Felt TdF competition!
You can win this!
Photo ©: Felt
It's your final your chance to win some great prizes as the Cyclingnews-Felt Tour competition closes at midnight on July 28th, GMT. The competition features a prize roster of kit that is being tested in the world's greatest bike race by some of the world's leading cyclists.
Our lead prize is the 2009 model Felt AR road frame, currently being ridden in the Tour de France by members of the Garmin-Chiplotle professional cycling team, as well as supplementary prizes from Craft - manufacturer of team clothing to CSC-Saxo - and eyewear from BBB, supplier to Team Barloworld.
The US-based Felt Bicycles is becoming one of the world's leading bicycle manufacturers, with its bikes now being raced by the USA's Garmin-Chipotle in the 2008 Tour de France. The team are riding the 2009 model Felt AR, which combines Felt's expertise in time trial and track bike technology, while maintaining the necessary ride and handling characteristics of premium road bikes.
But wait! There's more. All entrants in the Cyclingnews-Felt 2008 TdF competition will also go into the draw to win great supplementary prizes from our friends at Craft and BBB. Cyclingnews also has four 2008 model Team CSC jerseys, designed and made by Craft, one of the world's leading technical clothing manufacturers, as well as 10 sets of BBB's BSG-29 Attacker eyewear, the exact eyewear used by riders from Team Barloworld in this year's TdF.
Our thanks to our friends at Felt, Craft and BBB for providing such awesome prizes. Hurry and enter now to be in the draw. Good luck!
Stage video highlights and podcasts
Just can't get enough of the Tour? Well fear not because Cyclingnews has expanded its coverage once again this year to bring you video highlights of every stage plus daily podcasts courtesy of Bikeradar.com and Procycling magazine.
Our video comes directly from Tour de France owners Amaury Sport Organisation (ASO), and will be online shortly after the finish of each stage. We've also got highlights from classic Tours of the past so click here to see the full archive.
Check out the podcasts page in our Tour de France section for a full round-up of news and views from the Tour.
(All rights reserved/Copyright Future Publishing (Overseas) Limited 2008)