Recently on Cyclingnews.com
Sylvain Chavanel's Tour diary
Sylvain Chavanel will ride the time trials in the jersey of the French National Champion.
Photo ©: Fabrice Lambert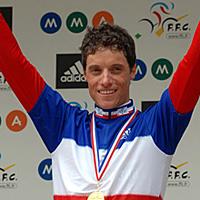 Sylvain Chavanel of Team Cofidis was France's next big thing for a long time... too long. In 2008, he finally confirmed the hopes of his nation and scored five important victories in the first part of the season.
He proved his worth on medium mountain stages, but also on the hostile terrain of the Flemish spring classics. There's no doubt about it: Chavanel is on a roll this year, and now hopes to make his biggest dream come true - a stage win at the Tour de France.
Sunday, July 20, 2008
Chasing that elusive stage win
You probably saw that I attacked the peloton yesterday with eight kilometres to go, but I couldn't prevent a bunch sprint in the end. I waited for a long time to jump away - I didn't attack early at all, like the day beforehand. But again, I was out there on my own... Sometimes I ask myself whether I attack too fast or why is it that nobody ever follows me? Just joking!
But it's really hard to understand sometimes. You get these phenomenons like Liquigas pulling for Pozzato, even though he finished in like 20th position. Since the start of the race, they've been at it, chasing hard every day even though the guy never does anything! As Cavendish had already exploded on the climb, Columbia chased for Ciolek, but he didn't succeed in the sprint. So it was sort of frustrating darting for the line once more, and losing out again. I've been trying for a stage win three times now, and that is not counting the stage to Super Besse, which really was a mission impossible.
But I don't get down by it. And I don't spend too much energy on it, either, as it only takes five kilometres! I like it. Everything that I experience now is a bonus on an already very successful season. Sure, I'm still missing the icing on the cake, but I'm not worried.
Going into the Alps, I plan to save my energy and finish in the gruppetto. Even if I'm in a break, I'll just sit up on the final climb. The only stage I fear a bit is L'Alpe d'Huez, because that one is really terribly difficult. Apart from that, all I want is to save my legs for after the Alps, as the stages between the mountains and the time trial could suit me. Be sure to see me again, trying for a stage win!
Sylvain.