An interview with Adam Hansen, July 11, 2008
Taking it easy at Le Tour
Adam Hansen in the Australian Time Trial Champion kit
Photo ©: Shane Goss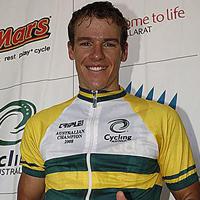 Even though Adam Hansen wears the Australia national champion strip for the time trial, he finished in 106th place in his first ever Tour de France time trial. But such is the life of a domestique, sacrificing himself for the glory of his teammates. The 27 year-old is a seemingly tireless worker that is here to lead-out his sprinters and protect the general classification riders learns Cyclingnews' Mark Zalewski.
It might be surprising for an uninformed fan to see a national champion soft-pedal in the world's biggest race, but that is what Team Columbia's Adam Hansen did in his first ever Tour de France time trial. Of course, for the experienced fan, it is easy to assume that there were tactics behind this move. Indeed, in an ironic twist, Hansen was under orders to recover as much as possible in the time trial to prepare his body for the tortures that are to come.
"I was under instructions to go easy and recover," said Hansen. "I thought I was going easy, but I passed the first time check and they told me to go even easier!
"The pressure on me is to support Mark [Cavendish] and Gerald [Ciolek] in the lead-out and I've also been told I have to help Kim [Kirchen] in the mountains," he said. "So there are no real rest days for me except for the TT."
"I thought I was going easy, but I passed the first time check and they told me to go even easier."
-Adam Hansen was asked to go slow in the time trial...really slow/
After two desperate attempts on the opening stages by Kim Kirchen, Cavendish delivered the recently renamed squad a stage victory on Stage 5. Hansen knew it was just a matter of time before the Cavendish/Ciolek duo knocked out a stage win.
"Mark and Gerald are perfect together," he said. "They are extremely good sprinters and they never cross wheels. Mark is the type of rider who doesn't want the team to work for him if he thinks he can't win. He'll stand up and say no, work for Gerald. Especially in an uphill sprint like on stage one."
At the Giro d'Italia in May Adam Hansen
Photo ©: Roberto Bettini

Regarding that tricky finish, Hansen said it was a bit bigger of a hill than the team predicted. Kirchen had tried his luck on the stage, but was unable to resist the closing Alejandro Valverde (Caisse d'Epargne).
"That hill in the final was a bit harder than we thought, and [Cavendish] said straight-away to work for Gerald," he said. "They are two totally different type of sprinters in that way. It works well for the team."
Cavendish looked to be the man for the third stage, but a brave breakaway spoiled the chances. The sprinters teams didn't organize a chase early enough, allowing the break to maintain a two minute lead at the line.
"We were a bit disappointed in stage three when we couldn't get the break back," said Hansen. "The chase was disorganized with the other teams looking to us. But to be honest the break was going really fast and they deserved it in the end. Still it worked out well because some major guys lost some time Kim."
For the first time
During May's Giro d'Italia, Adam Hansen loads up with drink bottles
Photo ©: AFP

Though this is his first Tour, Hansen has raced in both the other two Grand Tours - Italy's Giro d'Italia and Spain's Vuelta a Espana. Still, he recognized that this race is special for a number of reasons.
"Everyone talks about the Tour as a totally different race," said Hansen. "In terms of being nervous, I wasn't because it's my third Grand Tour in a row. I wasn't concerned about not finishing it as I was in my first Grand Tour. I was more concerned about working for the team, being on the best in the world and carrying my responsibilities."
But Le Tour does strange things, and Hansen noticed this on the first stage. "Riding in the bunch I felt like I was doing my first pro race," he said. "Everyone is much faster, riding closer, touching wheels, leaning on each other and taking chances"
Even the preparation for the Tour caused Hansen to second-guess himself. "I raced in the Dauphiné and then had a short break after that," he said "Before I've had breaks before the Grand Tours, but I was worried because I wasn't sure after the Dauphiné if I needed more training.
Australia's Adam Hansen rides at the Tour Down Under
Photo ©: Roberto Bettini

"But I think I did it right because the first two days I felt good and helped with the lead-out," he added. "And then I was on the front doing some work on the third day to chase the breakaway."
Hansen said the team management has a one-day-at-a-time approach to the Tour - going for stage wins with the sprinting duo and keeping the GC riders like Kirchen is position come the major mountains. The approach paid off on yesterday's stage, when an unfortunate accident involving race leader Stefan Schumacher (Gerolsteiner) placed Kirchen in the yellow leader's jersey for today's seventh test.
"They want to treat every day individually and go for stage wins when we can, but shelter Kim from the wind," said Hansen. "We have a lot of good climbers and guys like me for the first mountain passes."
Cyclingnews readers can keep up with Hansen's progress through the Tour by following his online diary.
Photography
For a thumbnail gallery of these images, click here
Images by John Veage
Images by Roberto Bettini/www.bettiniphoto.net
Images by Shane Goss/www.licoricegallery.com
Images by AFP Photo