Recently on Cyclingnews.com
Sylvain Chavanel's Tour diary
Sylvain Chavanel will ride the time trials in the jersey of the French National Champion.
Photo ©: Fabrice Lambert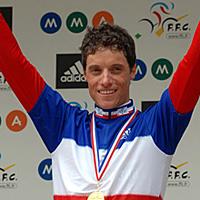 Sylvain Chavanel of Team Cofidis was France's next big thing for a long time... too long. In 2008, he finally confirmed the hopes of his nation and scored five important victories in the first part of the season.
He proved his worth on medium mountain stages, but also on the hostile terrain of the Flemish spring classics. There's no doubt about it: Chavanel is on a roll this year, and now hopes to make his biggest dream come true - a stage win at the Tour de France.
Saturday, July 5, 2008
I have to admit that today wasn't such a great beginning of the Tour de France for me and my team Cofidis. Like every year, this first stage was very nervous. The guys were all over each other, and there were several crashes. People thought I had crashed, too, but I didn't have any problem. Actually, at one point, I stopped to urinate, and that's when another crash happened right in front of me. Which is why I chased back to the bunch at the same time than the guys that had crashed, and it made it look like I had been involved, too. But fortunately, I hadn't!
During the stage, I made sure I always within the first 20 or 30 riders. But in that last, long descent before the finish, I was a bit further back, and I got trapped. I couldn't chase back when the bunch fell apart. The field split up into several groups, and I came through the finish at 31 seconds. So that's not a very satisfying result...
But I think that everybody had difficulties on that first stage. It was hard to get going - after being at the hotel for three days, pedaling is a little less smooth. For sure, we all ate well during the days leading up to the start, so that doesn't help! Still, usually, I feel better and better as the Tour goes on. And, compared to my previous experiences on the first stages of the Tour, my legs felt okay. During the stage, I wasn't too bad, but in the finale, I lacked some juice.
You also have to take into account that the race was very fast today: 43 km/h on average! It was so nervous, there was so much tension, wind was coming from the side... You had to be so concentrated all the time. Then, we lost Hervé Duclos-Lassalle, because of a crash. So we're left with only eight riders, already.
Hervé will go home to Bordeaux tonight. His wrist is broken and dislocated, so he will need surgery, he hasn't got a choice. I feel sorry for him...
But for us, the Tour goes on. For tomorrow, the weather forecast predicted some rain, and as you know I don't mind that at all! So tonight I just hope that things will get better tomorrow, and every day as the Tour moves on. I'll get back to you soon!