Tour de France Cycling News, July 25, 2008
Edited by Ben Abrahams & Laura Weislo
Focused Burghardt returns victorious
By Hedwig Kröner in Saint-Etienne
Burghardt takes the win
Photo ©: Roberto Bettini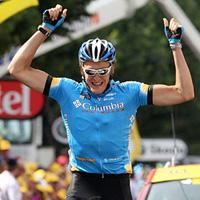 Today, Team Columbia's Marcus Burghardt offered his directors the fifth victory in the Tour de France. After Briton Mark Cavendish scored the first four in bunch sprint finishes, the German delivered his first Tour win in an exciting head-to-head duel against Quick Step's Carlos Barredo on the finish line of stage 18 in Saint-Etienne.
Burghardt said that he had targeted this stage before coming to the Tour, knowing that he'd be working for Cavendish and team general classification leader Kim Kirchen in the first part of the race. "I really wanted to win this stage," said a delighted Burghardt in the finish. "It's a huge success for me and for our team. Even before the Tour, I had focused on today's and tomorrow's stages as perfect opportunities for a break and for a win, and it worked out!"
Burghardt and Barredo escaped the bunch after 68 kilometres into the 196 kilometre-stage starting in Bourg d'Oisans. The German had tried his luck in the very first break of the day, too, but got reeled in by the bunch. "Yesterday, as well as the day before, I took it very easy in the Alps to save some energy," he explained. "It was an extremely hard day today. I was in the first break right away, but we got caught after 30 kilometres. Still, I told myself not to give up, and jumped away again. Fortunately, it worked out!"
Coming up on
Cyclingnews will cover the 60th edition of the Dauphiné Libéré live as of stage 4 on Wednesday, June 10, at approximately 15:00 local Europe time (CEST)/ 23:00 Australian time (CDT)/ 9:00 (USA East).

WAP-enabled mobile devices: http://live.cyclingnews.com/wap/

The pair managed to get a maximum lead of over ten minutes, and even though a chase group formed behind them, about three minutes adrift, the pair was safe to make it to the finish and battle out the victory between them. Barredo, a less gifted sprinter and better climber than Burghardt, tried to drop his rival several times, but Burghardt easily dominated him. "In the finale, Barredo said he wouldn't lead anymore because he has the weaker legs in the sprint," said the German. "I was very concentrated, because he always tried to get into second position and wanted to attack when I stop focusing."
In the last kilometres, the Spaniard even placed an attack while Burghardt was reaching for his opened jersey to zip it up. But the Columbia rider had no hard feelings. "Quick Step didn't have such a great Tour this year, so he had to try everything to get the victory."
No regrets for Fränk Schleck
By Hedwig Kröner in Saint-Etienne
Fränk Schleck and Carlos Sastre (CSC-Saxo Bank)
Photo ©: AFP
Finally, the dream of the yellow jersey lasted only three days for Team CSC-Saxo Bank's Fränk Schleck. The Luxemburger took the overall lead one day before the rest day in Italy, and sacrificed himself to pass on the precious garment to team-mate Carlos Sastre two stages later on L'Alpe d'Huez.
Although he did have a disappointed look on his face at the podium ceremony honouring his team-mate atop the famous ski station, Schleck was all positive about his team's feat at this Tour de France, and insisted he wasn't sad to lose the jersey. "I don't think I lost the jersey - I gave it to Carlos, which is nice," he said. "We knew that if we want to win the Tour de France, there was only one way: by attacking. And we had two leaders, there was me and there was Carlos. We all agreed on Carlos attacking first, and if we would have caught him back, I would have attacked, and so on. So the chances were 50/50."
The elder of the Schleck brothers was relegated to second on general classification, 1'24 behind Sastre, with the Spaniard's main rival Cadel Evans fourth at 1'34. With the 53 kilometre-time trial coming up on Saturday, Schleck was realistic about his team's chances for the overall win. "I don't know if we're going to win it," he added. "It'll be hard. But I know one thing: this Tour de France has been full of emotions. CSC showed a great race. We tried everything, and if we still don't win it, that's okay."
Even his own second placing is far from being set in stone. Still, the Luxemburger did not fail to emphasize his team's and his own success at the 2008 Tour. "I hope I can still make it to the podium in Paris. It'll be hard, too. But I'll try - that's what we're here for. In any case, I'm satisfied with my whole Tour de France. I gave everything, did a great race together with my brother Andy, and people will talk about us for quite a while..."
Schleck insisted he had "no regrets. If you can't reproach yourself anything, if you gave everything, then you can only be satisfied with yourself. That's how our team sees it."
Asked if he would come back one day to win the Tour, Schleck said: "I'll be back, but I'm afraid the Tour will then be won by my brother. But that's okay with me, I'm very proud of him." Andy Schleck, the probable winner of the white jersey of best young rider, is indeed rated as the next big Tour de France victory contender. The team hierarchy for the 2009 Tour, whether Sastre wins this year's race or not, is yet to be determined.
Schleck senior's car searched, but nothing found
By Daniel Benson in Saint Étienne
The car belonging to Johnny Schleck
Photo ©: Roberto Bettini

A car belonging to Johnny Schleck, the father of CSC-Saxo Bank riders Fränk and Andy Schleck, was stopped and searched by French customs officers during Thursday's 196.5-kilometre stage from Bourg d'Oisans to Saint Étienne. Customs chiefs from the region of Isere confirmed two Luxembourg-registered cars were stopped and searched. The second belonged to Luxembourgois journalist René Thill.
A former cycling professional himself, Schleck senior has been at the race working for organisers Amaury Sport Organisation as a driver for VIPs. He, along with his passengers, was stopped 30 kilometres into today's route. It was later confirmed that no doping products or banned substances were found during the search, which took place at Vizille, approximately 20 kilometres south of Grenoble in the Isere region of the Alps.
A longstanding Tour correspondent, Thill was surprised by what had taken place. "I was stopped just before Grenoble by police and customs. They asked if I have any products to declare. I said 'no'. They asked for me to step out of the car and move five metres away. They took everything out of my bags and also looked under the seats."
However it is believed that Schleck's vehicle was taken out of the public's view for a more thorough search.
Bjarne Riis, the CSC-Saxo Bank team manager, was quick to play down the significance of the stop and search. "We heard on the news that he was free to go and that it was nothing. There is no panic and no reason to create one. Let's just stay calm, okay. The police do their job and we do ours."
The team's directeur sportif Scott Sunderland reiterated Riis' sentiments, and went further by suggesting that the search had nothing to do with the team and that it had no bearing on the race. "It was a routine control and I know no more. They looked through the car and what is worse they found nothing in it. He was with VIPs at the time."
When asked whether the episode could have any ramifications on his race, Fränk Schleck was clear headed enough to realise it may have been just a random search. "I don't care too much, it's not going to change anything. It's my dad and he's still my dad, he just works for the Tour. I've yet to talk to him."
Cunego's Tour in doubt after crash
By Gregor Brown in Saint Étienne
Damiano Cunego is escorted by his team-mates
Photo ©: Roberto Bettini

Italian Damiano Cunego's Tour de France may have come to an end after he crashed early on Thursday's stage 18 and finished the stage 20 minutes behind winner Marcus Burghardt (Team Columbia). The Lampre rider fell face first into a concrete barricade during the first hour of the 196.5 kilometre stage from Bourg d'Oisans to Saint Etienne. After receiving medical attention for a bloodied chin, Cunego was escorted to the finish by four of his team-mates.
"My tire went in a rut and I took flier," he said. "Thanks to my team-mates for waiting around. It was truly terrible and at least I was ready to get back on the move."
Cunego, who came into the Tour as a favourite for the overall win, crashed at kilometre 32 and landed on his chest and jaw. Several minutes passed before he could remount his bike, and he was in danger of missing the time cut on the stage.
"I was truly fortunate," said Cunego, who, with the help of his team-mates, Paolo Tiralongo, Marco Marzano, Daniele Righi and Massimiliano Mori arrived within the time limit. He was then taken to a medical clinic in Saint Étienne where he received five stitches on his chin and x-rays of his jaw, chest and hand and a scan of his spleen. The results are still unknown.
"I hope I don't have to go home and am in the condition to continue tomorrow," said Cunego.
Cunego's desire to continue on despite being battered from the crash and out of podium contention is not unusual, according to his directeur sportif Maurizio Piovani. He pointed towards last year's Vuelta a España as an indicator of Cunego's determination. Cunego crashed in stage one, but he persisted racing until stage 15 so that he would be ready for the end of season.
"At the Vuelta, even with the crash, he did well. He did well at the Worlds and Lombardia, but don't forget that he did it all at the Vuelta with 15 stitches on his body. He had six stitches on his knee, five on the elbow... He continued and that shows he also has the right mentality. He never said, 'I am going home.' He kept going through the end of the season. It shows his ability to recover, even in those conditions."
Keeping the faith
Damiano Cunego's shredded jersey
Photo ©: Roberto Bettini

Piovani spoke with Cyclingnews before the stage about his rider's disappointing performance in the Tour. Cunego skipped the Giro d'Italia, a race he won in 2004, in order to focus specifically on the Tour with a podium place in mind. However, he lost time in the first week in the time trial and uphill finish to Super Besse, and then plummeted in the overall standings after being dropped on the stage to Hautacam as well as his target stage to the Italian ski resort of Prato Nevoso.
Piovani said he will sit down with Cunego next week to evaluate where the Italian might have gone wrong in his Tour de France preparations.
"After the Tour we need to analyse what went wrong and what went right," Piovani said. He asserted that Cunego is indeed a Grand Tour racer, despite what critics may say. "He is a great racer for the stage races, even if he showed here at the Tour that he is not going like at the 2004 Giro," stated Piovani. "Of course, now it is easy to stand back and say what we should have done. Next week, we will meet and we will discuss well what we did right and wrong."
Leading into the 2007 season, Cunego focused on improving his time trialling, but Piovani doesn't think he did so at the expense of his climbing abilities.
"Everyone says that he became better in the time trial and lost something in the climbs. He trained with the time trial bike to become familiar with the bike. He became better after becoming familiar with the job - warming up before the crono and managing them in a certain manner. This enabled him to become better in time trials.
"He will do specific warm ups for certain time trials - whether it is a mountain time trial, 13 kilometres or 53 kilometres. Even how to race within a time trial: if you saw, he went faster in second half than the first half of the Cholet time trial. If someone analyses the situation with detail they will make improvements."
Piovani said the he still has confidence in Cunego. "I will remain at his side even if many have lost faith in him - he is a great rider."
Barredo unlucky as Quick Step's winless Tour continues
By Gregor Brown in Saint Étienne
Burghardt celebrates while Barredo is left wondering
Photo ©: Roberto Bettini

Spaniard Carlos Barredo came tantalisingly close to winning stage 18 and salvaging some pride for the winless Quick Step squad, but the team's poor run of results continued as he was beaten in a two-man sprint by Columbia's Marcus Burghardt. The Belgian team is undoubtedly missing superstar Tom Boonen, but Barredo himself has been suffering since the Grand Départ in Brittany nearly three weeks ago where he caught the flu.
"I still don't feel good today," he said after finishing second to Burghardt in Saint Étienne. "We had to have grit today and the only chance was an escape. I gave all the grit I had.
"Today, I went a little better, but even from the beginning, it was not Quick Step's Tour or a Tour for me. I tried hard today, the whole team tried. We closed the first gap of seven riders who went free when there was not anyone leading the group. I was able to have my chance and I went."
The escape was formed when Barredo went on the offensive at kilometre 68. The move narrowed down to him and Burghardt and the pair rode together for 110 kilometres before Barredo launched the first attack.
"I thought the finale was going to be a little tougher than it was," he said. "It was not easy for two riders who had been in the escape all day. Burghardt is faster than I am, but I tried many times. I knew that he was faster in the sprint. After I tried my attacks, I stayed on his wheel to try for the sprint."
Barredo seemed almost a little too anxious to give his team a win and send a message home to Spain. He continued to launch attacks on his rival - one of which came while Burghardt was zipping up his jersey. "I did not want to want to arrive in the sprint with him," he said. "For all the problems I had in this Tour, I did not want to lose this chance by waiting for the finale."
Barredo explained that he wanted to give a special gift to his father, who has been suffering with heart problems. "This was very important for me," he said.
Arvesen Olympic-bound with Tour form
By Gregor Brown in Saint Étienne
Kurt-Asle Arvesen
Photo ©: Roberto Bettini

Norway's Kurt-Asle Arvesen is heading to the Olympics with a stage victory under his belt and the experience of defending the Tour de France leader's jersey. "It has been my best Tour de France ever," the 33 year-old Arvesen told Cyclingnews on Thursday.
Arvesen, the Norwegian road champion and winner of the E3 Prijs this spring, made his own mark on the Tour winning the 11th stage to Foix. On Wednesday's crucial mountain stage to Alpe d'Huez he led CSC over the Col du Galibier and Col de la Croix de Fer for Carlos Sastre and Fränk Schleck, alongside Fabian Cancellara.
"The stage win and this form I have now allows me to give everything to the team. That is the best I can ask for," he continued.
He will take a short break before travelling to Beijing. "I will do San Sebastián and then I go to the Olympics."
Your chance to win in the Cyclingnews-Felt TdF competition!
You can win this!
Photo ©: Felt
Here's your chance to win some great prizes while the 2008 Tour de France is underway, featuring a prize roster of kit that is being tested in the world's greatest bike race by some of the world's leading cyclists.
Our lead prize is the 2009 model Felt AR road frame, currently being ridden in the Tour de France by members of the Garmin-Chiplotle professional cycling team, as well as supplementary prizes from Craft - manufacturer of team clothing to CSC-Saxo - and eyewear from BBB, supplier to Team Barloworld.
The US-based Felt Bicycles is becoming one of the world's leading bicycle manufacturers, with its bikes now being raced by the USA's Garmin-Chipotle in the 2008 Tour de France. The team are riding the 2009 model Felt AR, which combines Felt's expertise in time trial and track bike technology, while maintaining the necessary ride and handling characteristics of premium road bikes.
But wait! There's more. All entrants in the Cyclingnews-Felt 2008 TdF competition will also go into the draw to win great supplementary prizes from our friends at Craft and BBB. Cyclingnews also has four 2008 model Team CSC jerseys, designed and made by Craft, one of the world's leading technical clothing manufacturers, as well as 10 sets of BBB's BSG-29 Attacker eyewear, the exact eyewear used by riders from Team Barloworld in this year's TdF.
Our thanks to our friends at Felt, Craft and BBB for providing such awesome prizes. Hurry and enter now to be in the draw. Good luck!
Stage video highlights and podcasts
Just can't get enough of the Tour? Well fear not because Cyclingnews has expanded its coverage once again this year to bring you video highlights of every stage plus daily podcasts courtesy of Bikeradar.com and Procycling magazine.
Our video comes directly from Tour de France owners Amaury Sport Organisation (ASO), and will be online shortly after the finish of each stage. We've also got highlights from classic Tours of the past so click here to see the full archive.
Check out the podcasts page in our Tour de France section for a full round-up of news and views from the Tour.
(All rights reserved/Copyright Future Publishing Limited 2008)