Tour de France News feature, July 15, 2008
Evans bounces back to seize yellow
By Laura Weislo, with reporting from Gregor Brown and John Trevorrow
Cadel Evans
Photo ©: AFP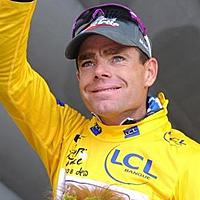 Australian Cadel Evans thought his Tour was over when he suffered a crash on stage nine which split his helmet in three pieces and left him grazed from "toe to neck" on one side of his body. But his fears could not have been farther from reality as he ascended into the yellow jersey with a tenacious ride on stage ten's first big mountain test at Hautacam.
The Silence-Lotto rider was close to tears on Monday, but they were tears of joy as he received the yellow jersey following a relatively short but wickedly hard stage ten. The course passed over two hors categorie climbs: the Col du Tourmalet and the finishing climb, the 14.4 kilometre ascent to Hautacam, either one of which could have cost him the Tour had he not been able to keep pace with his rivals.
Yet he did more than just keep up, he finished eighth on the stage and put several minutes into two riders whose dreams of a podium finish are just about over: Alejandro Valverde and Damiano Cunego.
"I can't believe it now and I couldn't believe it on the podium. Yesterday was the Tour low and now I'm having my Tour high and it's only about 26 hours apart, it leaves you a bit stunned," Evans said. "It's a bit of an emotional roller coaster to say the least."
Evans certainly did not ride like a man who was stiff and sore from a crash. On the final climb he not only marked his rivals, he attacked them as well. He drove the pace in the final kilometre in order to bring the gap to Fränk Schleck down, giving him the yellow jersey by just one second.
Yet in the early part of the stage, Evans was still suffering from his injuries. "Obviously the crash gave me one of the biggest scares in my life. It was a big shock and a big scare yesterday. Just getting to the finish of the stage yesterday was the first challenge.
"I was pretty sore this morning. I had a lot of bruising and a lot of swelling. I've got a good team that travel with me with my own osteopath who always travels with me and puts me all back into shape. Also the team doctor has patched me up from ankle to neck, a few holes to work on.
"I nearly got dropped on the first category-three climb today and then I just said to my team-mate, 'Guys, stay calm, be cool and hopefully I'll get better.' Thankfully it all came together at the end."
Evans had to deal with a high pace on the Col du Tourmalet, where the CSC-Saxo Bank and Saunier Duval teams drove the pace to see if they could dislodge any favourites. Once Valverde and Cunego were dropped, those teams never let up, but Evans hung on tight because he had not one but three possible GC contenders to watch from the CSC team.
"Yesterday, I was at what's for me been my Tour low. And today, up until this point in the Tour, it's been my Tour high."
-Cadel Evans ponders going from a terrible crash to the yellow in 24 hours.
"The main difficulty was accounting for the numbers that CSC and Saunier Duval had. In that situation I have to watch three guys and they all know that; so it's very hard to control."
"I think they might have figured out that I was suffering after the crash in stage nine. From the amount of blood that they would have seen yesterday, they'd be stupid if they didn't know I was in a little bit of pain.
Fortunately, Evans, who was isolated from his team-mates on the final climb, found an ally. "I opted to keep an eye on Menchov, Sastre and Fränk Schleck. I had to choose my guys and play my cards right. Finally Menchov saw the light and we worked together. That's going to work to his advantage later on.
He defended his Silence-Lotto team, which has been criticized not just this year, but last year as well, for not being strong enough to stay with its leader on the high mountains. "We may not be the strongest team but we're trying to be the smartest team. We're using our strengths as intelligently as possible and CSC still has a lot to gain. They're only just out of the lead by one second and they've got the weight of numbers."
"I'm only in the lead by a very small margin but, tactically every second counts. It's a long way to the finish and our goal has always been to have the yellow jersey in Paris but as we saw yesterday, anything can happen in this race.
Cause of Evans' crash still a mystery
Evans was shredded from toe to neck in his crash on stage nine
Photo ©: AFP

Evans, a former mountain bike racer, displayed typical Aussie grit and determination when he bounced back up from his crash on stage nine, did a quick inventory of body parts and then decided to continue. He crashed at a left hand bend shortly after the feed zone at kilometre 106, and it is still unclear if he clipped the wheel of the preceding rider or got an obstacle caught in his front wheel.
"He was the first to say, 'It's okay guys. Let's continue,'" Silence-Lotto team manager Marc Sergeant told Cyclingnews.
Evans himself didn't remember exactly how the crash happened. "All I saw was the gutter sliding towards me that's all I remember. It was just a momentary lapse of concentration."
Sergeant explained that the team feared crashes in the chaotic first week, but was surprised that it happened in the mountains. "It is unpredictable," he said. "Nothing is broken so that is good. His shoulder is very sore." Sergeant was most concerned that Evans, who has broken his collarbone three or four times, fractured that bone again. "That would have been a disaster."
"It would be better if nothing happens and everything goes according to plan. But this is the Tour de France and things happen, crashes happen, sometimes you lose a break. This is one of those things. We had it yesterday, so hopefully we are now clear," he concluded.
The turnabout he did the following day surprised even Evans. "One day ago I was counting every pedal stroke to the finish and today I was counting the seconds to try and calculate if I'd take the lead or not. That's cycling; it can be cruel but sometimes it can be fair."
"Yesterday I was on the road honestly thinking that my Tour was over. I was scared to get up and move because I thought I'd broken a bone and to find myself in yellow now is just great. I don't quite believe that I've got the yellow jersey yet. Maybe I'll wake up tomorrow and realize what I've done. It's a long way from being over but it's a step towards where we want to be."