Tour de France Cycling News, July 10, 2008
Edited by Ben Abrahams
Predicting yellow: Showdown on Super Besse?
Stefan Schumacher wants to add to his wardrobe
Photo ©: AFP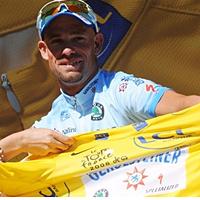 The first big mountain stage could change many things in the Tour de France, including the identity of the rider in the yellow jersey. On the eve of stage six, some of those from the peloton and the media give their predictions to Cyclingnews' Shane Stokes.
Showdown on Super Besse? Well, it's not exactly that, as the finish of the Tour de France is still over two weeks away. But there will nevertheless be a lot of interest in the first mountain stage of the race. Friday's stage could take the general classification and thoroughly shake it up or, alternatively, the fact that it comes so early in the Tour could lead the race favourites to opt for caution and hold back.
Tuesday's time trial victor Stefan Schumacher will head into the stage with a slender lead over many others. The Gerolsteiner rider has a 12-second advantage over Kim Kirchen (Team Columbia) and David Millar (Garmin Chipotle H3O), with Cadel Evans (Silence Lotto) 21 seconds back.
The fifth-placed rider, Fabian Cancellara (Team CSC) is likely to lose time on the climb, but the others in the top eight - Christian Vande Velde (Garmin Chipotle H3O), George Hincapie and Thomas Lövkvist (both Team Columbia) are all within 50 seconds of yellow and will be aiming to strike.
Coming up on
Cyclingnews will cover the 60th edition of the Dauphiné Libéré live as of stage 4 on Wednesday, June 10, at approximately 15:00 local Europe time (CEST)/ 23:00 Australian time (CDT)/ 9:00 (USA East).

WAP-enabled mobile devices: http://live.cyclingnews.com/wap/

Super Besse is prominent in people's minds mainly because it is the first big mountain of this year's Tour, and because it is a summit finish. However it's not the hardest ascent in the race, by any means; it is only a second category climb, lasting eleven kilometres and gaining approximately 500 metres. Of these, the first 7.4 clicks average 5.7 percent, it then flattens out and descends slightly for two kilometres, and then ramps up to 10 percent for the final 1500 metres.
To read the complete feature, click here.
French attackers don't wait for the third week anymore
By Jean-François Quénet in Châteauroux
The break of the day
Photo ©: AFP

French champion Nicolas Vogondy put on a strong showing for the locals in Châteauroux, on the same boulevard where he won the Classic de l'Indre in 2006 beside the Gaston-Petit football stadium. Part of the three-man breakaway launched after 11 kilometres, he was the only one to go flat out alongside the barricades while his companions, Lilian Jégou and Florent Brard, sat up with 1.5 kilometres to go.
"There were some cobbles that literally stopped me!" Jégou said of the finishing straight. "I couldn't follow him. I had no hope that our breakaway would succeed anyhow once we only had two minutes lead with 50 kilometres to go. We talked and decided to play with the bunch by slowing down. We targeted the check point of 25 kilometres to go. From there on we went flat out again. And it worked - we gained 20 seconds in five kilometres."
Time checks are now only given every five kilometres in the last 25 of each stage, something that played into the escapees' hands. "I really believed we had a chance to ride for the win as I turned back and couldn't see the bunch behind us," continued Jégou, the first attacker of the 2008 Tour de France who jumped away just in the outskirts of Brest on stage one.
"Last year I preserved myself for the third week of the Tour," Jégou remembered. "And I had no opportunity to do anything during the third week. I didn't have a bad Tour but I finished it anonymously." He had to wait for the Tour du Limousin in August to claim his first pro win in a stage race.
French riders have been very active at the Tour de France so far this year. "The teams of the sprinters don't rule the race as much as they used to do," said Brard. "There's more to play. When we take the ear pieces off, it'll be an even better spectacle."
Vogondy hopes persistent attacking will work for him one day as well, as it did at the French championship. "When I attacked with 1.5 kilometres to go, I gave everything," he said. "I didn't calculate anything. I haven't missed much but I've missed the most important! Last year I got caught once with 300 metres to go, this year it's with only 50 metres to go, maybe next year I'll make it against the chasing bunch."
While Jégou found himself at home in Cholet on Tuesday, in the neighbourhood of Nantes where he hails from, Brard and Vogondy finished stage five near to their respective native towns of Tours and Blois. It's part of the folklore of the Tour de France to see local riders under the spotlights.
Team Columbia train makes it 'impossible not to win'
By Brecht Decaluwé in Châteauroux
Cav takes out the win!
Photo ©: Roberto Bettini

In much the same way that they dominated several sprint finishes at the Giro d'Italia, the riders from Team Columbia assumed total control of the stage five finale to Châteauroux, piloting their sprinter Mark Cavendish to his first successful Tour stage victory. As Cavendish himself said: "When you have a team like I have, it's impossible not to win."
"We started to ride at about eight kilometres from the finish and I was there until three kilometres from the finish line," explained the current best young rider, white jersey Thomas Lövkvist. The young Swede was also working hard earlier in the stage, together with Adam Hansen and Marcus Burghardt.
"Today went perfect as we didn't have to chase too hard. We got them in the last second," added Austrian Bernhard Eisel.
Swedish time trial specialist Lövkvist dropped back from the Columbia train with three kilometres to go. "Then Adam [Hansen] took over and I watched it from behind," Lövkvist said.
At that stage there were still five team-mates up front to support Cavendish. Eisel was still one of them and described the chaos going towards the last corner at 1.6 kilometres from the finish line. "I was on Kimmi's wheel, but we lost contact. We managed to get back up there while Burghardt and [George] Hincapie were pulling.
"George led the bunch into the corner and kept pulling on that first uphill section. Kimmi [Kim Kirchen] then went with 1000 metres to go. I was waiting, because I couldn't see them [on my wheel]," Eisel explained.
The Austrian was surprised by a move from the Quick Step team. "At a certain moment Steven De Jongh came up on the left, but luckily I saw Ciolek and Cav on his wheel, I flanked Cavendish for a while and noticed I had guys like Freire on my wheel. So I dropped back while a lot of other guys were shouting," Eisel laughed, knowing that some sprinters had to get round him to have any chance of winning the stage.
From then on it was all about Mark Cavendish. "There was a lot of fighting going on, and of course it was all for the same position," said Cavendish. "I lost the wheel from Gerald Ciolek, but with 1200 metres to go he picked me up again. Gerald started his sprint with 600 to go, which is a long distance as the finish was uphill and into a headwind.
"With 250 metres to go [Thor] Hushovd went off with [Mark] Renshaw. It was a bit further out than I wanted, but when they went there wasn't much of an option. Luckily my form was good enough to hold it to the line."
McEwen misses out in hectic finale
Reporting by John Trevorrow
Robbie McEwen (Silence-Lotto)
Photo ©: Gregor Brown

The stage five finish to Châteauroux saw another opportunity pass by for Silence-Lotto's sprinter Robbie McEwen, with the Aussie finding it tough going against a well-drilled Columbia lead-out train. McEwen eventually finished eighth after hitting the front too early and fading before the line.
"Yeah it was hectic as always," said McEwen. "I came off Steegmans' wheel and I thought it might have worked out but it was a bit far into the wind. Actually I got shunted out into the wind a couple of times coming into the sprint and I never really got a run at anyone.
"Columbia has the strongest train here and the best organised one," he added. "I knew that before the start. But you need to have a bit more than just the best train, and Cav was good too."
Silence-Lotto leader Cadel Evans acknowledged that with the team entirely built around his bid for overall victory McEwen has a tough time contesting the sprints by himself. "We had it all going well and we had Robbie there to finish it off. Unfortunately when he is racing on his own it reduces his chances a little bit," said Evans.
"Tomorrow is going to be much more interesting I think from a GC point of view," added Evans, but refused to say what his tactics might be. "Ah, I could tell you but then I would have to kill you!"
Vande Velde to help Millar at Super Besse
By Gregor Brown in Châteauroux
Christian Vande Velde (Garmin Chipotle - H30)
Photo ©: Gregor Brown

American Christian Vande Velde moved into sixth overall following the stage four time trial on Tuesday, but said he's more focused on Garmin Chipotle team-mate David Millar's chances of taking the maillot jaune at Super Besse on Thursday. The 1289-metre high climb, the first of five mountaintop finishes this year, could suit the Scot's abilities in medium mountain stages where he has produced good performances in the past.
"We have a chance of Dave taking the yellow jersey," 32 year-old Vande Velde told Cyclingnews as he made his way to the start line for stage five. Millar, third in the time trial, sits 12 seconds back from overall leader Stefan Schumacher.
Vande Velde will hope to mark Millar's rivals on the climb, giving the team a chance of claiming its second Grand Tour leader's jersey of the year after Vande Velde took the maglia rosa on day one of the Giro d'Italia.
"Any day of the week, if the chance presents itself," Vande Velde continued of his support for Millar. The two spent all of June together training at altitude in preparation for the Tour de France, but Vande Velde also knows that he will have his own chances for a high classification spot, as the high-mountains of the Pyrénées and Alps suit his capabilities.
"We are going to be taking it day by day. Overall, after yesterday, I feel like I can do a decent GC here," he confirmed. "I feel like I did a good time trial. I was well within myself and that bodes well for later."
Vande Velde has seen a lot since turning professional with US Postal Service in 1998. He has been at the side of Lance Armstrong, Roberto Heras and Ivan Basso and now finds himself as one of Garmin's designated leaders. Looking back at those years, Vande Velde said: "The Tour has been different so far without time bonuses and an opening time trial. From now on, it will be the usual feeling of being in the Tour de France."
Nibali gains important experience
By Gregor Brown in Châteauroux
Vincenzo Nibali (Liquigas)
Photo ©: Gregor Brown

Italian Vincenzo Nibali came to the Tour de France looking for experience and got just that with a 10th place in the Cholet time trial. The 23 year-old of Team Liquigas now sits ninth overall, behind Cadel Evans, but ahead of others favourites Damiano Cunego and Alejandro Valverde.
"I left the home thinking 'I am going to the Tour to have experience.'" he told Cyclingnews in Cholet before the start of stage five.
Nibali, who comes to the Tour having completed the Giro d'Italia, clocked a time of 36'31 on the 29.5 kilometre parcours. In a team with Filippo Pozzato and Francesco Chicchi, it is Nibali who is now earmarked as the team's GC man.
"I only lost 40 seconds to Schumacher. It was a good sign, it showed that I am going well," he stated of his time trial run. "Day by day, we will see what happens. I am here at the Tour without pressure. I am learning how to race well and gaining experience."
Nibali will need all that experience when the race tackles its first of five mountaintop finishes to Super Besse on Thursday. "I have not seen it, I will have a look tonight in the book," he said of the climb at the end of the 195.5-kilometre stage.
"It will certainly not be me attacking. If I have the legs I will try to stay with the big guns; it is up to them to make the race."
Haussler shaken up but will continue
By Gregor Brown in Châteauroux
Heinrich Haussler (Gerolsteiner) hit the deck
Photo ©: AFP

German sprinter Heinrich Haussler came to a grinding halt at the end of stage five when he crashed on the La Brenne roundabout with 3.8 kilometres to go to the finish in Châteauroux. The Gerolsteiner rider, whose main job is to protect race leader Stefan Schumacher, was shaken up but did not sustain any race-ending injuries.
"I don't know what it was," Haussler confessed to Cyclingnews after he rolled home with blood coming down his left arm. "Some riders who were just going crazy, crashed or braked in front of me. I did not have anywhere to go and just fell on top."
Haussler, winner of a stage at the 2007 Dauphiné Libéré over a top-class field, hoped to make a sprint of his own and was working his way through the Columbia-led peloton. The road shifted right from Rue de Châtellerault to Boulevard des Marins when the 24 year-old was caught on the left side and hit a roundabout.
"Just a shit fall," he said. "I fell on the left side and the shoulder, on the elbow." Haussler is not thought to have sustained any fractures and will start tomorrow's stage to Super Besse.
Passeron collides with spectator
By Gregor Brown in Châteauroux
Aurelian Passeron
Photo ©: AFP

Frenchman Aurélien Passeron collided head-on with a female spectator on stage five, after the fan tried to get a little too close to one of her cycling heroes. "The lady was in the street," the 24 year-old Saunier Duval-Scott rider told Cyclingnews after he finished the stage to Châteauroux.
The incident occurred with 5.5 kilometres remaining and left the woman with a fractured forearm. Passeron was sent to the town's hospital for x-rays, but expects to start tomorrow's stage to Super Besse. "Tomorrow? Yes, I can go on," he said. "I don't know if I broke anything yet."
Even more Tour: Video highlights and podcasts
Just can't get enough of the Tour? Well fear not because Cyclingnews has expanded its coverage once again this year to bring you video highlights of every stage plus daily podcasts courtesy of Bikeradar.com and Procycling magazine. Our video comes directly from Tour de France owners Amaury Sport Organisation (ASO), and will be online shortly after the finish of each stage. We've also got highlights from classic Tours of the past so click here to see the full archive.
Check out the podcasts page in our Tour de France section for a full round-up of news and views from the Tour.
(All rights reserved/Copyright Future Publishing Limited 2008)