Adam Hansen's Tour diary
Adam Hansen
Photo ©: Team High Road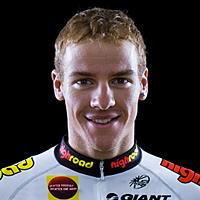 In an almost bookend fashion to our other Aussie Cyclingnews diarist, Stuart O'Grady, Adam Hansen is riding in his first Tour de France. The Team Columbia domestique is in his second year at the top level of the sport, and is ready to give his all for his teammates. While he does that the Australian time trial champion will let us peek in on the day-to-day life of a (first) Tour rider.
Friday, July 25, 2008
Putting the 'tour' in Tour de France
Hello Cyclingnews readers!
Sorry it's been a few days since my last update, but we've had a few mountains to climb... But I'll make this a longer update.
The second rest day was SOOOOO much better than the first. There was so much free time, it was incredible! We had no physio checks, no press conference and just a lot more time. I crashed in my room for most of it, trying to catch up on the internet, laying on the bed and watching a movie. I also saw my family – my mother and sister are watching the race. They brought some relatives around which was wonderful.
Stage 16 I struggled because I had a stomach problem, which made it impossible to keep any food down. I know I've said that everything is faster here, going uphill and all. But even going downhill is faster. It's amazing, when you really think about it. We have climbed all these mountains and are going down super-fast. A lot of us are worn out and not 100 percent switched on, but we still do everything perfectly without crashing. Going 90kph around these corners that I have never done before, and I'm sure a hundred other guys haven't either! It's amazing to me, but I guess you just call that pro cycling.
But I guess we don't all do it perfectly. I was in a group behind the Pereiro crash and we were going really fast. When we saw it we all slowed down and it was a huge eye opener. We took it a lot slower after that. I thought he was a goner when we rolled past – he was just laying there. But thankfully he is okay.
Adam Hansen did well in the Giro and is now racing up and down like crazy in France
Photo ©: Roberto Bettini

On Alp d'Huez me and three other guys, Eisel, Burghardt and myself, were given the day off, effectively. So when we got to the final climb in the grupetto we had about 26 minutes to go on the time cut. So we just cruised up it, which was really, really great. Normally you wouldn't be able to really take anything in while racing, but we got to enjoy all the crazy spectators from all over, even Australia!
It is crazy to see that many Australians out there. If you think about it, seeing people from Germany or a Belgian flag is not surprising because they can just jump in the car for a few hours. For Aussies it is about the most expensive flight to Europe for anywhere in the world! And it's winter there so they have to take time off work too. But there were some crazy ones out there that day, wearing costumes and obviously drinking a fair bit.
All the way up there are different crowds. The Dutch crowd and their dance music blasting, the Italian crowds, a British colony... Getting up there I have to admit I had a good time. Makes you feel at home when you get to your nationality.
I actually did have a little stop at the Aussie crowd, but no beer though. There was a 'Right to Play' barb-e-que three kilometres from the top. They are one of our sponsors and my mother and sister were there. I pinched the video camera from my mother and used it the final three kilometres to the top. Fans can check it out in the next few weeks on my web site!
It wasn't planned, but I saw Julian Dean when he hit the base of the climb, he dropped back to his car and changed helmets with one that had a video camera strapped to it! I thought I gave my video camera to my mum three kilometres from the top so I was looking for her. Yes, I am actually racing, but like I said that day was a rest day for me!
Another win for the team
Marcus Burghardt wins a fifth stage for Team Columbia
Photo ©: AFP

We had a good day again today with Marcus winning the stage. The team is really pleased with that because we showed we dominated the first week but are still in the game... and at the moment you can say we have won a quarter of the stages! Morale is good on the team, needless to say.
But it wasn't all easy on that stage. We had three riders go down on that Alp d'Huez stage. All different locations, all caused by different people. George went down sandwiched between two guys, Eisel went down because of some rider in a roundabout and I went down with two guys crashing in front of me on the descent!
I know some people are giving Mark a hard time for hanging it up the other day, but what some may not realise is that Mark did the whole Giro. And by that profile it looked to be harder than the Tour, to be in that grupetto is harder than here. So to finish that and win four stages at the Tour is a lot. And he's only a second year pro at that! No one is going to remember he didn't finish this Tour but they will remember he won four stages. He has a goal of doing well in the Olympics, too. But when he did go it was a bit strange, one less face at the dinner table and a nice guy to have around – so we do miss him. I don't think he was necessarily happy with the decision but the sports directors made it.
Le café update:
There is no coffee update, sadly! We have the SAME machine with the SAME bun-gee cords... I think since we've had good success it's the 'if it's not broken, don't fix it' mentality! Maybe it's the coffee that is doing it.
I don't know, to be fair if they don't get a new one soon I may end up buying the team an espresso machine. It's really good coffee!
Thanks to my mum and sister for coming out to root us on!
Cheers,
Adam